Push.House Advertising Network Review
No matter how much people say that push traffic is dead, affiliates continue to successfully buy huge volumes of cheap impressions for a variety of verticals. The key to a successful advertising campaign is a network with high-quality bot-free traffic. AffPaying has studied one of the popular push networks - Push.House - and we are ready to share our findings with you about this network.
Before starting, it is worth noting that Push.House is constantly updated: not so long ago, the site design was changed, new traffic formats were introduced, and much more. One of the main advantages is the lowest price for InPage traffic - it starts from 0.0001 USD for all GEOs.
Advantages of buying push traffic at Push.House:
An extensive list of GEOs,almost all countries of the world are available to the affiliates (200+)
High-Quality traffic free of any bots
Simple and transparent
High volumes: over 70 million subscriptions and 20 billion impressions per day
Quick support team that works 24/7, Russian, English and Arabic languages are supported
All the characteristics and advantages of Push.House are presented on the landing page - you can go and get acquainted, as well as chat with the managers even before registration (form on the website, Skype or Telegram).
Push.House has two main traffic formats:
Registration on the site is quite simple, it does not take longer than a couple of minutes. Also, you can sign up through social networks like Google.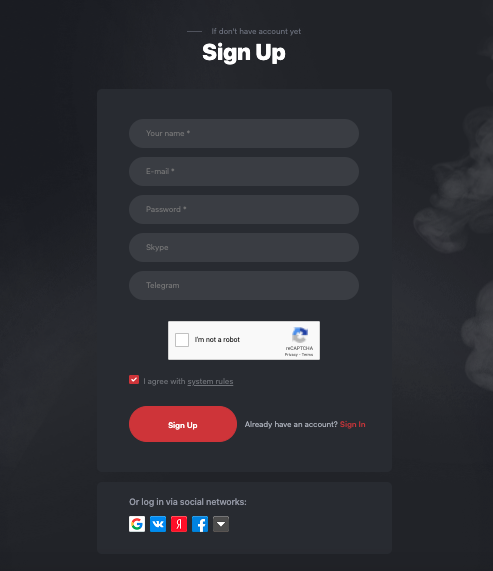 After completing a simple registration, you will get access to your personal dashboard.
The top line: here you will find the contacts of your manager, your username, your balance and the language in which the page is displayed (you can switch between Russian and English)
Main panel: Here you can see your statistics (ads, clicks, CTR, costs), your best performing campaigns, as well as Top 10 active and Top 10 free GEOs in the system. This feature is useful and gives you insight what are the most and the least competitive GEOs at the moment.
News: Here you will find the latest news and announcements of the network.
Network volume: this tab shows up-to-date information on the amount of traffic and its cost for any selected GEO, mobile and desktop traffic, as well as the number of clicks in the last 24 hours.
Push is the main tab that webmaster encounters most often. Let's analyze it in more detail. Clicking on a tab opens a pop-up menu:
Create a campaign
Campaign list: a list of all your campaigns in PUSH format will be displayed here
Statistics: an extensive panel with all possible reports and graphs
Postback: here you can find the necessary macros and Postback URL


To create the first campaign, go to the "Create Campaign" tab.
Name: specify the name of the advertising campaign. Note, the name is visible only to you.
Link: insert here your affiliate link to the promoted offer.
Title and Text: specify the title of your ad (30 character limit) and the ad text (45 character limit). Tip: use emojis to attract more attention.
Icon and Image: upload the creatives you prepared. Please remember that it is strictly forbidden to use shock content on creatives. We will discuss the restrictions more down below.
If you noticed, there is a green button below the ad creation with "Ready Sets"written on it. By clicking on this button, you will be redirected to Push.House's free spy tool, Spy.House In Spy.house, you can find and analyze a wider range of creatives and landing pages from your competitors and make your ads more successful this way. Note that Spy.House is a completely free of charge spy service that is accessible by anyone.
Let's continue setting up our campaign:
Country: specify the GEO (you can narrow down the targeting to the exact city of the user)
CPC: set the CPC bid for 1 click
Device: if necessary for your offer, set the target by device type: mobile, desktop, or both. This can be useful when the ad only accepts specific types of traffic (for example, IOS only)
Subscription age: this is a parameter that determines how long a user has been receiving push notifications from the Push.House network. Life hack: the fresher the subscription (the younger its age), the better conversion rate.
Android OS Version: If targeting Android users, you can specify a specific version
Browser language: here you can set the targeting by the language of the browser in which push notifications will be sent
Campaign schedule: set the hours for displaying ads. The function is useful, for example, if you need to send push ads only during the hours when the CC processes requests for your offer. So the user will receive feedback from the ad the fastest and most likely to bring a conversion.
Advertising limits: set financial limits. There are 4 types of limits: total budget limit in $, daily limit in $, total click limit and daily click limit.
If the ad is 18+, you must tick the appropriate box. If the balance is more than $70, the function of turning on feed traffic is available. Feeds are third party push subscription databases with a lot of traffic.
The ad is ready, now all you have to do is wait for the moderation and it will be live. Let's see how create campaigns in other ad formats.
IN-PAGE - the functionality is similar to the PUSH tab, but there are some differences in the campaign setup. Firstly, an image of a different format is used here - 192x192. Secondly, there is no way to choose the age of the subscription. But the main difference is the price. CPC for inpage traffic for all GEOs starts from $0.0001!
In the "Finance" tab, you can top up your balance (WebMoney, cryptocurrencies, Visa, MasterCard, Capitalist). The minimum deposit amount is $50. When replenishing from $ 1000, a bonus program operates:
$1000 - 1%
$2000 - 2%
$3000 - 3%
$4000 - 4%
$5000 - 5%
$6000 - 6%
$7000 - 7%
$8000 - 8%
$9000 - 9%
$10,000 - 10%
When using the promo code AFFPAYING, you can get +10% to your first deposit.
In the support tab, you can create a ticket with questions to the moderator, but first you better get acquainted with the rules and F.A.Q. - there are answers to most of the questions.
Regarding the rules and restrictions: it is forbidden to use adult content and celebrities on creatives in push notifications. The restriction does not apply to your landings. It is strictly forbidden to use shocking materials containing elements of violence, as well as content of a sexual, political and religious nature. It is also prohibited to advertise malware, viruses, phishing offers, "tech support".
Conclusion
In conclusion, we would like to say that this is a network that provides solid traffic volumes for any verticals and offers. Modern design and intuitive setup of advertising campaigns allow you to quickly buy traffic for hundreds of GEOs, and the prompt support team always ready to tackle any of your questions.


Copyright © 2010-2022 Affpaying.com All rights reserved.