Trafee
OFFERS

4.94

PAYOUT

4.97

TRACKING

4.88

SUPPORT

4.88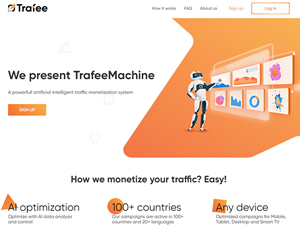 Trafee don't allow using incentive traffic, sms traffic and traffic from POF, incent and fraudulent traffic. Also traffic from zoo porno and porno with minors sources isn't allowed at our platform.

TrafeeMachine is a powerful AI system for efficient monetization of your traffic. Our team has more then 15 years experience of developing and support high perfomance traffic management systems. First of all, you need to create a smartlink, than you have to send traffic to your smartlinks. You don't need any additional settings.
Affiliate Network Details
Commission Type
CPA, CPL, CPI, Smartlink, PPS, RevShare, PPL
Tracking Software
In-house proprietary platform
Rating Distribution
Excellent

30

Very good

2

Average

0

Poor

0

Terrible

0
Offers

Payout

Tracking

Support
i have worked with more than 5 network, but trafee give me better result..everything is good , conversion ratio good, if you have any problem to get approval contact me skype : live:erin9494
or you can join trafee using this link https://v.ht/trafee_signup
favourite smartlink networks. Always prompt payments, great support!

Greate Network Greate Support
Faster Approval
PM Skype: live:.cid.3090b95386f33abf
Hello,,
Trafee best network in the world, i trust Trafee network, every team member very helpfully . Never hold payment. last 2 years i worked Trafee network. and always i will get my payment on time, i really love Trafee network.
You can join the network my Referral info:: http://gg.gg/jqmlx
my skype : Rasel.hossen90
Email me here > [email protected]
Thanks Trafee Team
The best network I have ever worked with. Thanks Trafee
Trafee is a strong network and they always pay. My affiliate manager is Elizaveta and she has been a fantastic job so far.
Trafee is very Good Cpa Network.... Manager Contact is good ..... i Love Trafee team....
Register My referrals Link>> https://bit.ly/376WwUr
Best smartlink network
Trafee is my favoriate network. They pay on time everytime. I'm happy to work with them. Thanks Elizaveta and keep up the good work.
One of our favourite smartlink networks. Always prompt payments, great support!
My total earning balance is $24.17. But my main balance show is $10.42.
please help me.
Thanks
Trafee is the best smartlink aff network I have ever come across. Fast weekly payout and very good support. I am 100% satisfied.
Weekly payment! Weekly payment! Weekly payment!
Extremely high conversion rates and great supprt team!
I can't say enough good things about Trafee!
It's pleasure to work with Trafee! Should say this is probably the best network I've ever work with and i glad that i join Trafee Everything is great. Support is very nice. Helped me with a lot of problems . 1000% recommended!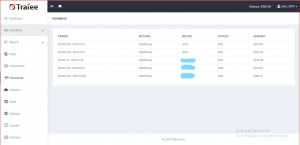 Best network I have ever seen... Who need my recomandation register in my referal link and I will help you to get accepted also text me im skype live:.cid.393b42a51df280d7

Copyright © 2010-2020 Affpaying.com All rights reserved.