Trafee
OFFERS

4.94

PAYOUT

4.98

TRACKING

4.91

SUPPORT

4.9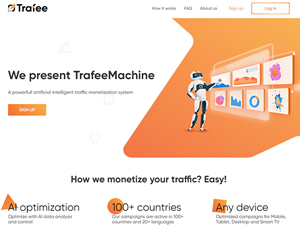 Trafee.com – The new generation of smartlink!

Tired of instable convert? No need to wait until the managers set up your offers manually. TrafeeMachine make this automatically with machine learning and artificial intelligence in real time!

Our advantages
-The fastest automatic smartlink optimization for your traffic
-Weekly payments without hold. Minimal payment amount is 100$
-Effective landing pages for different geo and devices
-The best offers from direct advertisers
Affiliate Network Details
Commission Type
CPA, CPL, CPI, Smartlink, PPS, RevShare, PPL
Tracking Software
In-house proprietary platform
Rating Distribution
Excellent

124

Very good

2

Average

0

Poor

0

Terrible

0
Offers

Payout

Tracking

Support
trafee is the best CPA network
Join us>>> https://is.gd/1aI3Da
Great network with fast weekly payouts.
AM Kate is very beautiful and friendly.
Thank you Trafee!!!!
Best smartlink network. I am very excited to work with Trafee
i just joined trafee and trafee is the best network and really pays, the manager is friendly and helps me... ekaterina is the best manager she really helps me .. if you want to join trafee register via my link and you will be able to quickly
https://bit.ly/3s8X33W
Trafee is my favorite. They offer nice service. You can definitely work and I will try my best to help my referral. Thank you.
Great company to work with it. They are trustworthy and honest.
I'm very satisfied in this network.This network is best than another network.This network payout syestem is very high.In USA country per lead:-3.61$ and Germany:5.10$.This is Huge.I love this network.
Trafee is a great cpa network . The conversion rate is high. Currently I am working with dating smartlink and Work very well
Really good network.
I have been working with Trafee for 3 years and I have only positive experience with it.
Trafee is the best CPA network. They pay much more money per lead than other CPA networks. My affiliate Manager Elizaveta is so friendly and helps me resolve any CPA related issues.
I love Trafee network. I am working with dating smartlink and Elizaveta is very friendly and helpful manager.
Hello ,
My Name is Orko Ahmed
I'm a CPA marketer
Trafee.com is the Best Traffic Monetization System I Reviewed After 2 month Working with Trafee . It is the best and best Network in the World . My Manager Vasilina Is my favorite manager . I Like Manager Vasilina Very Much.
good network
Trafee is a one of the good networks. It's fantastic. I joined them and worked with them and found it to be a very reliable one & My manager is very helpful
on time payout, best smartlink high rate pay per conversion. Love to work with trafee
If you join with My referral link. i am here to help you. >> https://fw.ax/39kog
my skype= live:.cid.2af8db52449379cf
We have been working with TraFee for the last 1 years and. I like working with them Elizaveta Sir is a very good !
very good network !
Any help contact :- live:.cid.b744ee491c46cda

Copyright © 2010-2022 Affpaying.com All rights reserved.