AdsMain
OFFERS

4.96

PAYOUT

4.99

TRACKING

4.96

SUPPORT

4.99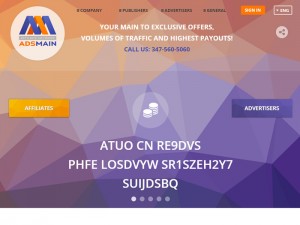 AdsMain Network provides affiliates with full-service management platform dedicated to optimizing revenue generation for both its Advertisers and Publishers!

Our goal is to address your growing marketing needs yielding the best value return on investment possible. All internet advertising is conducted exclusively on a pay for performance basis eliminating any sort of risk or ad waste.

Our CPA platform offers a complete solution for publishers to generate huge revenue from their websites by providing premium CPA offers on the web while assisting them in tracking their performance with fast online reporting.
[Show]
Affiliate Network Details
Commission Type
CPA , CPL , CPS
Tracking Link
http://tracking.adsmain.com/aff_c?
Affiliate Managers
George Evigan

Vlad Troy

Daria Barda

Daria Kobzeva

Nastya Minkovskaya

Aleksa Prokofieva

Nikita Pivtorak
Rating Distribution
Excellent

161

Very good

3

Average

0

Poor

0

Terrible

0
Offers

Payout

Tracking

Support
Excellent company with good conditions. Managers are online and always help if I ask. Wish you add more crypto cpl offers and I will switch all my traffic to you %)
Good guys. 100% recommended for those who want to scale his business fast.
Adsmain is so reputable!Always pay on time!My manager:Aleksandra Prokofieva live:.cid.bf6ba79c9199f46a
I am very grateful to her for her help!
Perfect network, with most loyal and professional managers i ever seen during my 7 years affiliate experience. Always friendly, always online and always pay on time.
Adsmain is an awesome network to work with. It's pretty hard times for industry right now as many good networks I worked with were closed(((( like peerfly and Mundo.
I hope Adsmain will keep working and wish you all the best!
Fast payouts+++++
Very good support+++++
Good offers+++++
Good luck!
Today I received my July payment and this is f*cking good, I now get my payments NET7, so feels extremely nice writing review about adsmain.
I've joined this network in the beginning of 2018 and I love the way guys work. I was promised to move on faster payments terms after they check my quality. And they did as promised: first they moved me to net15 and now I'm on net7, this helps me to reinvest anв buy more media each month.
I 100% recommend AdsMain to others.
Thanks, Xavier
My AdsMain id: 1764
Iа you want to be my ref, please use this link - https://bit.ly/2KC94cN
I want to leave another great review about AdsMain here. I'm experienced publisher since 2011 and it was my bad luck that I started to work with AdsMain only in 2018. They are perfect for any media buyer or publisher. My AM is always there to help, i always got paid on time without any fees and during this wonderful year i didn't have any issues with them.
I wish your company all the best and want to stay a part of adsmain forever!
Many thanks your, Cris:)
AdsMain is super trusted company. I want to confirm that they really pay me weekly and what I liked more it that they created sweepstake offer specially for my push traffic. I asked my manager Daria and she created unique landing customly for my needs and geo - this is amazing company and service.
I will be with you guys, thank you again AdsMain.
Your, Natali
Adsmain is the best network: high rates, a wide range of offers, awesome support. My manager Nasty is extremely friendly and helpful.
My payment as always on time! Thanks a lot!
It's amazing just try it out anв you will see.
Хорошая сетка с нормальными менеджерами и условиями. Не хватает товарки и азартных офенров на СНГ, но ребята обещали добавить.
Конвертится остальное неплохо. Лью им пуши на всякие свипы и купоны - пока все отлично.
Трекер иногда подвисает, но это как и у всех на афисе.
По оплатам вышел с ними на стабильный НЕТ15.
В общем все гуд! Достойная сетка!
I'm pleased to give my review to adsmain. This is a very good and reliable company with super good persomal and managers. They find all offers for me and allowed faster payments when i asked. It is so few good networks left now in the market they really pay and respect publishers. God bless you and hope we will work for long with you.
Great Network Adsmain with good support. I work this network & my affiliate maneger skype: Anastasia Samolevska she always support me. Thanks Madam for Assist me.
great company, great friendly manager! im glad i working with adsmain and during more than a year, i got paid on time and almost never get any reversals.
My best suggestion is to ask for good AM to be supporting your account, as not their managers reply fast, as it is very important for me. All my FB campaigns need very fast optimization information.
My AM Daria always online (even at night...haha) and always protecct my traffic. She always help and share advertiser advices to me.
thank you so much!!!
Very nice support and fair offer prices. I truly didn't earn much in my first month, but managers said they will give me good offers only after advertiser approve my quality, which should happen next week.
I will optimize more also and hope adsmain will please my wallet.
Super helpful and positive AM, nice to work with. I earned money just like others – even when I didn't expect it

Copyright © 2010-2019 Affpaying.com All rights reserved.