AdsMain
OFFERS

4.95

PAYOUT

4.99

TRACKING

4.96

SUPPORT

4.99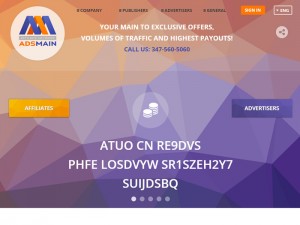 AdsMain Network provides affiliates with full-service management platform dedicated to optimizing revenue generation for both its Advertisers and Publishers!

Our goal is to address your growing marketing needs yielding the best value return on investment possible. All internet advertising is conducted exclusively on a pay for performance basis eliminating any sort of risk or ad waste.

Our CPA platform offers a complete solution for publishers to generate huge revenue from their websites by providing premium CPA offers on the web while assisting them in tracking their performance with fast online reporting.
[More]
Affiliate Network Details
Commission Type
CPA , CPL , CPS
Tracking Link
http://tracking.adsmain.com/aff_c?
Affiliate Managers
George Evigan

Vlad Troy

Daria Barda

Daria Kobzeva

Nastya Minkovskaya

Aleksa Prokofieva

Nikita Pivtorak
Rating Distribution
Excellent

163

Very good

3

Average

0

Poor

0

Terrible

0
Offers

Payout

Tracking

Support
Hi Friends, I am here to share my experience with you. I am working with Adsmain and its great CPA Network I have seen. My Account Manager Daria Barda (Skype: daria.adsmain) She is truly good and always support me.
Join Adsmain Network with http://gg.gg/adsmain and get approved easily and start work as fast as you can. All your payment is sure here.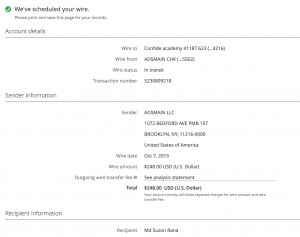 Adsmain is the best network: high rates, a wide range of offers, awesome support. My manager Nasty is extremely friendly and helpful.
My payment as always on time! Thanks a lot!
It's amazing just try it out anв you will see.
This is a network Just change my life and every things. My manager Daria Mam very pretty & Friendly , pay fast and in time, awesome and lots of offers. I'm very happy to working with adsmain.
Definitely AdsMain is a 5 star network!!!!!
I can help you if anybody wanna join to adsmain this is my referral link http://zipansion.com/tJkB
After Join Let me know skype live:helal.capoffers
once again i receive to my payment thanks to all team of adsmain
wow your network is very great and trusted network
Got next payment! Thanks for support!
i love to adsmain network such this is the trusted and great network every time i receive to my payment thanks to doria mam thank you so much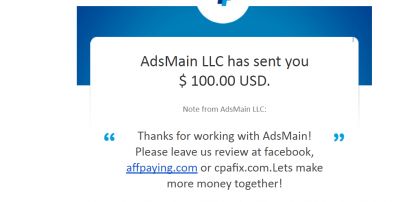 Great network to work with! Thanks Vlad and Anastasiya!
My manager asked me to write a review about adsmain and i'm happy to do that.
I can tell only positive about adsmain:
-they are responsive
-pay fast and in time
-no scrubs
-no payment fees(at least for me)
-they add any offer i ask and give me the best price
You can see result of my work with help of my AM in the screen i attached.
Definitely one of the best networks i ever worked with. And I worked with MANY! )))))))
Cheers!
Best network with my best AM (Max Bosack)
Hope to provide more good traffic for adsmain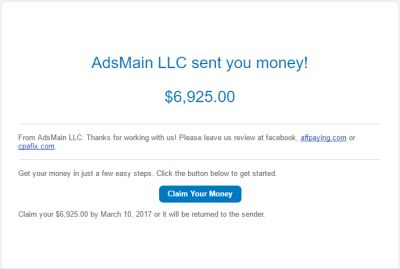 My payment ! great network. Thanks Ksenia for support and happy birthday
My payment! great network. Thanks Ksenia for support! ;)
I want to say that thank you my AM Ksenia and Adsmain so much. Good Network :)
Thank you, Ksenia and Adsmain! Hope to continue our cooperation.
Awesome company!
Here is my proofs of AdsMain validity and my thank you to them.

Copyright © 2010-2019 Affpaying.com All rights reserved.