CPAlead
OFFERS

4.89

PAYOUT

4.86

TRACKING

4.87

SUPPORT

4.86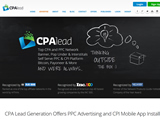 CPAlead is the world's LARGEST Incentive CPA Network and inventors of the Content Gateway technology in the CPA space. We have the most traffic means we have the most leverage to get you the best offers at the best payouts. Often imitated, never duplicated.

People all over the world choose CPAlead. Our trusted CPA network offers the largest selection of incentive based surveys to leverage your content and make money on the Web.
Affiliate Network Details
Commission Type
CPA, CPL, Content Locking
Tracking Software
In-house proprietary platform
Tracking Link
http://valueaffiliate.net/content_locker.php
Affiliate Managers
Justin Lamb

Milind Gupta

Troy Krzyston

Payment Support
Rating Distribution
Excellent

138

Very good

12

Average

0

Poor

0

Terrible

1
Offers

Payout

Tracking

Support
CPA lead is one of the best CPA network you can find and work with them to get higher payout and great earning. Best content locking network and the support service is really great and helpful. Quick payout, Appreciate it. Thanks for offering me such a wonderful platform to earn $$$$ online.
Have experience with many other netwroks, and after reading on affpaying about CPALead, decided to try it.
After few hours of cooperation i saw that CPALead shows two to four times fewer clicks than my TDS (which is tested on many network). It seems that CPALead steals my clicks. I wrote about it to support - there is no any respond. I find manager in Skype - and he/she did not answer adequate (attached screenshot). I dont recommend this "Network!
CPAlead is one of the best affiliate network EVER!! Been with them for a few months now and never experienced any issues with their weekly payments! You can see why they are highly ranked on Affpaying!
1. Super high converting offers.
2. Cutting-edge content lockers.
3. Free landing page templates.
4. Tracking is awesome.
5. Timely payouts.
6. Amazing support.
Signup here to get access to my affiliate manager for faster approval, and he will help you with the best converting offers and also bonus tips & tricks!
https://bit.ly/CPALeadGold

Great offers. Work hard and be honest and you can easily earn a good income here-CPAlead.
Lots of great offers here
One of the Best CPA Site.Easy to Earn.Anyone can Work From Home earn More Money in short time..+ Best CPA Rate. Just Sign Up Here:
CPALead Link:
https://bit.ly/2ZTwT4M
I have been working with Cpalead for the last 2 years. I never face any problem related to payment or anything. Therefore, I believe that this is the best CPA affiliate marketing site. If you earn money from here ...
Just follow the link >>>>http://bit.ly/2SnVsYr
Thanks for cpalead
All cpalead is very good, but just late response
My next payment from cpalead.com
If you want help to sign up and earning with CPALead, use my ref link: http://bit.ly/2AVwZPT
Cpa lead is a best marketplace for cpa marketing.
I like it and now i am mafketing here.
I like it because:
It has best and populer offer
It has ppc offer
If anyone join to this marketplace and need any help then click the link an sing up: https://bit.ly/2vK2JEE
If need any help then reply.
It is one the best affiliate network,great offers,pay on time and provide full support to new publishers.
Work Hard and be honest you will get great rewards from this network.
If you want easy approval join now :
http://petty.link/T1LfMv
its really good i got my first 0.40$ by just download app from my country
so now! come and sign up here: http://cutt.us/N4L9M
I have been working with CPALead from the last 3 years.I am shifting from Adnooka to here and believe me, i am surprised to see that cpalead is now performing very better than it was 7 years ago.
New team is devoted and always ready to help.I know i am not earning much here because i don't do hard work.
If you want to join under my refferal link :
http://goo.gl/RyHzsv
Great network with great payouts, great support, a bunch of great offers, payments are always on time like a clock. More than happy with this network.
join using my link. I will help you to get approved. join now https://goo.gl/7YpL33
Cpalead is the best cpa affiliate network! I come back to cpalead now after a about 2 years. They are the best. Now they pay weekly and have even more offers. I also really like all of the free templates as some are very good! very good CR offers too.
It's a great CPA website. Always payment on time.
IF you want to know how I work then signup using my link and leave your email here for the legit and working tips.
Signup Now : http://goo.gl/TDP5x6
Great network if you are into content locking. I really like the fact that there are ready niches for you to promote. Just select the niche, copy and link and youre good to go. No need to create landing pages, etc.. Overall great network.
Sign up with my ref link and I'll help you get started if you want- https://goo.gl/pWs35S

Copyright © 2010-2021 Affpaying.com All rights reserved.