CPAlead
OFFERS

4.89

PAYOUT

4.88

TRACKING

4.87

SUPPORT

4.86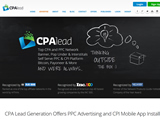 CPAlead is the world's LARGEST Incentive CPA Network and inventors of the Content Gateway technology in the CPA space. We have the most traffic means we have the most leverage to get you the best offers at the best payouts. Often imitated, never duplicated.

People all over the world choose CPAlead. Our trusted CPA network offers the largest selection of incentive based surveys to leverage your content and make money on the Web.
Affiliate Network Details
Commission Type
CPA, CPL, Content Locking
Tracking Software
In-house proprietary platform
Tracking Link
http://valueaffiliate.net/content_locker.php
Affiliate Managers
Justin Lamb

Milind Gupta

Troy Krzyston

Payment Support
Rating Distribution
Excellent

138

Very good

11

Average

0

Poor

0

Terrible

1
Offers

Payout

Tracking

Support
Have experience with many other netwroks, and after reading on affpaying about CPALead, decided to try it.
After few hours of cooperation i saw that CPALead shows two to four times fewer clicks than my TDS (which is tested on many network). It seems that CPALead steals my clicks. I wrote about it to support - there is no any respond. I find manager in Skype - and he/she did not answer adequate (attached screenshot). I dont recommend this "Network!
CPAlead is one of the best affiliate network EVER!! Been with them for a few months now and never experienced any issues with their weekly payments! You can see why they are highly ranked on Affpaying!
1. Super high converting offers.
2. Cutting-edge content lockers.
3. Free landing page templates.
4. Tracking is awesome.
5. Timely payouts.
6. Amazing support.
Signup here to get access to my affiliate manager for faster approval, and he will help you with the best converting offers and also bonus tips & tricks!
https://bit.ly/CPALeadGold

I have been working with Cpalead for the last 2 years. I never face any problem related to payment or anything. Therefore, I believe that this is the best CPA affiliate marketing site. If you earn money from here ...
Just follow the link >>>>http://bit.ly/2SnVsYr
Thanks for cpalead
All cpalead is very good, but just late response
My next payment from cpalead.com
If you want help to sign up and earning with CPALead, use my ref link: http://bit.ly/2AVwZPT
It is one the best affiliate network,great offers,pay on time and provide full support to new publishers.
Work Hard and be honest you will get great rewards from this network.
If you want easy approval join now :
http://petty.link/T1LfMv
its really good i got my first 0.40$ by just download app from my country
so now! come and sign up here: http://cutt.us/N4L9M
I am working with Cpalead from the last 2 Years. I never face any problem regarding payment or anything.So ,I think This is the best CPA Affiliate marketing site.If you earn money from here...
Just follow the link >>>>http://ow.ly/MfS5308YN4w
CPALead is the best CPA Netword !
Join now and earn money
Join now – http://bit.ly/2f6IBCV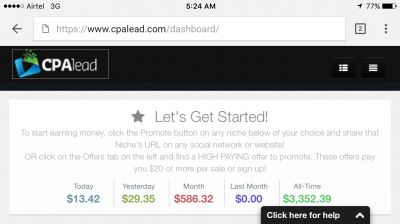 This is clearly one of the best affiliate programs there is , you can earn as much as you can work and there is tons of payment method also they're always on time couldn't ask for a better program, i will be working and earning here from now on .
favorite network! Now from all the using cpalead niches and mobile offers i have days i make over $20 in one day! this is the best network for me that i have tried of all the other networks on cpa
Cpalead is the best cpa net word i have ever seen !
best support from my manager Justin lamb.
very nice support from Peter, Tom and Troy..
i am happy to use cpalead. Join now link : http://bit.ly/29C2h1U
I've been using CPALead for a long time and they've never disappointed me when it comes to payouts. I Tried all payment methods and it works! Cheers! Join me I can provide you an E-Book with Tutorial and online support!
Apply Here: http://bit.ly/1l2zpKq
Download EBook here: http://bit.ly/1NfHXzQ
Post your Email below so I can beep you up with the NEW CPA GUIDE EBook for FREE!
I have been working with CPALead from the last 3 years.I am shifting from Adnooka to here and believe me, i am surprised to see that cpalead is now performing very better than it was 7 years ago.
New team is devoted and always ready to help.I know i am not earning much here because i don't do hard work.
Here is my referral link.
http://goo.gl/HWsspX
If you want fast approval, apply through my referral link and then email me your's application number.I will try to speak with my manager for acceptance of account ASAP.
This is one of the best networks. They pay ontime and the support is first class. I strongly encourage anyone looking for weekly payments to partner with this network!


Copyright © 2010-2020 Affpaying.com All rights reserved.