CPAlead
OFFERS

4.89

PAYOUT

4.86

TRACKING

4.87

SUPPORT

4.86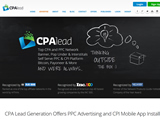 CPAlead is the world's LARGEST Incentive CPA Network and inventors of the Content Gateway technology in the CPA space. We have the most traffic means we have the most leverage to get you the best offers at the best payouts. Often imitated, never duplicated.

People all over the world choose CPAlead. Our trusted CPA network offers the largest selection of incentive based surveys to leverage your content and make money on the Web.
Affiliate Network Details
Commission Type
CPA, CPL, Content Locking
Tracking Software
In-house proprietary platform
Tracking Link
http://valueaffiliate.net/content_locker.php
Affiliate Managers
Justin Lamb

Milind Gupta

Troy Krzyston

Payment Support
Rating Distribution
Excellent

138

Very good

12

Average

0

Poor

0

Terrible

1
Offers

Payout

Tracking

Support
CPALead is not a scam. I have been paid many times by them.
Thats the reason you should never put all the eggs in the same basket.
They always paid me on time, but my best month was around $700. Maybe thats the reason because the big earners that shout thousands of $ one day and the other day they just disappear.
i agree, i will admit they need alot better offers like everyone else but as far as scam they are not, i make over 1k a month since sept and they have always payed on time or even a few days early.
if your looking for guarantee payment cpalead is your choice,
if your looking for great high payout offers might wanna look else where.
in all cpalead is not my choice network due to the ads and premium offer status but they are the ones i can count on to get paid with
i really liked cpalead so much put i have a little problem with viewing the offers if you can provide us with a screen shot or a link to preview the offer
this will be help full.
Hello i am the new owner of money-rewards.org .I already sent you 2 emails but you never responded. Can you please change the email on the account to my email (since i am the owner now).
Hi,today I want to say one thing, perhaps CPAlead has gone down, I am currently working with Matomy , AdworkMedia, MundoMedia., Before that, I had a long period of time to work with CPAlead, all very good, payment soon, I really like them. until one day in 2013 my account is not paid anymore. I do not understand why. I made ??$ 10k in my account. All are paid. My Traffic totally fine. I contacted them, they said I was cheating. If I cheat why they pay me before. This is absurd, they really do not want to pay $ for me. So today I want to say that CPAlead probably go down, they are scam us. I think so.
Keep care!
They keep my payment on hold until further notice!
I asked them three times why, and I always get the answer that the earnings are questionable!
I ask many times to be concrete what means questionable in their opinion, but always heared "questionable"...
I hope someone from CPAlead is reading this and can help me more than the supposed "Account Manager"!
I would really like to get my money!!!
I want to join CPALead but I could not register. I tried on all browsers wed , Please Help
i recently joined Cpalead and upon joining, my main intention was to promote non-incentive offers. I apply for almost all the non-incentive offers on Cpalead and got approved but whenever i check my affiliate link to start promoting an offer, my affiliate link always goes to a survey that is not related to the offer itself. And this is really what i would like to avoid. i want to be able to promote offers directly without my link going to a survey. My method of promoting is more effective this way and i can make thousands of dollars daily if i am able to do this. i have been trying for the past two days.
Please tell me if this is possible if so how i can i promote offers directly without my affiliate link linking to a survey that is not related to the offer.
Thanks
Wealth M. Jr
any one get last month payment
Hello,
Recently I Create an an Affiliate Account on CPALead. My Affiliate Id: 805409. I filled my All Information. But i did not get any Verification mail or Confirmation mail!! When i Log in My CPALead Account they are showing this notification..... "This account has pending changes. If you make additional changes, any other pending changes will be canceled, and only the changes made below will be valid. If you wish to make the other changes permanent, use the link provided in the notification email, and then come back to this page and make further changes."
Please Give me a Useful Solution as soon as possible. I'm so hurry for doing my work. but now i totally hanging with CPALead..
Kind Regards
Sohag
I want to work this cpalead program pls suggest .... is there any training offer
kindly help me
Who could help me?
I can't sign up!
"Error: Invalid CAPTCHA response. Please try again."

Copyright © 2010-2020 Affpaying.com All rights reserved.