EvaDav
QUALITY

4.91

VOLUME

4.92

PLATFORM

4.99

SUPPORT

4.86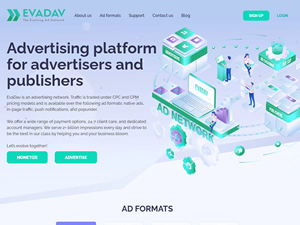 EvaDav is a client-oriented native advertising network, providing cutting-edge solutions both to advertisers and publishers who are integrated into a single platform. It provides the best performance for the advertisers and embraces one of the most perspective markets of advertising formats – native advertising and push notifications.

Advantages of your cooperation with EvaDav:

- only verified advertisers
- wide selection of landing pages for any kind of traffic
- development of custom LP's according to individual webmaster's requests
- integration with plenty of trackers, such as Binom, Keitaro, BeMob, PeerClick
- personal account manager available 24/7
- it takes you 10 minutes to register and start off

Weekly stable payouts
Minimum payout - $25
Revenue Share model - the terms are more favorable than any CPA offer
CPA model available on private terms
Additional opportunity to make a profit on Traffic back
Referral program
Advertising Network Details
Minimum Payment
$5 for WebMoney and Paxum, $100 for other payment systems
Payment Method
PayPal, WebMoney, Paxum, Bank Wire Transfer, Bitcoin, Tether (USDT)
Ad Format
Popunder (top ad format), Social Bar (new and total blast!), In-Page Push, Native, Video pre-rolls, Banner
Cost Model
CPA, CPM, CPI, CPL, RTB, CPC
Payment Method
WebMoney, Paxum, PayPal, Bank Wire Transfer, Capitalist, Banking Cards (constantly expanding)
Daily Impression
1 billion
Top Vertical
VPNs, Utilities, Subscriptions, Sweepstakes, Dating, Gambling, Adult paysites, Cams
Rating Distribution
Excellent

106

Very good

5

Average

0

Poor

0

Terrible

0
Quality

Volume

Platform

Support
Targeting & Optimization
Self-serve Platform

GEO Targeting

Device Targeting

OS Targeting

ISP/Carrier Targeting

Broswer Targeting

IP Targeting

Website Targeting

Language Targeting

Time Targeting

Category Targeting

Demographic Targeting

Retargeting

Black/White List

Frequency Capping

Token

Anti-Fraud

Adult Ads

Gambling Ads

Personal Account Manager
In terms of competence as a manager, this network is now one of the best. Here the guys contacted almost immediately and were able to help and orient in terms of work. Helped set everything up to get the best result. This allowed me to earn really good money.
It seems to me that in terms of the availability of formats for the work of Evadad now is one of the best options. At least, I really managed to try a lot of formats for work. And most importantly - they work pretty well, especially if you choose everything correctly.
There are more than enough formats here. I had to work with different advertising networks, but so far this option is much more interesting in terms of working conditions. In fact, there are formats that bring excellent results. As for me, from the available options, everyone will find an option that will allow them to earn.
I believe that Evadav is now a very profitable option for work. The traffic rates here are quite interesting, especially if you choose the right geo to drain. I've tried different formats and different geos, and I've been able to achieve a very pleasing result. Earnings have already crossed the mark of a couple of thousand a week, and I do not plan to stop yet.
For me, this is really a very good option for buying traffic. In general, I have been working in the niche of working with traffic for quite a long time, and this option is really reliable. The traffic here is really very high quality, due to this, lead generation is really on the level and you can earn really good money.
Of all the ad networks I've worked with, this is by far one of the best options. In terms of traffic, they have a fairly wide choice, and most importantly, the traffic is of high quality. I have been cooperating with them for more than a month, and thanks to this I have launched more than one project. I am very pleased with the results of cooperation!
I really liked this ad network in terms of work. Working conditions here are really very good. The stakes are quite high, especially for top 3 countries. If you pour high-quality traffic on these countries, you can get really good results.
Payments in Evadav occur every week, exactly on Tuesdays. They do not delay and you always know for sure that the money will definitely be deposited into your account. Moreover, you can choose almost any convenient for yourself, so that later you can withdraw it to the card, for example, and so on.
To drain the traffic, they immediately provided the necessary tools, and they also gave them a boost with creatives. So it becomes much easier to merge in this case. And most importantly - after all, they really gave out high-quality ones. So far, only 2 months with Evadav, but he has already noted for himself an excellent attitude towards me.
This ad network turned out to be very profitable in terms of work for me. I really liked the moment that they quickly approve traffic, and at the same time they accept it in fairly large volumes. It allows me to work quite actively and earn good money.
I actively buy traffic here, and I hope that in the future the results will only get better. It is very noticeable that they are trying to give out high-quality traffic here. My conversion rate is stable at the level of 120-130%, and has not dropped below a couple of months. Profit is quite good, and I think that it will only increase.
This ad network captivates me with its reliability. Frankly, with other grids I had problems when withdrawing money. Here in this regard, complete order. I have been working with them for quite a long time, I have already reached a fairly good level of income, and so far no problems.
I was very pleased with the premium pops. It's very cool that the ad network is always trying to get better by adding various convenient features and other innovations. So far, I'm working with this ad network, and I hope that in the future the results will only get better.
I direct traffic exclusively to the top 3 countries, which are much more profitable for me in terms of conditions. Cheaper and more is the secret of success for me. I will continue to increase momentum, I still want to try the top 1, but purely for the sake of experiment, especially since Evadav offers it.
I think that one of the important aspects is traffic. If you work with high-quality traffic here, there will be no questions. In terms of the work process, there are no questions to the grid, everything works fine. Money is withdrawn without problems, moreover - quite quickly.

Copyright © 2010-2023 Affpaying.com All rights reserved.