EvaDav
QUALITY

4.93

VOLUME

4.94

PLATFORM

4.99

SUPPORT

4.9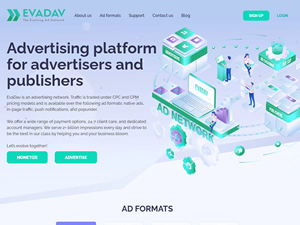 EvaDav is a client-oriented native advertising network, providing cutting-edge solutions both to advertisers and publishers who are integrated into a single platform. It provides the best performance for the advertisers and embraces one of the most perspective markets of advertising formats – native advertising and push notifications.

Advantages of your cooperation with EvaDav:

- only verified advertisers
- wide selection of landing pages for any kind of traffic
- development of custom LP's according to individual webmaster's requests
- integration with plenty of trackers, such as Binom, Keitaro, BeMob, PeerClick
- personal account manager available 24/7
- it takes you 10 minutes to register and start off

Weekly stable payouts
Minimum payout - $25
Revenue Share model - the terms are more favorable than any CPA offer
CPA model available on private terms
Additional opportunity to make a profit on Traffic back
Referral program
Advertising Network Details
Minimum Payment
$5 for WebMoney and Paxum, $100 for other payment systems
Payment Method
PayPal, WebMoney, Paxum, Bank Wire Transfer, Bitcoin, Tether (USDT)
Ad Format
Popunder (top ad format), Social Bar (new and total blast!), In-Page Push, Native, Video pre-rolls, Banner
Cost Model
CPA, CPM, CPI, CPL, RTB, CPC
Payment Method
WebMoney, Paxum, PayPal, Bank Wire Transfer, Capitalist, Banking Cards (constantly expanding)
Daily Impression
1 billion
Top Vertical
VPNs, Utilities, Subscriptions, Sweepstakes, Dating, Gambling, Adult paysites, Cams
Rating Distribution
Excellent

141

Very good

5

Average

0

Poor

0

Terrible

0
Quality

Volume

Platform

Support
Targeting & Optimization
Self-serve Platform

GEO Targeting

Device Targeting

OS Targeting

ISP/Carrier Targeting

Broswer Targeting

IP Targeting

Website Targeting

Language Targeting

Time Targeting

Category Targeting

Demographic Targeting

Retargeting

Black/White List

Frequency Capping

Token

Anti-Fraud

Adult Ads

Gambling Ads

Personal Account Manager
As for me, Evadav is now one of the best offers. At least, I have been sending traffic here for quite a long time and I can say that in this regard this option is quite profitable. In addition, they approve traffic in fairly large quantities. This allows you to really actively work and get a good profit.
For the purchase of advertising traffic, this is a very profitable option. In my opinion, you can find almost any traffic here, and most importantly - at an adequate price. For me, this factor also plays a rather important role. In addition, if you use auctions, the result can be even more interesting.
Tier 3 countries are great at Evadav. If you give out high-quality traffic, then in the end you will definitely get good money. I work exclusively with push notifications, because after all the tests they showed the best result. For the money, it's pretty good in the end.
Evadav's DSP has brought me immense benefits in targeting and retargeting. I can now easily set my parameters for vertical targeting and create personalized messages for my audience. The platform also assists me in analyzing past consumer behavior and placing banners for interested audiences, improving conversion. Thanks to access to global SSPs, I can easily find suitable publishers for my ads. It's a fantastic tool for any advertiser! Additionally, the platform's advanced AI capabilities help predict trends and optimize my ad performance.
Very cool option, I'm really satisfied. What I was able to get here is good traffic. Moreover, the rates are quite adequate. In general, while the impression is quite positive and there is every chance to get a really good result. In addition, they have no problems with the withdrawal - everything works fine and you can earn good money.
I've been working with Evadav for over half a year and the results have exceeded all my expectations. I have the ability to really choose from the most popular advertising formats: Native, In-Page, Push, and Pop ads. With Evadav, my advertisement reaches a wide audience around the world, which has a positive impact on my income. I also want to highlight the professionalism of the support team. Thanks to Evadav, my business has grown significantly!
The network was a very pleasant surprise. In fact, the quality of their traffic is very good, I did not even expect this. You can order it quite actively, in this regard, they can cover almost any volume. In general, while I'm really satisfied with such cooperation.
I tried various formats, but so far I settled on push notifications with a popunder. As for me, it is this option that now brings the most positive result. I was pleased that there is a large selection of formats for work. Due to this, it is possible to choose the most suitable option so that the result is positive.
I really liked this ad network for work. I am very happy that I chose them to work with. There are no problems with the withdrawal, and the rates are very pleasant. Due to the fast approval, the result may well please. In addition, they accept traffic from various geos, which allows you to approve a fairly wide range of traffic. In general, while I'm quite happy with everything.
A very well-thought-out personal account in the grid, and there you can track statistics, see where you are doing better, where it is worse. So you can always set everything up for yourself and start sending traffic normally. Moreover, statistics are shown even for different GEOs, so you can see which countries are better for you. I calmly withdraw 4 thousand per month, which is enough for me!
EvaDav's push notification ad format sets it apart from competitors, offering advertisers a unique and non-intrusive way to engage users. Nevertheless, the platform should provide clearer guidelines on responsible advertising to prevent users from being overwhelmed by notifications.
I was very pleased that there are many formats available for work. I already work enough with this advertising network, and even during the time, several formats have already been added to my work. Due to this, it is much more profitable to work, and what is no less important - you get significantly more traffic if you choose everything correctly.
I am sure that now Evadav is really worthy of attention. At least, it was with this advertising network that I was able to get a good result now. In addition, there are quite favorable rates for traffic, and due to this, the return increases noticeably. In general, so far I have only positive impressions about this company.
If you use all the tools and promki to build in correctly, then you will definitely succeed. Moreover, you can even load traffic quite actively, and you will definitely be paid for any amount! I hope that in the future my indicators will only grow, and there is no reason to think otherwise, since the grid has given out all the necessary tools.
I am really happy with my choice and I think that Evadav is really one of the best options. At least, it was here that I was able to get the highest quality traffic, and at the same time - for adequate money. It seems to me that in terms of betting, this is really the option that allows you to get one of the most profitable results for your money.

Copyright © 2010-2023 Affpaying.com All rights reserved.