EZmob
QUALITY

4.93

VOLUME

4.93

PLATFORM

4.93

SUPPORT

5
Easy mob (EZmob) is a self-serve mobile advertising platform. We enable advertisers to scale demand with premium supply from over 40 inventories in over 200 countries.

EZmob serves display, pop, native and push notification ads across direct publishers and whitelisted sources.

As a direct advertiser, we know you're looking for an outstanding way to promote your products or services to mobile users across the globe. Easy Mob Mobile DSP, a self-serve programmatic advertising platform, provides the most convenient and transparent marketing solution, which allows you to launch your campaigns instantly and hit your goals.
Advertising Network Details
Payment Frequency
Monthly
Payment Method
PayPal, Wire, Payoneer, Paxum
Ad Format
Popunder, Native, Push, Banner
Payment Method
PayPal, Credit Card, Paxum, Wire
Daily Impression
5 Billion
Top Vertical
Mobile Content, Forex, Nutra, Sweepstakes, Gambling
Rating Distribution
Excellent

15

Very good

0

Average

0

Poor

0

Terrible

0
Quality

Volume

Platform

Support
Targeting & Optimization
Self-serve Platform

GEO Targeting

Device Targeting

OS Targeting

ISP/Carrier Targeting

Broswer Targeting

IP Targeting

Website Targeting

Language Targeting

Time Targeting

Category Targeting

Demographic Targeting

Retargeting

Black/White List

Frequency Capping

Token

Anti-Fraud

Adult Ads

Gambling Ads

Personal Account Manager
Had a great porn campaign there
Support was superb. Been using their platform for years.
I found out about EZmob through their blog, they have a lot of useful articles to read before you launch campaigns with them, great content, thanks!
amazing traffic and very easy to automate popudner and push campaigns, recommended
very low threshold to test them, only $50 with Paypal, can set up pop and push campaigns for affiliate offers, very fast approval, thanks team
great team and traffic is well converting, appreciated and recommended
They have been on the market for since 2013, and the results are impressive. worked really well for crypto campaigns, both for leads and sales
very happy with EZmob's service, make sure to connect with your account manager as they are very helpful in expediting reaching your goals.
Best company to partner and work, deals in quality traffic only. Pay very well on time and have fast client support.
A trustworthy network alliance, has been working together for more than a year, and the results are very satisfactory
We have been working with them for several years. They have great publishers and advertisers. They are a guarantee of good traffic and high income. The best network in the world. See the evidence in the photos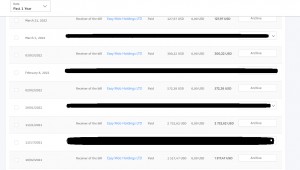 they offer push, pop and display advertising with self-serve, seems very straight-forward, just started but interface seems very friendly and team are available on chat
great team, easy to work with, used pops and quality seems legit
easy to reach team with chat support, can add pop and display tags, also provide push tags
Was really easy to get started with setting up a campaign, very friendly team


Copyright © 2010-2022 Affpaying.com All rights reserved.