Paysale
OFFERS

5

PAYOUT

5

TRACKING

4.96

SUPPORT

4.99
Paysale is one of the fastest growing performance marketing networks in the industry centered on growing brands online and enable publishers to optimize online media and to leverage customer acquisition channels. Paysale offers a full range of services, our verticals include: e-commerce, dating and match-making, travel sites etc. We help publishers, media buyers and agencies obtain peak performance with their advertising campaigns. Paysale is a recognized industry expert Driven by clients ROI maximization. Our hands-on campaign managing method and constant control over creatives and sources makes it a safe choice for advertisers to grow their brand with most verticals. Out concerns about fraudulent leads or questionable promotion. Our business strategy is based on stability, tradition, respect, and symbol of trust. Our wide range of publishers reaches multiple audience niches and is able to bring targeted traffic for most verticals.
Affiliate Network Details
Commission Type
CPA, CPL, CPS
Tracking Software
In-house proprietary platform
Rating Distribution
Excellent

72

Very good

0

Average

0

Poor

0

Terrible

0
Offers

Payout

Tracking

Support
It is a pleasure to work with paysale, timely payment, and a lot of good offers, great support team
Today my 11th payment will not say anything today but one thing I have to say is that those who do CPA marketing work on this site will get good results.
And anyone who wants to work with me can contact my skype live:473c43e9e785acb8
Best network , if you need trusted cpa network, i recommend to work with paysale, moreover they have excellent offers with high payments, and their support are friendly and helpful.
It's really nice to work with you. I got my first payment. ❤️
This is a nice affiliate network that you can trust.very high paying offers.I am earning a lot with this company. I star working with them 2 years ago, i never find any problems in this network, always paid in time. thx support team , no complaints , i just love paysale
Few months ago I worked with paysale, great offers with high payments .my account manager helps me always by giving me advise and give me information about offers that have a good conversion , thank for support tea, the payment always in the time.
Paysale is a popular site, for several months I have been working here and got very good results.
You work here, get a very good result.
This site manager has a very good and responsive help
If you want to work in my team, I can give you full support.
My skype ID live:473c43e9e785acb8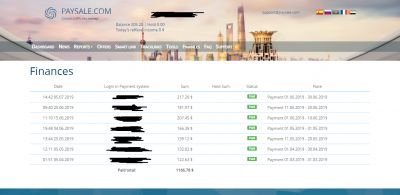 Best , honestly, friendly and professionally network I worked with, guys i recommend paysale.
I like worked with paysale they have all what i need, i recommend to work with this network and I am sure that every affiliate will like it too, they have excellent offers and support and they pay always on the time.
Great network , great support and great offers, payment on time always,i recommend to star earning money with paysale.

Payment alway one the time, support helps and solve problems quickly,excellent offers in different categories,honestly, i feel safe in working with paysale, best network, i recommend.
In paysale network, i am focus on dating offers, there are a lot of good offers, and different categories, about the payment and support always in the time, and quickly answer me and help me if i need something, i recommend.
Paysale best of the CPA marketing site, this site offers a very good offer, which is a good conversion rate, paysale manager very well, especially sagor brother very good people help me a lot, love you sagor vaiya, at the end, if you work my I can contact my skype ID live: 473c43e9e785acb8
You can help as much as possible
I started work with paysale a few months ago, and it was a positive and good experience,they supported me always because they have friendly support and always answer me and help me fastly and payed for me on the time , moreover they have differents systems of payment, and good offers with differents categories and goals,i am happy to work with paysale , and i am seeing that i will have a succes and good futur with this network , i recommend , good luck for all !
in my humble opinion , paysale is one of best companies that i worked with , all what the affilate need , can find in this company , trust , support service , and very professional managers that they always help me and they always in my service , moreover, they have a differents systems for payment , and they pay for me always in the time . i advise you to work with this network.


Copyright © 2010-2019 Affpaying.com All rights reserved.