EWA Private Network was founded by Ryan Eagle and Harrison Gervitz and is a division of Eagle Web Assets Inc. They are a referral-only approval basis CPA network consisting of media buyers, email marketers, social marketers, cost per view (ppv/cpv) marketers and ppc marketers. They formed EWA with 3 goals in mind: to get more, to pay more, and to help more.

EWA Private Network maintain personal connections with all our affiliates, pledge to beat any payout, and pay on time to all affiliates. EWA Private Network pays you with weekly payouts regardless of volume. It's super powerful!
Affiliate Network Details
Commission Type
CPA , CPL , CPS
Minimum Payment
No minimum, Varies
Tracking Link
http://www.tracklead.net, http://www.trackamps.com
Affiliate Managers
Ryan Eagle

Harrison Gevirtz

Chad King

Omar Latif

Kyle Eagle

Harold Lovett
Rating Distribution
Excellent

142

Very good

5

Average

1

Poor

0

Terrible

12
Offers

Payout

Tracking

Support
Yet another affiliate here that is owed money by EWA. Just thought I'd chime in. I've been owed money for over 4 months and the entire time, Ryan was just trying to stall and say s**t like, "I'm so embarrassed this has happened to you, I'll get my guy William on it right away".. What a joke.
I can't believe in order to leave this comment I had to give them a star... they clearly don't deserve it.
Stay Away from EWA!! I haven't receive my DEC 2012 commission.
No response from EWA upon enquiry. EWA having financial difficulties!
Terrible company. Although we're not disappointed. Considerably because of the pre-auditing of campaigns our marketing team performs when considering working with new networks. I guess Ryan became more thoughtful and sent this email on 02/15/13. I think everyone affiliated with Ryan's network received it.
"Dear EWA Affiliates,
First off, I would like to personally apologize as truly and honestly as I can for everything that EWA Private Network has put our publishers through these past months. It's been a turbulent road for my company and it's taken quite the toll on me and the staff around me. Believe it or not, I care about the reputation of my company I care about the publishers in my network - it burdens me daily to see what has happened. We incurred massive losses due to non-paying merchants, combined with internal problems lead to a situation which needed an outside investor to help resolve.
I spent upwards of a year seeking individuals and companies to invest into EWA and the entire process of finding an investor was draining on me - I was lead on and let down many times. Unfortunately, our most recent investor possibility ended up falling through leaving EWA with no other options. We have decided that it's time to close our doors while we continue to seek a new investor to take over the company. Meanwhile, we will be working with a restructuring agent to liquidating our receivables and sell our assets in a way to repay outstanding payables.
Leaving EWA Network on a note like this was the absolute hardest choice I've made in my business career. I gave it my absolute 100% best and tried the hardest that I could, spending hours a day trying to make this company the best that it could be. Running EWA Network for these past four years and interacting with the thousands of EWA affiliates has been one of the best experiences that I've had, and I'd like to apologize once again to all our clients for the situation that we were put in.
Finally, I would like to apologize to our staff - especially the account managers, international partners, and our network manager on the front lines everyday. They were put into a situation where they were at the mercy of the companies problems. I accept the blame fully for it, and I want nothing that happened to the company reflect onto their shoulders because they did the best they did with cards they were dealt. When we thought the investor was coming through, I told them to pull - and when we were left empty handed, they were the ones to take the blame. They were the lifeblood of our company and I appreciate every minute they spent making EWA great.
On March 1st, 2013 we will be pausing all traffic to EWA publishers. Thank you for your years of support and the millionsof dollars in revenue that has run through EWA Network. It's been amazing to see the growth of so many publishers since the beginning and I'm truly grateful for every single one of you.
To Success,
Ryan Eagle, Partner
ryan@eaglewebassets.com"
--
--
--
I didn't get paid from ewa from November 2012!
Ryan is a scam!
ewa is a SCAM
What is the baldy hell guys are u doing with me.
i just fedd up to send u emails and trying to contact the managers.
they just here for get selry from company and make dun there don't understand the problems of the users.
from 2 month im trying to withdraw my amount but no once here to tell me anything.
when we dont use accounts then u guys mail us why u don't work and when we work u dont give us,
its my 1st payment from ewa but how much advertise there thts like they cheep peoples.
i know after the massage ewa not gonna pay me but at least i sugges peoples that don't join u
u are fake peoples.
Ewa network is the worst thing that can happen to an affiliate! Below are some reasons that should make any newbie or super aff to RUN and STOP any traffic to ewa:
1. NO payment since September last year!
2. Ryan is promising to solve problems "very soon". As "soon" as 6 months now, no sign from anyone form this network.
3. Savy/Jared simply don't exist in the accounting team. They've never answered any email.
4. Ticket support is a joke. You can wait as long as 3 weeks for an answer and that answer will be: " we have passed your request and will try to solve this asap"
5. Fake AM's - Last month a new AM was introduced. The girl was an invention, she didn't knew nothing about being an AM at ewa, she didn't knew what ewa was.
6. Fake private network. Not only that this network is far from private ( 80% of affiliates are total newbies), the " now accepting only 9 new affiliates" is a joke, the exclusive offers and special support are non-existing.
7. Simple things like W8 registration/ approval/ offers approval/ AM answers can take weeks to solve for ewa stuff, if ever.
Not get paid for 3 months Affiliate ID 265769 Amount $1100
Yes they still didn't pay me too, its been over 3 months now.
EWA network is a scam. STAY AWAY.
They still not paid commission last three month Affiliate ID 225328
Hello,
I agree with all the other complaints. I haven't received a payment since August. after 3 emails he went to accuse me of fraud as well. Even included reports thinking i would have a clue on looking them up.
I loaded Proxy Deter seen 2 proxies total as he claimed I had 246. I then went to Up Look up sites just to give him the benefit of the doubt. After 15 look up's and no proxies i realized he was just trying to get out of paying.
I finally just gave up when he acted like he hired a Hot AIm that was just a women from fiverr.
Stay away from here they will just use stall tactics to keep you running then hit you with the BS fraud excuse.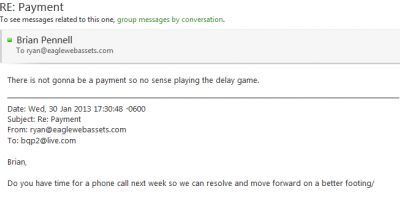 Have not been paid by EWA for several thousand in traffic sent 6 months ago. 50+ emails back and forth with the owner of the network (Ryan) who continuously misleads me (and other affiliates) by stalling for time and dragging out the process. They have even gone as far as issuing fake checks and sending fake confirmation of money wires to buy more time, "techniques" which have been confirmed by many other affiliates.
The most likely explanation of course is that EWA is broke and simply doesn't have enough money floated to cover affiliate balances, which of course is THE most important thing you can do as a network....have enough money on hand to pay your affiliates.
TERRIBLE network, I hear they are going broke. There AM left them due to not paying their wages let alone the affiliates! You get given a load of bull about the traffic comming from proxies and this is the reason for none payment. AM's have access to absolutely nothing! And can do nothing abot payout, accounting do not answer emails, niether do the owners, co-owners or anyone else for that matter! They accept people to run blackhat & fraud traffic (See screen shots). The network has gone downhill in a matter of months drastically. Just Google "ewa not paying out" and you will get a load of affiliate complaining about none payout. **DO NOT USE** If you are using send your traffic elsewhere ASAP!
Here is a convosation with their OLD AM Nicki:
NickiEWANet is available 3:32 am
Online: 7h 29m
If you want to work with me and GET PAID sign up over at adattraction.com $$$$$$$ Comment8h and 20m ago
x3r0ssx 3:32 am
Hi you not working with EWA now?
NickiEWANet 3:33 am
hell no, they stopped paying affiliates and im not ok with that
no matter how much i yelled at them and emailed and messaged they still would not pay anyone
then they stopped paying ME on time too
NickiEWANet 3:34 am
no way
i fought so hard for you and everyone else who was owed money
i sent hundreds of emails over 5 months
to savy
ryan
jared
tom
nobody cared
and now it looks like they are going to run away with a few million dollars soon
x3r0ssx 3:37 am
Ryan is now trying to say becuase people used proxies to purchase the products they are fraud, you really think sit there with 68 CC with proxies doing that shit myself? I got better thing to do
NickiEWANet 3:37 am
exactly
its just his excuse not to pay people
NickiEWANet 3:37 am
im working with another network already, that actually pays people
x3r0ssx 3:40 am
Ryan has been BH for ages anyway did you not know?
NickiEWANet 3:41 am
oh i know he runs bh but still
he should be paying people
They still not paid commission for (Nov,Dec) Affiliate ID 225328
EWA IS DEAD, NEVER JOIN THEM
http://herysanjaya.com/ewasuck/donotjoinewa.html
EWA is a dead network. They willingly cheat their affiliates. I used to do 100K a year with them and everything was fine till early 2012. In November 2012, for whole month they failed to make payment. When talked to my AM, Chad King I was always told he will look into the matter and all that. Then I was told that now I am on monthly payment and will get paid on Dec 15. In the meanwhile I continued sending traffic going by the past relation.
When no payment happened on Dec 15, I contacted billing. Another excuse everyone is out on ChristMas vacation. Finally got someone from billing responding that I have been put on net 30 and shouldn't worry. Payment will happen on Dec 31. My AM as well confirmed that before year end all payment will be taken care of. I even got mighty Ryan finally sending email confirming that by Dec 31, they will pay.
Again no payment on Dec 31.
When I pushed matter further, Ryan came out with a proposal that was essentially keep on sending them traffic without getting paid ever.
Finally in first week of Jan, Ryan agreed to settle partial payment and remaining when they have money. 2 weeks have passed since then and no response. When you catch Ryan either he is in conference or just back from conference.
This all is for a paltry sum of like 9 K. That too of an affiliate who in lifetime has given them business worth more than 250K.
The whole episode proves that EWA is a dead network now and is struggling to avoid law suits. Most important point to note, they are a bunch of liar and are engaged in willful cheating.

Copyright © 2010-2023 Affpaying.com All rights reserved.