Olavivo - Level-Up Your Affiliate Marketing Game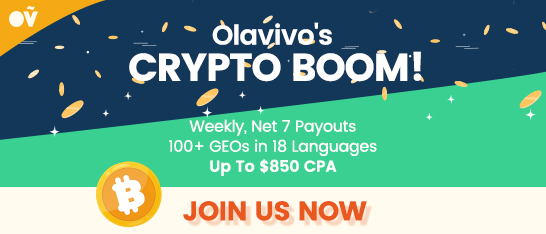 Olavivo is a boutique affiliate network focusing on several verticals, including cryptocurrency, finance, cannabis, health & beauty, ecommerce, and gaming.
Why should you join us? Olavivo converts traffic Every. Single. Day. With over eight years of experience, the professionals at Olavivo have been building and growing successful relationships with media partners, affiliate marketers, and publishers, as well as merchants, sellers, and advertisers.
But wait, there's more!
Olavivo has top-converting worldwide campaigns and offers which are available in 125+ GEOs and 18 different languages.
Why else should you join Olavivo? It's about how we treat you.
Take advantage of these high-tech benefits, including:
Cutting edge tracking systems.
30- to 90-day conversion cookie lifespan.
Smooth API Integration.
You can always expect solid payouts, done your way, with these benefits:
Multiple payment methods are available, including wire, crypto, paypal, payoneer, masspay and more.
Net 7 weekly/bi-weekly/monthly payments.
Lucrative referral program.
Listen up, media partners!
Media partners, also known as affiliates or publishers, can receive tremendous benefits from Olavivo. A dedicated affiliate manager will help make sure you receive top-converting and trending global offers. You can share these offers with your audience to receive the hottest payout rates in the market. Tracking live and real-time reports means you will be able to monitor and efficiently optimize and scale your campaigns. You can receive direct deposit, cryptocurrency, or whatever payment method you prefer. The referral program within Olavivo is one of the best in the industry! It's time you partner with Olavivo and make some money as an affiliate marketer.
Calling all advertisers!
Are you a merchant, seller, or advertiser who needs a spot to post ads and sell your product or service? Olavivo offers advertisers excellent benefits, including an industry-leading affiliate marketing network. You can count on over 10k+ active publishers in 125 countries across 18 different languages. Customized targeting and segmentation capabilities mean high-quality, global traffic heading your way. Working on a worldwide scale with multilingual support means peace of mind for yourself and your team.
Feel Safe and Secure w/ Olavivo
Olavivo's experienced account managers will support you daily. Feel confident thanks to full transparency and top-notch security measures. Olavivo's compliance team will handpick and fully verify all parties involved with your campaigns.
Check us out @olavivoagency
We're looking forward to working with you. -Olavivo Team
Offices
Shlomtsiyon HaMalka Street 5, Tel Aviv-Yafo, Israel, 6226703
Careers
Find out about careers at Olavivo here.
Our Blog
Dive into digital marketing through, fresh content and good vibes


Copyright © 2010-2022 Affpaying.com All rights reserved.