MyLead has been operating in affiliate marketing since 2014. It offers its publishers the most advanced solutions based on current industry trends.
A large number of affiliate programs
If you choose MyLead, you will have the opportunity to promote a huge number of affiliate programs available in various categories. Currently, they have over 1600 campaigns in their database, yet, that number is increasing almost every day. They are settled in as many as five models: CPS, CPA, CPL, COD, and PPI, so you can decide for yourself to what actions encourage your audience.
The tools available on MyLead
In the user panel, you will find MyLead's tools that will allow you to increase your profits. These are:
Content Locker,
Video Locker,
Video Locker VOD,
Advertising banners,
Postback and API,
A/B tests,
Deeplinks,
Smartlinks.
Content Locker is functionality that lets you earn money from the content published on your website. It blocks the part of your site that can be accessed after performing at least one task from the list of offers. On MyLead, you can use four different types of this tool:
CPA Content Locker,
Captcha Locker,
File Locker,
Mobile Rewards.
Check how redesigned Content Locker on MyLead will help you earn on your traffic sources.
Increase your rate
In addition, you can increase your rate by using bonuses, promotional actions, and special codes. These will help you gain up to +10% of all the leads you have received.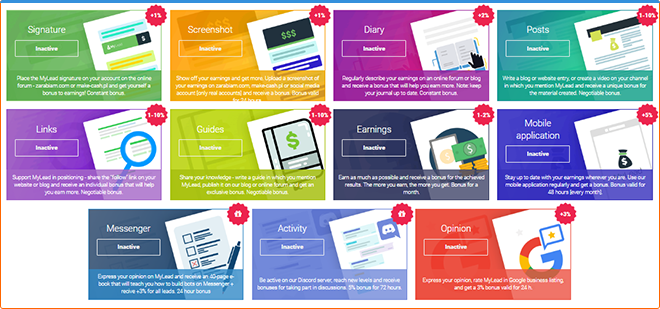 It is also a good idea to recommend the MyLead affiliate network to others. Every time someone will use your affiliate link, sets up an account, and starts earning money, you will receive a commission of 5% on their earnings. This bonus has no time limit and is valid as long as both you and the referred publisher earn on MyLead.
Creating an account in the MyLead affiliate network will not take you more than five minutes. Join today and earn money on affiliate marketing. A wide variety of offers that can be adapted to your needs is waiting for you.