ABM.NET Proxies for Affiliate Marketing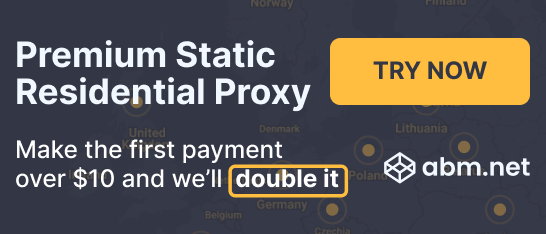 People who are involved in affiliate marketing know how tricky the work can be. Having good quality proxies is very essential. Cheap and free ones are no good, even harmful. You don't want your personal data or your work to be leaked. How can ABM.NET improve the work of the CPA teams? In this article we will discuss what ABM.NET is and how useful static residential proxies are for the CPA teams. There's also an awesome bonus from us at the end of the article.
ABM.NET is a start-up project that provides proxy services. We offer 72000 proxies in 36+ countries. Static Residential Proxies are one of our main benefits (we do have other cool features). According to our research and discussions with our clients - static residential proxies are the best fit for the CPA teams. We'll discuss that in a bit. Let's dive into some of our top features first:
Country choice - Free
City choice - Free
ISP choice - Free
Authorization by whitelist - Free
Authorization by login/password - Free
Bandwidth - unlim
Min deposit - no min deposit
Support - 24/7
Intrigued yet? We bet you are.
How can ABM.NET Improve the Work of Affiliate Marketers?
As we have mentioned before, we offer static residential proxies, which are the best one for the CPA teams. For a better understanding of why - let's go through some main points:
Farming: that's a process of warming up an account. Of course you will need proxies for that in order to avoid being banned.
Bypassing restrictions: for example, you need to access a certain website or account but it's restricted in your country. This is where proxies come in handy.
Account security: you might know that most of the social media platforms do not allow having multiple accounts. They have certain algorithms that determine your IP and ban you. With proxies you can bypass this little inconvenience because you'll pose from different IPs while operating on one device.
The work of affiliate marketers is very unique, we just went through some main points. The thing is that they all need proxies to do their work properly. Our proxies guarantee the safety of your work process, we offer one of the best proxies of premium quality AND most importantly, you'll get a price like no other service has. Only $8 for 1 GB. That's not all. Since we're feeling super generous, we also double the first deposit over $10. Of course, personal offers can be discussed individually.
For more information on personal offers you can contact our sales team at sales@abm.net

Copyright © 2010-2021 Affpaying.com All rights reserved.