EWA Private Network was founded by Ryan Eagle and Harrison Gervitz and is a division of Eagle Web Assets Inc. They are a referral-only approval basis CPA network consisting of media buyers, email marketers, social marketers, cost per view (ppv/cpv) marketers and ppc marketers. They formed EWA with 3 goals in mind: to get more, to pay more, and to help more.

EWA Private Network maintain personal connections with all our affiliates, pledge to beat any payout, and pay on time to all affiliates. EWA Private Network pays you with weekly payouts regardless of volume. It's super powerful!
Affiliate Network Details
Commission Type
CPA , CPL , CPS
Minimum Payment
No minimum, Varies
Tracking Link
http://www.tracklead.net, http://www.trackamps.com
Affiliate Managers
Ryan Eagle

Harrison Gevirtz

Chad King

Omar Latif

Kyle Eagle

Harold Lovett
Rating Distribution
Excellent

142

Very good

5

Average

1

Poor

0

Terrible

12
Offers

Payout

Tracking

Support
This is where I first started Affiliate Marketing. With all the help and emails from my Affiliate Marketer and Ryan Eagle I was able to make well over 35k+ in less then 2 months!
This is the best network. Perfect in all angles!!!!
John | The Techie Affiliate
Apr 10 2011
Excellent network to work with. Always pay
Wondeful network! Just joined! And I'm lucky that I got Chad for my affiliate manager. He is almost 24/7 on AIM and he always respones in second! He always suggest me offers and tell me how I can maximise my profits!
I just got payment from EWA today once again. I wanted to say I joined EWA over 16 Months ago and have made money with them each and every week. And they have always paid me and always on time. I wish so many other networks worked like EWA does. I guess it does help having the best admin in the Business Ty Victor!
EWA is an EXCELLENT network. This is by far the most I have made with them. $$$$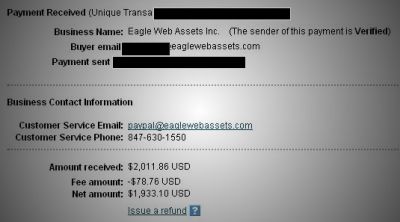 Just wanted to let you know I had my first $xxxx day with EWA yesterday! These guys are real pros! Highly recommended, you can't go wrong.
Been using EWA for over a year now. By far the best cost per action affiliate network out there.
Ewa network is great. They have great service, always pay on time, and keep their affiliates up to date with the greatest and latest methods. Ewa network rocks!
Tons of great offers and the highest payouts in the industry!
I've been an affiliate marketer for many years and have worked with numerous affiliate networks.
EWA Private Network is the Best AFFILIATE NETWORK Ever! I wish I could say that about the other networks I've used, but I can't. Ryan never let me down, and I ALWAYS get paid right on time and have been paid every week now for almost one year.
Sign up right now and you'll soon know what I mean when I tell my friends that EWA is "The Best AFFILIATE NETWORK Ever."
Highly Recommended!
Marcus
EWA is a very solid CPA network. I was lucky enough to get Chad as my affiliate manager. He is extremely helpful, knowledgeable, and probably my favorite AM in the world. If you guys want to start your affiliate marketing journey, get an EWA account ASAP and try to get Chad as your AM... you'll be very glad you did!
EWA Network is a brilliant network, with superb affiliate managers, awesome training guides, and the payouts are higher than the competition and they pay WEEKLY.
I would recommend them.
My favorite network. If you join I strongly suggest you get Jared as your AM.
EWA is AWESOME in my book. They have tons of offers there, weekly on-time payments, excellent support, etc. My affiliate manager loves me and always emails me with HOT offers that would be suitable for me.
If anyone wants to take things to the NEXT LEVEL and become a SUPER AFFILIATE, I highly recommend them.

Copyright © 2010-2021 Affpaying.com All rights reserved.