CPABooster
OFFERS

4.25

PAYOUT

4.25

TRACKING

4.25

SUPPORT

4.25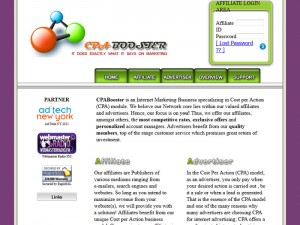 CPABooster is an Internet Marketing Business specializing in Cost per Action (CPA) module. We believe our Network core lies within our valued affiliates and advertisers. Hence, our focus is on you! Thus, we offer our affiliates, amongst others, the most competitive rates, exclusive offers and personalized account managers. Advertisers benefit from our quality members, top of the range customer service which promises great return of investment. Our affiliates are Publishers of various mediums ranging from e-mailers, search engines and websites. So long as you intend to maximize revenue from your website(s), CPABooster will provides you with a solution! Affiliates benefit from our unique Cost per Action business model. Our promise to our affiliates is Revenue maximizing, made easy!
Affiliate Network Details
Commission Type
CPA , CPL , CPS
Tracking Link
http://www.cpatrk.com/click.track?CID=
Rating Distribution
Excellent

2

Very good

1

Average

1

Poor

0

Terrible

0
Offers

Payout

Tracking

Support
cpabooster is a great network, I don't have any issue about payment with them. I always get paid on time from them
thankx
lucas king
For me... I'd say Ads4Dough, Convert2Media, Neverblue and EWA Private Network. I think all these networks are superb, they're all have great converting offers, great support and they pay on time! I have nothing but good things to say about them. :)
Brad
You can do a search for them on Google:
http://www.abestweb.com/forums/showthread.php?t=121478
And I recommend you stay away from these unknown networks. :)
What's your experience with CPABooster? Can anyone give me feedback or comments on this affiliate network? Thanks in advance.

Copyright © 2010-2022 Affpaying.com All rights reserved.