AdGaem
OFFERS

4.46

PAYOUT

4.5

TRACKING

4.39

SUPPORT

4.5
AdGaem Network is an experienced and risk free affiliate network that provides high payouts and good terms for all of its affiliates. With a collection of expert media buyers, social advertisers, email marketers and search engine marketers, AdGaem prides itself to be a leader in the Digital Advertising Industry. Our goal is simply to provide a trustworthy Ad network that has exclusive offers, on-time payments and a dedicated team to help you succeed. As a premier lead generation network, AdGaem values strong affiliates, because they're what make us better! Join AdGaem and experience a sophisticated, globally connected affiliate network that helps you focus on results!
Affiliate Network Details
Rating Distribution
Excellent

24

Very good

0

Average

1

Poor

0

Terrible

3
Offers

Payout

Tracking

Support
This is a complete network of scammers, and its founder, TEJ, is completely untrustworthy, and don't believe it. No matter how hard you try, he does things in his own mood. When he is in a good mood, he will treat you kindly. When he is in a bad mood, he treats you very rudely. He refuses to pay me. Commission and cleared my data. Look, this is the attitude of tej to the publisher.
For several months now we have been waiting for the payment of our money.
The founder, Tej, always comes up with new excuses why it hasn't been paid yet and likes to postpone it until next week. But then you don't hear from him anymore.
It's the worst network for us so far, the fees were already very low, and now he doesn't pay out although it's very little money compared to the fees we generate on other networks. Fortunately. So he already scam for a few bucks.
I can only advise against this dubious network.
Bad network, Stealing commissions. This is what happens when you work with small CPA networks ran by shady Indian guys.
I ran some test traffic to some of his offers and got some commissions. I didn't get enough for a payout, and got distracted on other networks. A few months passed and when I logged in he had paid out my commissions to his own Bitcoin account. When I asked him about it, he said it was a "bug". Haha!!
Stick with big trusted networks instead! Advendor, Adwork Media, OGAds, and CPA Build to name a few. Glad it was only a few bucks. But shows their character.
This is a great CPA Network. There are very much GOOD CPA Offer. Good Luck
Great network, good support.
If you want to easier and fast to approve your accounts. you should register by following this link:
http://bit.ly/Wd9rhn
Then send email to me at: live95tadw@gmail.com.
I will help you
i have received my payment
great network, good support
Tej is providing a great support! On-time payments, great offers.
Thank you Tej for the quick payment, great network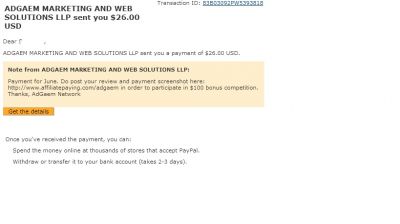 thanks !
adgaem very good ,Good networks, fast payment
Adgaem is one of my best CPA networks.
Excellent Network..Highly professional support and great payout. My AM Tej, is very friendly guy and always ready to help.
I just got my first payout via Paypal
You can contact me ,I will help you with fast approval!
Skype : tanhip1990
AdGaem is the first mobile affiliate network I worked with. Their professional AM provided me many useful suggestions to optimize my traffic and help increase performance. I must say AdGaem is your good choice!
Adgaem is one of my best CPA networks. Highly professional support and payment before time. If you stay in contact with your affiliate manager (Tejprakash), and ask him questions and he can make things a bit easier for you,very professional. I highly recommend anyone to join this new power Network.
Great network,thanks you Tej for the quick payment.
Good networks, fast payment
Great network,thank you admin
http://s17.postimg.org/gmv9l6nu7/image.jpg
Great network,Tej as my AM help me a lot,thank you.

Copyright © 2010-2023 Affpaying.com All rights reserved.