Perform[cb]
OFFERS

4.88

PAYOUT

4.82

TRACKING

4.91

SUPPORT

4.98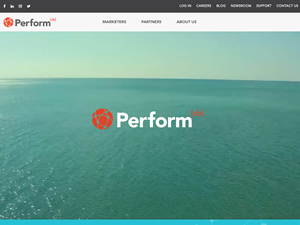 Clickbooth, Adperio, and Ignite OPM are now unified under the global brand of Perform[cb]. Please visit our company page to learn more.

Perform[cb] empowers brands to acquire new customers through incremental digital channels on a pay for results model. Our proprietary technology and highly curated partner marketplace aligns "cost-per" pricing with customer lifetime value. Whether you're an entrepreneur looking to drive traffic, or a fortune 500 brand in need of comprehensive performance marketing strategy, Perform[cb] is the recognized leader in online performance marketing with the #1 ranked marketplace in the world. We specialize in vertical-specific performance marketing strategy so that you reach the customers you want - and only pay for the customers you acquire.
Affiliate Network Details
Commission Type
CPA, CPI, CPL, CPE, CPS, CPC
Tracking Software
In-house proprietary platform
Tracking Link
http://track.clickbooth.com
Affiliate Managers
Peter Varga

Margo Sarr

Geoff Bender

Ryan West

Amanda Dansby

Lauren Bell

Jennifer Miller

Jennifer Ballard

Danielle Lyon

Jen Lewis

McClain Morris

Elyas Ghiasy

Jason Sierra
Rating Distribution
Excellent

77

Very good

4

Average

1

Poor

0

Terrible

0
Offers

Payout

Tracking

Support
Been working with Adperio for about 6 years... back to the early years of CPAStorm! One of the most dependable of all (50+) networks that I use. Payments are always on time. All of the AMs I've had have been helpful & available. No reason not to use them!
Jennifer is an awesome AM and the network has a large variety of offers and great payouts (especially compared to other networks)
NO COMPLAINTS HERE - ADPERIO IS ONE OF THE MOST RELIABLE AFFILIATE NETWORKS I'VE HAD THE PLEASURE OF WORKING WITH.
Our company has been working with Adperio since they were CPAstorm and we've had a very profitable relationship together.
They always have a wide arrange of offers and some of the best payouts in the business. I would recommend Adperio to everyone I know.
Their whole staff is open and easy to talk to from the CEO to the affiliate managers to their support staff. You can't go wrong with Adperio.
I've been working with adperio for a while, they have a good selection of offers and aren't afraid of getting ones that you need in. The tracking system they just switched to is confusing and hard to grab a link from but I'm dealing with it. Support is good but could be better. Compared to other networks out there overall they have a good thing going but there is always room for improvement.
Great company and group of people to work with.
I just joined at Clickbooth and what can I say! They blow my mind with all the help! Lukas is my affiliate strategist and he helped me a lot on first day! CLICKBOOTH IS SO FAR THE BEST NETWORK I EVER BEEN! Keep up the good work ;)
IMO, Clickbooth is the best network out there. They've been around for a long time - which was important to me b/c I didn't want to get involved with some fly-by-night company that was going to run off with all my commissions. Plus my payments have always been on time, they have a ton of offers, and I've been able to reach my AM at some of the craziest hours of the night. They wrote the book on how to be a great affiliate network.
ClickBooth has literally just blown by mind with the amount of personal help I received. 5/5 stars :)
Go ClickBooth, keep up the great work!
ClickBooth or short CB is a one of the largest affiliate networks and their stat tracking is pretty up to date and I was very impressed by it! Plus they have some really good exclusive offers that guarantee the highest ROI. If you are looking for an excellent CPA network, I highly recommend ClickBooth!
One of the top networks for a reason. Geoff is such a happy guy - how can you not love giving them traffic when you have Geoff who is always happy?
And just to show a previous reviewer who says "they do not pay you". See attached my friend.
ClickBooth is a fantastic network. Awesome support, good selection of offers and high payouts. Never had an issue receiving commissions, payment has always been on time and done via paypal which is very convenient. I give them a good thumbs up. :P
Great network... I've worked with many CPA networks in the past, these guys are on top of the game! They have so many different offers you can promote. And the AM's are very helpful. I can't recommend a better network to be working with.
Adperio is the best network in the world. Payments are always on time and always accurate. I highly recommend working with them. - Bernie
I've been with ClickBooth for quite some time now. The ClickBooth crew is great! You could not ask for a better group of people to work with!

Copyright © 2010-2022 Affpaying.com All rights reserved.