Perform[cb]
OFFERS

4.88

PAYOUT

4.82

TRACKING

4.91

SUPPORT

4.98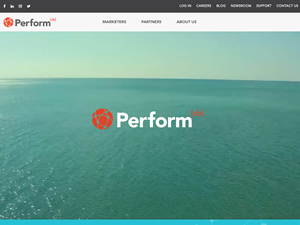 Clickbooth, Adperio, and Ignite OPM are now unified under the global brand of Perform[cb]. Please visit our company page to learn more.

Perform[cb] empowers brands to acquire new customers through incremental digital channels on a pay for results model. Our proprietary technology and highly curated partner marketplace aligns "cost-per" pricing with customer lifetime value. Whether you're an entrepreneur looking to drive traffic, or a fortune 500 brand in need of comprehensive performance marketing strategy, Perform[cb] is the recognized leader in online performance marketing with the #1 ranked marketplace in the world. We specialize in vertical-specific performance marketing strategy so that you reach the customers you want - and only pay for the customers you acquire.
Affiliate Network Details
Commission Type
CPA, CPI, CPL, CPE, CPS, CPC
Tracking Software
In-house proprietary platform
Tracking Link
http://track.clickbooth.com
Affiliate Managers
Peter Varga

Margo Sarr

Geoff Bender

Ryan West

Amanda Dansby

Lauren Bell

Jennifer Miller

Jennifer Ballard

Danielle Lyon

Jen Lewis

McClain Morris

Elyas Ghiasy

Jason Sierra
Rating Distribution
Excellent

77

Very good

4

Average

1

Poor

0

Terrible

0
Offers

Payout

Tracking

Support
theyre employees are like used car salesmen
I get emails from new people all the time as my AMs change. These emails come from one person, then tell me to speak with someone else. Payments are late from time to time as well. Does anyone know if these guys are in financial trouble?
Yeah i have noticed that to. i talked to an AM who USED to work there and they said it's not looking pretty.
I signed up to clickbooth and was immediately rejected. No reason why. I went to contact "SaraG" as it stated in the email. I IMed her on AIM and was instantly blocked. I checked with another AIM on my iphone and that is how I discovered that she had just blocked me. Quite rude. They were nice people at ASE and ASW last year, and even in ad:tech NY but this was just totally rude and uncalled for.
Hello,
I would very much like to join this network…could you please send me a referral code. Thanks
Thanks for all your comments. I'd love to participate in the CB network link, but my application was refused. Who can help me?
HelloClickbooth, my English is not very good, I would like to talk to some AIM because my application was rejected, but I have a lot of experience in Affiliate Marketing and currently I have a database of customers who could Health submit their bids to these large database. I just want to participate with you guys to promote your offers to the hispanic market in the United States. Market that is growing very fast during the three years the way that I am going to promote your offer are via Banner, PPV, PPC and also Facebook ads hope you see the potencial and business I can bring to you.
What should I do to be accepted?
Thanks!!
Can you help me to open an account in clickbouth plzz my email is youssefzarrouk@outlook.com
I had applied in Clickbooth and got rejected but when i had tried to contact them,no one replied me.
So if anyone from clickbooth are seeing this comment then please contact me on skype: live:kshubham52
Can you create an affiliate platform with Clickbooth (like commission Junction)or does Clickbooth just market your product for you?
Hi
One of my website is about babies and parenting and it is based on selling products as an affiliate and being paid a commission (PPS).
Can I combine PPA, PPL, PPS, PPC on the same site?
thanks for you help.
Margaret
Just got approval from maxbounty and waiting to rock with clickbooth

Copyright © 2010-2022 Affpaying.com All rights reserved.