OGAds
OFFERS

4.9

PAYOUT

4.95

TRACKING

4.95

SUPPORT

4.94
The #1 Mobile & Desktop Content Locking Network, OGads provides the top mobile content locker in the industry. Exclusive high paying apps, exclusive cpa, pin submits and weekly burst campaigns are a norm for our mobile + desktop content locker. Our content locker is the go to tool for top social media publishers in OGads. If you promote on Instagram, Vine, Twitter, or any other social media site watch your earnings soar with OGads.
[More]
Affiliate Network Details
Commission Type
CPA, CPL, CPI, CPS
Tracking Software
In-house proprietary platform and Custom content locking
Rating Distribution
Excellent

92

Very good

2

Average

0

Poor

0

Terrible

0
Offers

Payout

Tracking

Support
I have been working with OGads for over two years now. Since I have made so much money with this site, I have started to teach people some of the tips that helped me become successful. Here are some of the earnings from the people I have taught (https://prnt.sc/ihy5uy). They have only been working with me for a couple months and have already made thousands. If you want to learn from me as well, sign-up using my referral link (http://bit.ly/2EH95qC) <--- referral link
OGAds are great and they always pay well. I don't really like the dashboard, but you will find all you need.
The statistics is great and very complete, you really can track anything you want with their system. Their content locker converts very well and they have the best offer for mobile traffic.
If you want help to sign up and earning with OGAds, use my ref link: http://bit.ly/2k1zmrB
You can contact me on Skype: blackbrut
I work with them since 3 years ago. All i can say they are the best.
If you lookimg forward to sign up go ahead and click this link http://bit.ly/2DppTTb
Maybe i can help you.
Awesome Network with great cpi and cpa offers. Recently i am able to scale my earning . Ogads Support teams are great .Hoping to boost my earning in 2018.
Finally getting some good earnings with this network. It wasn't easy but I'm glad I stuck with it. Don't give up guys it's all about mindset and working hard!
I just followed DEADZ guide: https://goo.gl/ARbuui. I recommend it to any beginner.
Great network. Best for CPI traffic. And the under development features are great. Gonna be lit in 2018.
One of the best networks out there for the affiliates. Definitely recommend it. Check some of my latest payment proofs
OGAds is hands down the #1 network in the entire galactic universe.
OGAds is great and help me a lot to leave my job to web marketing.
I make around 2/6k per month for 2 years, I mainly use SEO traffic to promote my offer, I fail a lot at first, but you only need 1 success and after scale-scale-scale-scale!
I am happy with the money I made and now I am ready to help the newbies to start with OGAds. I plan to open a website soon cpa-guide.com
For now, you can sign up with my link: http://bit.ly/ogads-signup or ask your affiliate manager to move to my referral ID: 89668
You can also contact here: [email protected] if you need help to start with OGads
I have been using OGads now for around 1 month, I have got to know Ibrahim pretty well what with me having some new functions implemented into the network itself, I can honestly say that Dave is the best Mobile CPA network around period.
The offers are awesome and convert for me EVERY day, the support is the best I have ever experienced not just on networks, I'm talking anywhere, the whole dashboard is 10/10, it has all of the must have options that you will ever need and that is a fact.
Ogads is hands down the best I have ever used, I'm an experienced CPA marketer and make over 2-3k a month from it, if you want a reliable, fair, easy to use, HQ support, best offers, I suggest you join them now. I'll be glad to help you start earning.
If you want to join under my refferal link :
http://goo.gl/pEDQXY
I recommend this network to anyone, they have high payouts on their offers and I have just received my first payment!
Join under my link for instant approval
http://bit.ly/lMa8qK
My payment proof
high offers rates, high converting rates and on time payments. Recommended for everyone!
I've earned +$350.
Join my affiliate link http://bit.ly/ogadsreda
and add me on skype
My payment proof
If you guys are looking for the best CPA network, OGADS is the answer. Their affiliate managers are always there for you and you can ask them to help you almost anytime. I love Them/
Join under my link i will help you to get approved
join now https://goo.gl/3BggMS
Joined OGAds like a year ago. Back at that time we weren't making anything off Incent and OGAds was a nice kick-off for me.
Support is very friendly (you literally feel you're talking to your mates).
Offers were terrible a few month ago thus I didn't push traffic but lately I started pushing traffic again because they added lots of great and converting offers that pay Double the offers I was seeing a few month ago.
Hello,
I am a top earner here on OGads. I am willing to share a few of the methods I use to make good money on OGads if you sign-up under my referral. By signing up as my referral, you will gain access to my mentorship panel. This only appears for OGads members who have signed up as my referral. The mentorship panel can be found under the Referrals tab on the OGads dashboard. If you are new to the network, sign-up here (http://bit.ly/OGmentorProgram). If you are already a member, ask your AM to switch to referral ID 21509. You will be on your road to making $100+ a day like me. I look forward to hearing from you.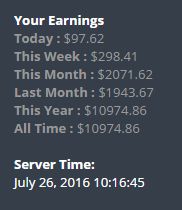 Copyright © 2010-2020 Affpaying.com All rights reserved.