OFFERS

4.89

PAYOUT

4.95

TRACKING

4.74

SUPPORT

5
Gol Media - CPA Advertising Lead Generation Affiliate Network Serving High Quality CPA / CPL Performance Based Conversions. We Better understand what you need in a Affiliate Network, And our experienced dedicated managers working around to serve you the best possible support with all exclusive tools & tips to maximize your revenue. Gol Media is ambitious for strong affiliates to join our network to multiply there profits and business to the next level. And we are always there to help with our dedicated support.
[More]
Affiliate Network Details
Commission Type
CPA , CPL
Tracking Link
http://tracking.golmedia.com
Affiliate Managers
Stephen Lopez

Allen Mason

Kathleen Lorden
Rating Distribution
Excellent

16

Very good

3

Average

0

Poor

0

Terrible

0
Offers

Payout

Tracking

Support
Truly amazing success with Gol Media. With there Great offers, high payouts and time to time payouts. Plus, they paying me weekly as i am generating around $1k a week consistently with them.
Superb affiliate network, good converting offers and always paid on time.
Superb offers, high payouts for every offer + always pays on time and gives excellent support, thank you golmedia
golmedia is really excellent network, they have no crap offers either. Best and helpful support team and paid always on time.. A+ rating :)
Darrell
goledia is reliable affiliate network and i have been a active with this from last 4 months, i can only say they have great support with good offers and they have paid me on time every month. i attached my recent payment screenshot too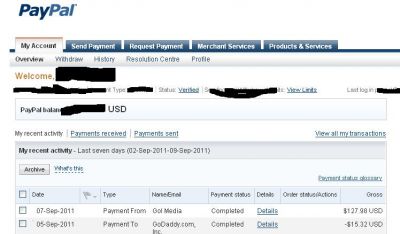 these guys are seriously helpful with building campaigns and helped me with ideas on what campaigns do the best and how to monetize them with my traffic. I am really pleased with support of my affiliate manager Stephen at golmedia
Best Offers
Great Payouts
Amazing Support
Weekly Payments
patrick
So far Gol Media is mine top notch network. They are very professional and willing to work with you to meet your needs.
there payments are always on time
About Golmedia network i can only say they really care about there publishers and they have always paid on time, never missed my any payment from them so far. great support from my AM stephen.
i also attached my golmedia most recent payment screenshot
So I would surly rate them 5 Star
Working from last 3 month with Gol Media and I have to say they have been great to work with. They are reliable and pays on time and have best offers
Good network to work with, kathleen help me allot and swiched me over bi-weekly payment terms after reaching 1K USD in first month with golmedia
there support team is excellent
Malisa
Just got my payment last weekend by paypal..! Gol Media has good Selection of offers nice network, nice payouts, awesome supports by AMs & always pay on time. A++
Just amazing! My all experince with Gol Media among all the networks that i have worked with the ONLY Network which provides 24*7 Support for affiliates. Aff Manager Stephen and kathleen is friendly and help me alot to earn some bucks and sort out all your problems..!
Gol Media among all the networks that i have worked with the ONLY Network which provides 24*7 Support for affiliates.
Gol Media is a reliable CPA network which I recommend everyone to try out. I get weekly wires without any problem. Their support is top notch as well. If you have any questions or any doubts, get in touch with Stephen Or Kathleen. I highly recommend them.
Gol Media has a huge line up of captivating offers which will be very good especially for those who are just starting out. They seriously amazed me with great offers and payouts

Copyright © 2010-2020 Affpaying.com All rights reserved.