CPAlead
OFFERS

4.9

PAYOUT

4.9

TRACKING

4.9

SUPPORT

4.88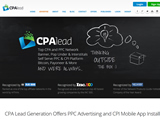 CPAlead is the world's LARGEST Incentive CPA Network and inventors of the Content Gateway technology in the CPA space. We have the most traffic means we have the most leverage to get you the best offers at the best payouts. Often imitated, never duplicated.

People all over the world choose CPAlead. Our trusted CPA network offers the largest selection of incentive based surveys to leverage your content and make money on the Web.
[More]
Affiliate Network Details
Commission Type
CPA, CPL, Content Locking
Tracking Software
In-house proprietary platform
Tracking Link
http://valueaffiliate.net/content_locker.php
Affiliate Managers
Justin Lamb

Milind Gupta

Troy Krzyston

Payment Support
Rating Distribution
Excellent

136

Very good

11

Average

0

Poor

0

Terrible

0
Offers

Payout

Tracking

Support
Another great payment from CPALead - Thanks a TON! What you're waiting for? Join CPALead Now!
Best Incentive Network , Support Team Specially Jeremy , Madison, Robin are great guys always there for you to help , payments are made on time with honesty , and also if you are a newbie, you should join cpalead as its highly recommended you can learn a lot from cpalead forum and also chat with super affiliates in in cpaleads marketplace you can also get some working methods too.
It's the best network. my payment has been transferred to the bank. thank you. all for success
GREAT NETWORK! I am newbie and i still made money this is my third payment via cpalead. If you are newbie dont be afraid to apply through my affiliate link cpalead.com/apply.php?ref=109822
It is the best CPA network offers an impressive crew of beautiful and payments on time, I wish success to all
I love CPalead
I've been working with CPAlead since 2009, and so far they are the best. Payments are always on time, and we never faced any issues with support. My dedicated affiliate manager is always there when I need expert advice, and on top of this, he helped me pick the best offers for my sites. Thumbs up for CPAlead!
Here's my payment from them for the month of January!
CPALead is the great network really.They good converting offers.ontime payments ,their early payment system is awsome.
john and robin are gave a great support to me .they are really awsome . A+++++++++++++++++++++ NETWORK
Paid again, one day early, I read alot of crap about this network but they have paid me every month early since august. so say what you want i think there a stand up network
People who keep crying about there accounts being closed here is a tip, stop cheating or using copyrighted material. cpalead has never held or questioned me since sept i have received my payment on time if not early.
Great network
Great support
Great on time payouts
Mediocre offers
CPALEAD GREAT SITE!!!!!!
COOL!! :)
Great Company! Always Paying, All staff, managers are very helpful. Always helping.
Don't listen to those who said that CPAlead is SCAM,
Rules are simple - follow the TOS and You're OK
Offers are great, conversions are great
Recommend it !!!
We have been working with CPALead since the start of 2010 and have developed a great relationship. Our network carries 200+ offers that accept soft incent traffic and CPALead's traffic to these offers has delivered great results for most all clients, producing exceptional volume and, on a whole, the highest quality of traffic possible from an incentive-based platform. They are the clear leaders in the content-unlocking subset, and continue to evolve and take their traffic quality to new levels by weeding out any bad traffic sources.
Make sure to ignore any "reviews" from others claiming their accounts were closed for "no reason" or saying they were scammed by CPALead - these users all were promoting illegal content using the content unlocker, violating federal copyright laws in the process. CPALead is on-point in removing these users from their network, for the betterment of the entire industry and for the legal protection of their advertisers.
Our account rep, Jay, has always been great to work with and incredibly responsive. Thumbs-up!
I just got paid $200 from CPAlead (Early Payment). :D
They are always a leader in the content locking industry. :P
CPA Lead ROCKS. I can tell you this: They treat their affiliates well, pay like clockwork and have an absolutely insane number of survey and e-mail submits offers. Jeremy Hayden is the best Affiliate Manager I've ever dealt with. He is always available, and gets the job done quickly and professionally. I rate this network A+.
CPA Lead is pretty good so far. They have paid me on time every month since Feb. 1st. My AM is always online and very friendly. I don't really have anything to complain about.

Copyright © 2010-2020 Affpaying.com All rights reserved.