The Hottest New Way to Earn Money from Cams as an Affiliate
Here's a tricky question for you:
How do you make money from live adult cams without necessarily being a webcam model yourself? Or owning a cam site?
You enroll in the WhaleHunter.cash affiliate marketing program, that's how.
It's not just the only business opportunity out out there to earn money from promoting adult cams on Skype, but also:
Signing up is super simple: no special requirements, everyone is welcome to join; and they approve your account… instantly
They have some of the biggest referral commissions out there (more about it in a bit)
You get to choose from lots of promo tools, ranging from basic links all the way to… WhiteLabel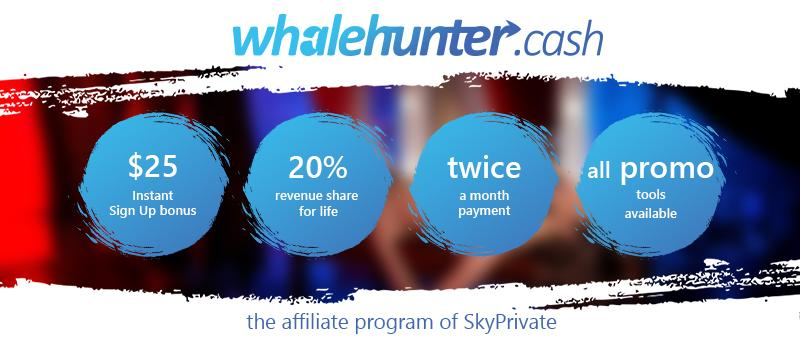 Now, let's take a closer look:
1. But First: What Is WhaleHunter.cash?
It's the affiliate marketing program of SkyPrivate.com, the innovative Skype-based webcam service.
Which makes it the only way to make money from adult cams on Skype, as an affiliate partner.
How precisely?
Keep on reading...
2. And How Exactly Can I Make Money with this Program?
It's simple:
You register on WhaleHunter.cash (just sign up for a free affiliate account, click on the confirmation email that they send you, and you're good to go… cash hunting)
You select your "hunting tool" (i.e. the promo tool you'll use to drive traffic to SkyPrivate).
And, you definitely don't run out of options when it comes to promo tools, for you have:
links: create your own or grab an off-the-shelf affiliate link from the platform
APIS: perfect if you have (or planning to build) your own aggregator site
banners of all sizes
widgets ranging from carousel to chat bubble, to live video
white label, the "rockstar" promo tool on WhaleHunter.cash: get your own fully-equipped website up and running in no time
3. What Kind of Money Are We Talking About?
They have 2 types of offers:
The membership offer: you get 20% lifetime revenue share from each call or tip (or purchase made in a model's store) made by those members that you refer to SkyPrivate
The affiliate referral offer: you get 10% lifetime revenue share from all the earnings of each new affiliate that you bring in
Plus, you get a $25 bonus just from registering on WhaleHunter.cash.
And there's more! You get paid twice a month via International Wire (SWIFT), Paxum, Bank Transfer, Bitcoin, ePayService or Bank Deposit.
4. Is There a Minimum Amount I Need to Make Before I Get Paid?
Yes, there is a minimum payment threshold of $100. Once you've reached it, you're eligible to get paid.
5. What Types of Traffic Sources Do They Typically Accept?
All of them...
They accept all traffic sources, from social media to email marketing, to SEO, to media buying, to…
And all GEO's, as well.
6. Do I Need to Have a Website to Become a WhaleHunter.cash Affiliate?
Nope. You can display their link, widget, or image banner anywhere you want to.
Anywhere you know that it'd attract new potential SkyPrivate members.
Now, have I managed to answer all your questions related to WhaleHunter.cash?
If so, how about... taking it for a spin?
Sign Up Now and get your hands on the $25 instant bonus!

Copyright © 2010-2021 Affpaying.com All rights reserved.