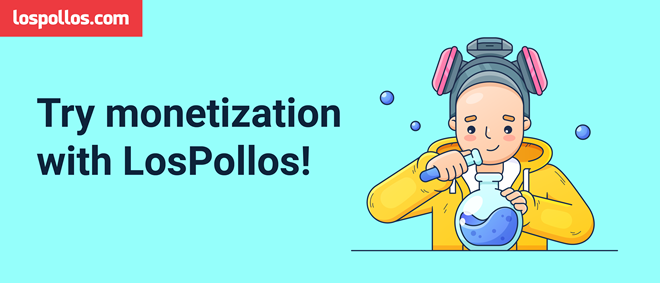 LosPollos started in 2016. The affiliate network initially only specialized in Dating, but over time there has been significant growth in monetization opportunities. Today, more than 50,000 webmasters (and about 1,500 advertisers) use the network. Every month, nearly 3 million conversions and 2 billion visitors worldwide use Smartlinks.
LosPollos is suitable for beginners (Smartlinks are one of the easiest ways to get a start in affiliate marketing) and experienced webmasters.
Getting started with LosPollos
Registration takes no more than 3 minutes. First, the feedback form asks for standard data: login, email, password, contact details, and type of traffic. Then an email is sent to you with clarifying questions (for example, where did you hear about LosPollos, whether you have any experience, etc.). Finally, an account manager typically confirms the account within a few hours when a response is sent by email.
What Smartlinks can I choose?
The Smartlinks embed over 10,000 current offers for all popular verticals: Dating, Mainstream (Sweepstakes), Crypto, Cams, Casual Dating, Adult Games, etc. By default, the Smartlink is linked to Dating, but if you want to try other verticals, ask your account manager to add other available verticals.
Payout amounts depend on many factors. However, you can always access top GEOs, and the average payments per thousand views in the Opportunities section.
The platform has recently added the option of additional monetization with push notifications. This can be combined with the primary revenue source.
Unique traffic analysis algorithm
Smartlinks are based on TDS - a unique algorithm for analyzing traffic. It analyzes non-thematic traffic using a wide range of parameters and selects the optimal offer for each visitor (depending on their GEO, gender, age characteristics, device, and type of traffic).
This eliminates the need for webmasters to select and test offers manually.
It's difficult for LosPollos to distinguish key GEOs, as you can achieve good results with any country. However, the best results are achieved with Tier 1 countries.
Additional features and tools
Statistics are updated in real-time, showing hits, unique visitors, clicks, conversions, Ratio, EPC, and revenue. Data can be broken down by day, country, and tracker. Statistics for any selected period can be exported in CSV format.
The technical tools on the platform include Postback, API, Trackers, domain parking, and the capability of adding a subid to track various traffic sources.
Payouts
With LosPollos, minimum payouts of $100 are made on Tuesdays. The affiliate network uses WebMoney, PerfectMoney, Capitalist, Paxum, Bitcoin (4% commission), and Wire.
You can also receive money by bank transfer (upwards of $1000) if you wish. To receive payment, you need to specify your details to the account manager and the method you want to receive the money. One big plus is the lack of delay in payment. Leads are quickly calculated and immediately reflected in the statistics.
Conditions for working with the affiliate network
LosPollos accepts traffic from most commonly used sources: paid advertising, free traffic from social networks, pop-ups, and pushes. The only restrictions on traffic are email spam traffic (except for white email newsletters) and motivated bot and chat traffic. In the case of large traffic volumes, managers are always prepared to negotiate higher rates.
Conclusions
Los Pollos is an excellent monetization tool for people with traffic volumes of different mixes and for novice webmasters who want to start quickly and make a profit. So, if you haven't registered yet, what are you waiting for?