VIP Response
OFFERS

4.28

PAYOUT

4.23

TRACKING

4.27

SUPPORT

4.21
Operating since 2013, VIP Response is a dynamic online marketing organization specialized in Affiliate Marketing, List Management, and Lead Generation. VIP offers enthusiastic and experienced affiliate managers, support in multiple languages, and on-demand creatives. Including offers in all verticals, all across the globe, and a transparent and accessible in house custom dashboard for live tracking to help you grow your revenues even more. VIP Response guarantees weekly payout, net zero! Sign up now!
Affiliate Network Details
Commission Type
CPA, CPI, CPL, CPC, CPM
Tracking Software
In-house proprietary platform
Affiliate Managers
Gijs Liekens

Willemijn Kokkeel

Camilla Hansen
Rating Distribution
Excellent

63

Very good

2

Average

1

Poor

1

Terrible

14
Offers

Payout

Tracking

Support
Enjoy working with VIP Response. Payments are high and timely
Love them:)
Great affiliate support:)
Have been working with VIP Response for 2 years. Pros: dedicated affiliate manager, fast payments, pull of good converting offers. Cons: nothing :)
Great affiliate network with quick payments, HQ offers and best support from my AM Akshay.
No financial or any other offer issues. Have started working with them few months ago, but already sure this cooperation has a huge potential. Highly recommended.
Amazing Network, Unbeatable epc if you do split test the same offer with different network, I am sure you will switch back to VIP. Ontime Payment and weekly terms if you work seriously with them. Support is also great from AM side to scale your business.
VIP Response is one of the best network to work with. They have tons of offers and that too with such awesome payouts. We have been working with them for 2 year now, no issue at all
Vip is definitely one of the best affiliate networks that I have been working with. Perfect tracking, global offers and most importantly, fastest payments.
Good network. Nothing but great experiences with them. Keep it up.
I worked with VIP more than 1 year,and earn more with them.But now my AM Viki left the network,and Camilla work as my new one.She stop my account like a stupid.When I run the offer, didn't ask me any preview or prelander. After I sent the traffic, and converted, she stop my account.Why didn't you ask me before I sent traffic?Those problem never happen when I work with Viki,but the new AM Camilla is really bad one.Miss my AM Viki.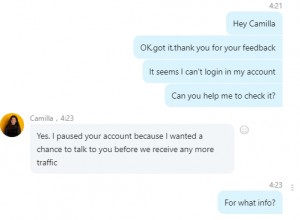 Great affiliate network!
Every vertical hot out there, Payments are always on time. Personally, my affiliate manager Bea is available 24/7 assisting me, really top of the game. Extremly professional and easy to work with. Highly recommended!
Great network with great offers and support. Camilla alsways helps us to get the best performing offers for our lists and is very flexible. That's what we like!
Surely one of the best network around! Viki is hands down the best affialite manager I have ever had. Every single day she puts her best efforts in bringing me the best offers with the best funnels and she is ALWAYS there. And last but not least she is super cool and funny! :-)
Ah, I got my first payment from them in the first week I started with them. What do you want more??? :-)
Super happy with VIP Response, great support from Bea, my AM, payments on time and the best offers out there!! Keep rocking it guys!!!
An incredibly helpful and professional affiliate network, My account manager Camilla is always delightful to work with and always happy to help.
VIP Response is a great network to work with. Payments on time multiple offers to work with, EPC's on point and great assistance from Bea, my affiliate manager. I can only recommend

Copyright © 2010-2023 Affpaying.com All rights reserved.