OFFERS

4.95

PAYOUT

4.94

TRACKING

4.95

SUPPORT

4.96
ProLeadsMedia (Incentive Friendly) is your one stop affiliate for all your offer needs. With over 13 years of experience in online marketing we know what you want! Real-time tracking, easy to reach support, on time (often early) payments. No games, no drama just tons of great offers!
[More]
Affiliate Network Details
Commission Type
CPA, CPC, CPS, CPL, CPI
Rating Distribution
Excellent

178

Very good

7

Average

0

Poor

0

Terrible

0
Offers

Payout

Tracking

Support
Another fast payment from Christina! Thanks :)
Another early payment! Can't beat this network. Thank you!
Got the early payment,thanks.
Pays earliest I have ever seen among other affiliate networks
Another EARLY AND FAST PAYMENT , Great!
Thank you ,Christina !
Thank you for another timely payment!
Thanks Christina!
Again... another early payment and as always top notch support. Thanks Christina.
Fabulous offers and another fast payment. Thanks ProLeads!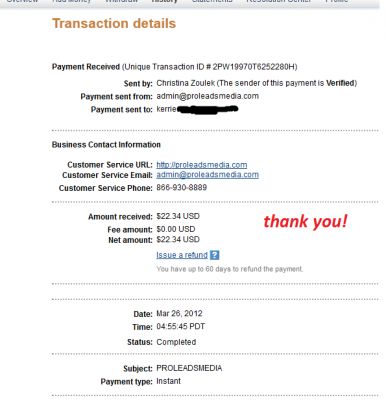 Love this network! MANY MANY offers and early pay!
I was paid again today!! This network is awesome! One of the Bests!!
I do not paste the proofs this time, since the last years I had a big list of payment from Proleads... and I do not want to fulfil this page with my post ah ah ah :P
Thank you again Christina
BEST AFFILIATE NETWORK THAT I EVER WORKED WITH !!!
PROLEADSMEDIA - EARLY PARTIAL PAYMENT!
Early payment! Thanks.
Amazing customer support -- response usually in minutes. Great offers. Quick, ON-TIME payments. Christina has never been late with a payment in all the years I've worked with her. Top-notch.
Looking at all the comments, I think she pays on time and from my friends she pays them good. This is bull crap that someone has said this. You should be ashamed Alexis!
Very happy with Proleadsmedia. Got paid early! A pleasure to work with!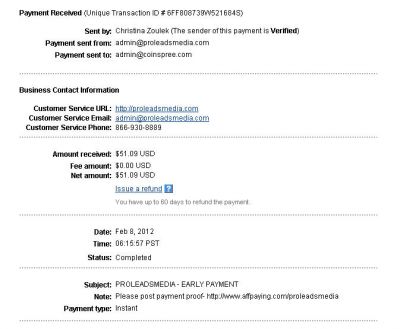 Copyright © 2010-2020 Affpaying.com All rights reserved.