Perform[cb]
OFFERS

4.88

PAYOUT

4.82

TRACKING

4.91

SUPPORT

4.98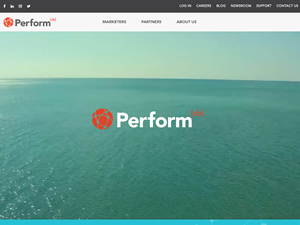 Clickbooth, Adperio, and Ignite OPM are now unified under the global brand of Perform[cb]. Please visit our company page to learn more.

Perform[cb] empowers brands to acquire new customers through incremental digital channels on a pay for results model. Our proprietary technology and highly curated partner marketplace aligns "cost-per" pricing with customer lifetime value. Whether you're an entrepreneur looking to drive traffic, or a fortune 500 brand in need of comprehensive performance marketing strategy, Perform[cb] is the recognized leader in online performance marketing with the #1 ranked marketplace in the world. We specialize in vertical-specific performance marketing strategy so that you reach the customers you want - and only pay for the customers you acquire.
Affiliate Network Details
Commission Type
CPA, CPI, CPL, CPE, CPS, CPC
Tracking Software
In-house proprietary platform
Tracking Link
http://track.clickbooth.com
Affiliate Managers
Peter Varga

Margo Sarr

Geoff Bender

Ryan West

Amanda Dansby

Lauren Bell

Jennifer Miller

Jennifer Ballard

Danielle Lyon

Jen Lewis

McClain Morris

Elyas Ghiasy

Jason Sierra
Rating Distribution
Excellent

77

Very good

4

Average

1

Poor

0

Terrible

0
Offers

Payout

Tracking

Support
This is a great network, with great customer service. My favorite thing about Adperio is their willingness to help you. I sent several emails which were promptly answered from my affiliate manager Erin always. I would say it's a great Affiliate network just to sign up for as an affiliate, which is free.
ClickBooth is my best CPA network. There are many CPA networks but in my opinion ClickBooth is the best one. I was very happy with my first payment. I got $550 from them. I can't imagine that I can get success to be marketer from promoting cpa campaigns.
The support is sound, with the team being fast to reply and very friendly. ClickBooth is not a network you want to miss out on, so get promoting them and see just how great they are.
Adperio is a big trusted affiliate network. I have been a publisher of them for over 6 months now and I have always been paid. In the last few months I have not missed any payment from them.
They have a huge amount of incentivized offers including free sign ups and surveys, so if you have a freebie site you can do really well with them. Their customer service is also great. So far I did not have any problems and they are much more helpful than any other networks I have ever seen on the internet. I love doing business with Adperio.
These guys have some top brands available for email. I have always received great support as well.
I have been an affiliate of CPA Storm for over 8 months now and I have always been paid. They are one of the CPA networks that I use daily, their offers convert very well for me. The only thing I didn't like about CPA Storm is their support. It is way below average, I could never reach my affiliate manager. I tried both via email and instant messenger, and I was not able to reach him. The only time I had contact with a person was when I called to get approved. Overall my opinion on the network is really positive and I am recommending trying CPA Storm out. You will most likely be able to earn something out of them.
ClickBooth is pretty good, I recommend them. They have been the easiest to do business with and have the best support.
I am currently running most of my offers with ClickBooth after signing up with them 9 months ago. They pay on time and my affiliate manager is very friendly unlike the other networks that are not available all the time for my questions. ClickBooth is very great and I really recommend every affiliate to apply to this network.

Copyright © 2010-2022 Affpaying.com All rights reserved.