Perform[cb]
OFFERS

4.88

PAYOUT

4.82

TRACKING

4.91

SUPPORT

4.98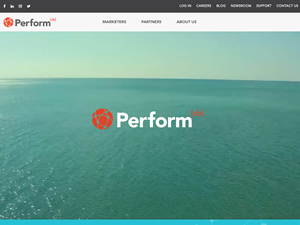 Clickbooth, Adperio, and Ignite OPM are now unified under the global brand of Perform[cb]. Please visit our company page to learn more.

Perform[cb] empowers brands to acquire new customers through incremental digital channels on a pay for results model. Our proprietary technology and highly curated partner marketplace aligns "cost-per" pricing with customer lifetime value. Whether you're an entrepreneur looking to drive traffic, or a fortune 500 brand in need of comprehensive performance marketing strategy, Perform[cb] is the recognized leader in online performance marketing with the #1 ranked marketplace in the world. We specialize in vertical-specific performance marketing strategy so that you reach the customers you want - and only pay for the customers you acquire.
Affiliate Network Details
Commission Type
CPA, CPI, CPL, CPE, CPS, CPC
Tracking Software
In-house proprietary platform
Tracking Link
http://track.clickbooth.com
Affiliate Managers
Peter Varga

Margo Sarr

Geoff Bender

Ryan West

Amanda Dansby

Lauren Bell

Jennifer Miller

Jennifer Ballard

Danielle Lyon

Jen Lewis

McClain Morris

Elyas Ghiasy

Jason Sierra
Rating Distribution
Excellent

77

Very good

4

Average

1

Poor

0

Terrible

0
Offers

Payout

Tracking

Support
I use Adperio and I like them. Here are my reviews based on my experience with them. They have various offers that convert well in various niches, and most of them are exclusive. I always get paid every month and i never miss a payment from them. Also, their support is top notch, unlike some other affiliate networks, my AM is very friendly and helpful, good guys over there. Adperio is the best network in the industry IMO.
This is my opinion is one of the most reliable incentivized networks out there...Adperio rocks... I have been using Adperio (formerly CPAStorm) for a few years now and have made over $50k. I have always been paid on time by them. Their check always arrives about the 20th of the month. This is far best the #1 place to make real money. Definitely recommend them.
Adperio is amazing for me, I've been using them for the past few months and i have had no problems. Dedicated affiliate manager, excellent support, good variety of offers (many exclusives), very competitave payouts and I have received many payments from them always on time (net15). I seriously suggest that you give them a try.
They have great offers and amazing support. I have been paid by Adperio over 12 times and my payment has always been on time. I like to get paid fast so I choose PayPal. Very Recommended.
I'd definitely have to say ClickBooth is the best affiliate network I've dealt with. Fantastic offers, Fantastic support, Fantastic payments, Fantastic network! 5stars!
I like Adperio and I have made thousands of dollars so far and counting. They have a wide range of freebie & survery offers, great support and they pay on time.
I've had nothing but positive experiences working with ClickBooth. They are one of the most transparent and reputable CPA affiliate networks I've ever worked with. And I've never had a problem being paid on time with them.
Adperio is a decent cpa network that I have been working with for over 7 months. They pay on time, i have been paid several times by them. My affiliate manager is very friendly too! Go try them if you really want to make serious money On The Internet!
Adperio is the greatest, I've been using them for a while, their offers convert VERY WELL for me. They have a large selection of exclusive offers and really great support. My AM Melissa has been excellent to work with. Nothing but great things to say about them. If you're looking for a top notch affiliate network to join, don't hesitate to join Adperio.
ClickBooth ROCKS! I have been with them for a few months now and have nothing but positive things to say about them. They have a wide variety of offers to choose from and great affiliate manager support. I get paid from them via PayPal every month and without any delays. My favorite cpa network for sure.
tracking has been good for me, but most of the offers they had are private and request only which sucks, overall network is an average for me
In my opinion, ClickBooth is the best out there. They have 600+ exclusive offers and pay me bi-weekly. My AM Brittany has been awesome to work with, she is so helpful with building campaigns and will give you a lot of tips on what campaigns do the best and even how to promote them. ClickBooth is by far the Best!
ClickBooth is one of the Top CPA companies out there. I have been working with them for over two years as a publisher. Everything has been pretty good. Payment through PayPal is definitely an advantage this network has over others! Plus, largest selection of exclusive campaigns & experienced affiliate managers team. I highly recommend ClickBooth based on my experience with them.
They are one of my favorite and most profitable CPA networks. I have been with ClickBooth for over 7 months, I have no complaints about this network as they always pay me on time, every single time, plus they have pretty good support which is another essential thing I look for in a network. They are a decent company to work with.
ClickBooth is the one of the best CPA companies, it's the most personal affiliate network I have ever dealt with. I have been using them for about six months, my experience with ClickBooth has been very positive. Great AMs, exclusive offers, sweet control panel and their payouts are good. So if you looking for a reliable CPA network, your search is over, this is the one!

Copyright © 2010-2022 Affpaying.com All rights reserved.