Perform[cb]
OFFERS

4.88

PAYOUT

4.82

TRACKING

4.91

SUPPORT

4.98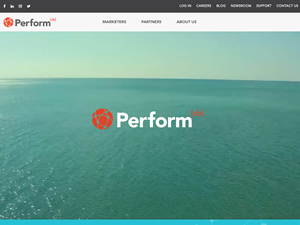 Clickbooth, Adperio, and Ignite OPM are now unified under the global brand of Perform[cb]. Please visit our company page to learn more.

Perform[cb] empowers brands to acquire new customers through incremental digital channels on a pay for results model. Our proprietary technology and highly curated partner marketplace aligns "cost-per" pricing with customer lifetime value. Whether you're an entrepreneur looking to drive traffic, or a fortune 500 brand in need of comprehensive performance marketing strategy, Perform[cb] is the recognized leader in online performance marketing with the #1 ranked marketplace in the world. We specialize in vertical-specific performance marketing strategy so that you reach the customers you want - and only pay for the customers you acquire.
Affiliate Network Details
Commission Type
CPA, CPI, CPL, CPE, CPS, CPC
Tracking Software
In-house proprietary platform
Tracking Link
http://track.clickbooth.com
Affiliate Managers
Peter Varga

Margo Sarr

Geoff Bender

Ryan West

Amanda Dansby

Lauren Bell

Jennifer Miller

Jennifer Ballard

Danielle Lyon

Jen Lewis

McClain Morris

Elyas Ghiasy

Jason Sierra
Rating Distribution
Excellent

77

Very good

4

Average

1

Poor

0

Terrible

0
Offers

Payout

Tracking

Support
ClickBooth has been a leader in this industry for many years. This network is a little harder to get approved into if you don't have quality traffic. For newbies it may take some time before you get accepted.
I love them because of there large number of offers and great support. The affiliate managers are very helpful and communicative.
I get paid every week from ClickBooth on time.
Very reliable and trustworthy network.
YAY! I can't believe I've already made over $2500 in a month, Adperio is brilliant. They provide kick ass support and their offers convert like crazy.
It's a fantastic company and I would recommend it to anybody who is serious about making money online.
I've used Clickbooth in the past and have received numerous payments from them without any problems. So I can vouch that they pay on time and are reliable.
Great network and works well for me. I have been using ClickBooth for almost 7 months now and they are great. They pay me every month and they are really quick to respond.
5.0 out of 5 stars
I've worked with ClickBooth on and off for a couple of years. They paid me weekly on time and I never had any problems with them. They also have one of the best support teams around, my AM is very supportive and is always ready to help me.
ClickBooth is one of the best aff networks out there for sure!!!
Adperio is not the best, but they are pretty good, especially for the incentivized survey offers. I would definitely recommend them.
I agree with all the reviews here. They offer top notch support and I've never had any problems with payments. Come check it out! You won't regret it!
Clickbooth is really good, I used Clickbooth on one of my blog for about 3 months and made over $2,500. I'm very pleased with them so fast to answer questions, decent offers and payouts seem good.
ClickBooth is a great network. I have been working with them for almost 3 years and have never missed a payment yet. And like others have stated, great people over there. 5/5
I have been with ClickBooth for a long while now and they're the best CPA network around, yes, they're #1 IMHO. I really love doing business with ClickBooth. They can also pay through PayPal which I pretty like because it is very convenient. I must also say that I have always been paid and on time! I recommend this to any serious affiliate marketer.
I've been a full time CPA Marketer for 3 years and belong to over 25 different affiliate networks but ClickBooth beats all the others hands down. The reason why I really like this network though is because they have the best customer support of any network I have ever dealt with....ever. They also typically paid more per offer compared to other networks. I would highly recommend them!!!!
I have been an affiliate of Adperio.com (formerly cpastorm.com) for over 2 years and I am very impressed with their professionalism.
They always help me very efficiently whenever I run into any trouble. And I have always received my payments from them without a problem.
It is the best CPA affiliate network I've ever been in.
I highly recommend Adperio.com to anyone interested in making money online with affiliate marketing.
Well I have been with them for almost 3 years. I have been paid on time every month direct deposit to my paypal account for the last 3 years. the payout is good compared to some of the other affiliate networks I am a member too. I love this network, they are on my recommended list, and I give them an A+++.
I am really impressed so far and intend to stick with them.
I give ClickBooth a 5/5 rating. They're one of the best affiliate network's I have come across and there's definitely nothing that comes close to them right now. ClickBooth will bring you the biggest payouts than any other network. They have paid me on time over and over, no bad thing to say about them. Sign up for ClickBooth today and give it a try! Good luck!
I'm with Adperio and they pay on time. They have lots of HOT offers, helpful and friendly affiliate managers, and super fast payouts. Can't ask for much more! You can easily make 5 figures per month with them if you have enough good traffic. By far the best cpa network on the web!

Copyright © 2010-2022 Affpaying.com All rights reserved.