Perform[cb]
OFFERS

4.88

PAYOUT

4.82

TRACKING

4.91

SUPPORT

4.98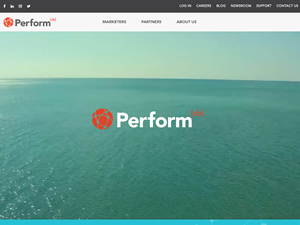 Clickbooth, Adperio, and Ignite OPM are now unified under the global brand of Perform[cb]. Please visit our company page to learn more.

Perform[cb] empowers brands to acquire new customers through incremental digital channels on a pay for results model. Our proprietary technology and highly curated partner marketplace aligns "cost-per" pricing with customer lifetime value. Whether you're an entrepreneur looking to drive traffic, or a fortune 500 brand in need of comprehensive performance marketing strategy, Perform[cb] is the recognized leader in online performance marketing with the #1 ranked marketplace in the world. We specialize in vertical-specific performance marketing strategy so that you reach the customers you want - and only pay for the customers you acquire.
Affiliate Network Details
Commission Type
CPA, CPI, CPL, CPE, CPS, CPC
Tracking Software
In-house proprietary platform
Tracking Link
http://track.clickbooth.com
Affiliate Managers
Peter Varga

Margo Sarr

Geoff Bender

Ryan West

Amanda Dansby

Lauren Bell

Jennifer Miller

Jennifer Ballard

Danielle Lyon

Jen Lewis

McClain Morris

Elyas Ghiasy

Jason Sierra
Rating Distribution
Excellent

77

Very good

4

Average

1

Poor

0

Terrible

0
Offers

Payout

Tracking

Support
Thank you for another payment! Great network, always pays and a good offer selection.
Love ClickBooth network! Best network to work with.
Thank you,
Khoa
Pros:
I do $XX,XXX volume per month and Love working with CB - anyone that doesn't swear by them is a nobody in the space.
Cons:
Not a network for newbies.
I've been with Clickbooth for a little over a year. They have the offers I want and I am always paid on time, without issue. Even better, the support is stellar. I'd highly recommend checking this network out.
Cbooth is a leader in the industry hands down.. Had the privilege to visit and work with them really close over the past year, and they do go above and beyond on all levels. I wouldn't normally want too many people to step into my "space" but as always, you have to acknowledge the good guys who got you there... Eh Paully?
Best network I have worked with so far. Timely payments, good offers, excellent support from representatives. Overall great experience.
I have run offers with CB and they are awesome. I work with Lauren and she is the epitome of what you can ask for in an AM. Keep up the good work!
Adperio a great network and they pay on time, no glitches or problems so far.
I have been working with Clickbooth for the past 3 years and I have nothing but great things to say about them. Great range of offers, best payouts, unmatched epc's and excellent affiliate managers! Don't hesitate to join them, highly recommended!
Cheers,
jumba
ClickBooth is the best of the best.
ClickBooth is an awesome network! I'm working with them for over three years now and they have always paid on time. My AM has always been extremely helpful as well, I can't say enough good things about them. Big thumbs up to Team ClickBooth! :)
Adperio is A+ and I could not vouch for them enough. Good offer selection, helpful affiliate managers, timely payments. Could you ask for more?
Clickbooth is a great CPA network with great support. They have a ton of unique offers that you can't find on other networks. Payments have been on time every time. If you're looking for a quality CPA network I would highly recommend them.
Adperio is a great network to work with. Jenn Taussig is a fantastic affiliate manager with strong support skills and does her best to get us the best offers and payouts when requested. I highly recommend working with Adperio to receive quality, direct offers and unparalleled support.
We recently started working with Adperio and so far have had a great experience. Their team is responsive and helpful which is the key to a successful relationship in affiliate marking.

Copyright © 2010-2022 Affpaying.com All rights reserved.