Performance Revenues
OFFERS

4.4

PAYOUT

4.2

TRACKING

4.4

SUPPORT

4
Performance Revenues is a full service online marketing agency. Our business strategy is to help you achieve outstanding results through top notch performance-based online marketing.

Lets make some PerformanceRevenues together!
[More]
Affiliate Network Details
Commission Type
CPA, CPL, CPS
Rating Distribution
Excellent

3

Very good

1

Average

0

Poor

0

Terrible

1
Offers

Payout

Tracking

Support
We're working with them more than 2 years, and they're really trusted network that always paying ontime!
got my first payment today feeling very happy. i want to make them happy too by writing this review.
Thanks Performance Revenues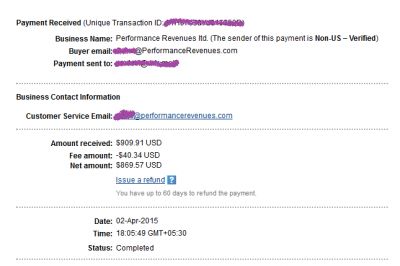 Scam network.
They pause your campaigns for no reason and claim fraud and then refuse to provide any detailed reports from their tracking platform to show it.
Had no prior quality issues with an affiliate on our network and they flagged a 10% conversion rate as suspect. Then gave me a one line report stating that the traffic was fraud.
Look, it could have been bad quality, but my problem with them is that they refused to provide any detail, which made them look even more suspect. We didn't get flagged by scrubkit on our end, but they did? Makes no sense. They got very defensive and rude when I asked questions.
Oded is a real piece of work too.
$150 is what we got burned for so not extremely pissed, but Odeds demeanor and overall shadyness really pissed me off.
Avoid.
Great network, pays on time, exclusive offers.
Finally someone who pays on time!

Copyright © 2010-2020 Affpaying.com All rights reserved.