MaxBounty
OFFERS

4.91

PAYOUT

4.96

TRACKING

4.94

SUPPORT

4.92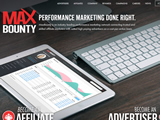 MaxBounty is a world leading performance-based affiliate network that specializes in maximizing the ROI of both affiliates and advertisers. Through unprecedented balance that we've been perfecting since 2004, we ensure both sides of the performance marketing spectrum are treated equally, fully dedicating ourselves to our clients' success and growth. Comprised of thousands of campaigns and tens of thousands of affiliates, MaxBounty has the necessary volume that the modern affiliate marketer desires. Find out why we're continually voted the #1 network by industry professionals, and signup to become an affiliate or advertiser today.
Affiliate Network Details
Commission Type
CPA, CPL, CPS
Referral Commission
5% for 12 months
Tracking Software
In-house proprietary platform
Tracking Link
http://www.mb102.com/lnk.asp
Rating Distribution
Excellent

234

Very good

6

Average

0

Poor

1

Terrible

1
Offers

Payout

Tracking

Support
Stable network and a good place to try if nothing else is working.
Good stuff!
Great company #1 in This Industry :)
MaxBounty is the best affiliate network if you don't join you are missing out!!!!! :)
thanks for your support, you are always there for me.
max bounty is one of the greatest cpa networks in the world
MaxBounty is my favorite and it is one of the best Affiliate Marketing Programs. They always pay on time and they are trustworthy.
Loving maxbounty, amazing offers and weekly payouts!
Payment Proof:
Here's my second payment from maxbounty. Good network :)
Thans a lot max
MaxBounty the best CPA network!
payment always on time;)
My affiliate manager is Beshan, he is excellent and he helped me a lot.
user interface is great and its simple to find any informations we need.
I have already made +10k$ this two month.
Great & Exlusive Offers.
MaxBounty is one of the best CPA network for sure!
On time payment every time;)
My affiliate manager Val Husky is great;)
Good payout rates...I love MB account interface:)
If you want to make some cold cash you should join to MaxBounty:))
Yeahh...and my last weekly payment!
I just got my first payment from them! Thank you Maxbounty.
I have been with them for 4 months and I love them, no complaints what-so ever, absolutely awesome!
- Perfect offers
- Perfect support
- Perfect tracking
- Payouts are always on time
- Did I miss anything?
Trust me this is the network you're looking for :) Both for incent and non incent offers.
I have a pretty consistent EPC of $0.45 with them :)
Feel free to sign up with my referral link and I'll hook you up with some money making tips: http://bit.ly/Zh8VQO
If you sign up with my referral link and hit me up at [email protected] I will give you some lesser-known money making tips since there is incentive for me to help you make money from earning referral commissions from you! =)
Maxbounty is my favorite CPA network. <3
MaxBounty has helped me earn over $50K in 2012 alone, and I am so thankful i joined this site it made my life so much better ... Long live MaxBounty ... :)

Copyright © 2010-2019 Affpaying.com All rights reserved.