MaxBounty
OFFERS

4.91

PAYOUT

4.96

TRACKING

4.94

SUPPORT

4.92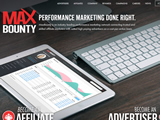 MaxBounty is a world leading performance-based affiliate network that specializes in maximizing the ROI of both affiliates and advertisers. Through unprecedented balance that we've been perfecting since 2004, we ensure both sides of the performance marketing spectrum are treated equally, fully dedicating ourselves to our clients' success and growth. Comprised of thousands of campaigns and tens of thousands of affiliates, MaxBounty has the necessary volume that the modern affiliate marketer desires.

Find out why we're continually voted the #1 network by industry professionals, and signup to become an affiliate or advertiser today.
Affiliate Network Details
Commission Type
CPA, CPL, CPS
Referral Commission
5% for 12 months
Tracking Software
In-house proprietary platform
Tracking Link
http://www.mb102.com/lnk.asp
Rating Distribution
Excellent

235

Very good

6

Average

0

Poor

1

Terrible

1
Offers

Payout

Tracking

Support
MaxBounty has helped me earn over $50K in 2012 alone, and I am so thankful i joined this site it made my life so much better ... Long live MaxBounty ... :)
No complaints about this company as they always pay me on time. Highly recommended!
Max bounty is A++++ NETWORK.
Got my first payment in advance. My affiliate manager is professional and helpfull.
Those guys aren't joking.
If you are looking for great business relationship and long-term income building, MaxBounty is the way to go!
They definitely have a great service! They have a great variety of offers although i think they can have a slightly larger variety.
The payout is great, always on time and never late! Tracking seems to be good as well. As for as i can tell all the tracking is good. The support is great. You can either call, email, or skype for help and they respond relatively quick.
I got my second payment today. Maxbounty is a legit and great CPA network and the Marianne Eid is the best AF manager ever. I can't wait for my next weekly payment. :))
Broke is temporary poor is eternal, join MaxBounty under me and make your dreams come true. I will share with my referrals everything exactly what I do to make money online.
http://www.maxbounty.com/index.cfm?referer=120477
Always Great network to work with A++++
This is the top rated CPA company. I am glad I began with MaxBounty first.
Great support.
Great network, great support.. on time payment! Maxbounty is a very powerful network. Especially my affiliate manager who Val Husky is a very helpful. Thanks for your interesting help Valerie. :)
Offers - 5 stars
Payout - 5 stars
Tracking - 5 stars
Support - 5 stars
Overall - 5 stars
MaxBounty can only deserve 5 stars! Just perfect all the way!
MaxBounty is the best CPA network I have worked with. They pay on time and scrubbing hardly ever happens. Nobody can defeat MaxBounty!
Awesome network. Received another weekly payment. Thank you very much!
MaxBounty is the best!!!!!!
great network, great support, and the best thing about them they always pay on time, always

Copyright © 2010-2019 Affpaying.com All rights reserved.