MaxBounty
OFFERS

4.91

PAYOUT

4.96

TRACKING

4.94

SUPPORT

4.92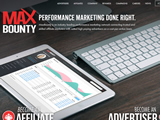 MaxBounty is a world leading performance-based affiliate network that specializes in maximizing the ROI of both affiliates and advertisers. Through unprecedented balance that we've been perfecting since 2004, we ensure both sides of the performance marketing spectrum are treated equally, fully dedicating ourselves to our clients' success and growth. Comprised of thousands of campaigns and tens of thousands of affiliates, MaxBounty has the necessary volume that the modern affiliate marketer desires.

Find out why we're continually voted the #1 network by industry professionals, and signup to become an affiliate or advertiser today.
Affiliate Network Details
Commission Type
CPA, CPL, CPS
Referral Commission
5% for 12 months
Tracking Software
In-house proprietary platform
Tracking Link
http://www.mb102.com/lnk.asp
Rating Distribution
Excellent

235

Very good

6

Average

0

Poor

1

Terrible

1
Offers

Payout

Tracking

Support
Just received my first payment. Fantastic network. Weekly payments with a $50 threshold. My AM has been terrific with follow up and recommendations. Highly recommend!!!
MaxBounty is a very good network to work with! I have just got my first payment! In fact they paid me earlier than I expected because the coming 15th is a Saturday. Overall, MB has a lot of good offers and the payout is high. My affiliate manager Marianne is always here to help. Thanks!
Maxbounty is one of the best affiliate networks in this industry. Adam Maltais is my Manager. He is so good and helpful. Today I got an e-mail from him for my first check. Thanks to him. My son used to work with him,he made good money with MaxBounty in couple of weeks, thats why I Joined Maxbounty. It is really good company, becuse I know through my son, as well as my own experience.
Thnks to MaxBounty and my Manager(Adam Maltais)
Their services are excellent, in all sectors.
Thanks to my AM, Beshan, that is always ready to respond quickly to all my doubts.
This is a company you can trust.
MaxBounty is one of the best affiliate networks. They have a wide range of offers and often have the unique offers that suit my sites. Their support is excellent, affiliate managers are very helpful and supportive. Pay is always on time and prompt. Highly recommended.
As most site owners we are wary when joining a new network, will their offers approve, will they pay and so on so we set a limit now of $300 for the first month. This was not possible with maxbounty because the earnings was so fast within 2 days it was over $400 without any effort at all. we stopped the campaigns to see reliability of payments to find they even paid us early.
the payout rates on maxbounty are amazing, one of the highest ive seen
tracking is second to none, excellent tracking
payout rates as stated are amazing
speed of pay is also amazing
here is payment proof, please note this was earned within 48 hours
Max Bounty is awesome!
They have really cool offers that is OFFER ! Not like other networks sleeping not knowing what offer to give to their affiliates. They know what offer is hot in what time.
Number One Network! Unlimited Thumbs Up for Max Bounty!
I've been working with MaxBounty since I first started CPA. Never been late with a payment. Weekly payouts and I like my AM.
Affiliate Marketing Forums
Sep 06 2012
Just goes to show that my efforts were worth it... today I received a MaxBounty weekly payment and they ROCK. $255 was the amount. Just started with them 2 weeks ago :)
I've been working with MaxBounty since I first started doing CPA 5 Years AGO!! They have never been late with one single payment in 5 years!! I even know the hour the money enters my PayPal. Weekly payments, nice AMs, very good payout. Not to mention I got gift from them for Christmas. What more can you ask?
MaxBounty is my first CPA network I´m succesfully working with and this is owed to the great support. They always respond quickly to my questions and are ready to help. The campaigns are not always converting too greatly, but it could be worse. I´m receiving a weekly payment, that is awesome and very reliable. Highly recommended
MaxBounty is great. My first CPA network I have ever used. So far I am owed $185 in two days. They have some really good offers and I am enjoying making money with them. I have a great affiliate manager who is not listed in this site but he is great.
The company as a whole is great so far. I will update when I am paid.
Thanks,
Jonathan Smith
P.S. The 5 stars for the payout is not relevant because I have not yet been paid due to my length of registration. So ignore that. I did not want to hurt the rating by placing a 1 so I placed a 5. I cannot review the payout as of yet.
MaxBounty is an excellent network. I love that I can receive money WEEKLY. Thoroughly recommended!
Offers: 5/5
Payout: 5/5
Tracking: 5/5
Support: 5/5
MaxBounty is a top class cpa network. I haven't had any issues and have always received my checks on time from them. I would 100% recommend working with them.
MaxBounty is perfect imo, been using them for over 7 months now. Very good company.

Copyright © 2010-2019 Affpaying.com All rights reserved.