MaxBounty
OFFERS

4.92

PAYOUT

4.96

TRACKING

4.94

SUPPORT

4.92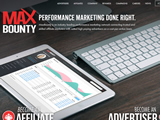 MaxBounty is a world leading performance-based affiliate network that specializes in maximizing the ROI of both affiliates and advertisers. Through unprecedented balance that we've been perfecting since 2004, we ensure both sides of the performance marketing spectrum are treated equally, fully dedicating ourselves to our clients' success and growth. Comprised of thousands of campaigns and tens of thousands of affiliates, MaxBounty has the necessary volume that the modern affiliate marketer desires.

Find out why we're continually voted the #1 network by industry professionals, and signup to become an affiliate or advertiser today.
[More]
Affiliate Network Details
Commission Type
CPA, CPL, CPS
Referral Commission
5% for 12 months
Tracking Software
In-house proprietary platform
Tracking Link
http://www.mb102.com/lnk.asp
Rating Distribution
Excellent

240

Very good

6

Average

0

Poor

1

Terrible

1
Offers

Payout

Tracking

Support
I have been with Max bounty for going on 8 months and always on time payments and great offers love my affiliate manager Val she is awesome
Maxbounty is one of the great networks I have worked with, they are very supportive and responsive in a few minutes I get my answer (during working hours of course). They are worth the effort of driving traffic to them, the reason I made the payout 5 is because they are the first network that I worked with and the first to give me a paymet(2 of them actually :) for a total of 400$ or so ). The problem that I have with the offers is that most of the great ones are very strict and needs prior approval other than that they are great, if you want help getting in let me know in a comment and I will see what I can do :)
Thanks Max Bounty :) Great network :) If you need any help contact me At my skype: imbh99
just got my weekly payment from maxbounty thanks valeria you are the best AM if you need to get into maxbounty add on on skype at (approvalatcpa) and i will help you out
Long live Maxbounty :-D
Received another weekly payment ...Thanks maxbounty and my AM Beshan tiwari ...Wish you Good luck for No 1 Cpa network .
Best network and Kate Bone best Am.
After 4 months i start work again with maxbounty and receive my weekly payment today . maxbounty is really awesome network always paid on time without asking anything .My Affiliate manager Ryan is very nice man .Always support me everytime .Thanks Maxbounty . Thanks Ryan . If anyone want join Maxnbounty Just add me on skype Cpa.publisher you'll got approval early ...Thanks to all
I am fully impressed so i want to say that in every field of affiliate marketing Max Bounty is great.
You can see examples like-
1)Support- Support is awesome
2)Payment- No payments issues from their side, you will get paid always on time.
3)Offers- Max Bounty's offers are very solid and unique with great payout and EPC.
4)Max Bounty also providing other methods to earn money like referral earnings.
No other networks can provide facilities and convenience like Max Bounty.
I'll recommend to join Max Bounty network always.
thanks a lot....!!!
Anyone can join it through my referral link.If your website and promotional methods will be deserve good quality, then Max Bounty will approve you and i'll help you out.
http://tinyurl.com/moh6kdk
My experience with MaxBounty has been trouble free I highly recommend them. This is a great network (I have tried several.Staff are friendly and helpful,payout is FAST,offers convert well and there are many to choose from.
Whether you are a newbie just starting out or a CPA expert you will not find better than MaxBounty.
Sign up using my referral link and I will email you some useful start up tips!
http://tinyurl.com/ptbkk89 You can reach me at suppo[email protected]
Great network! Great support! Great payout!
Tons of offers awesum support weekly payments what else affiliate want add me on skype i can get You in using my referral link my skype id is (approvalatcpa)
cheers!!!
Got my first payment via wire. Thanks Maxbounty!!
i want to say maxbounty is really awesome network always paid on time .My am Ryan is very great man .Always support me everytime .Thanks Maxbounty ..
read simo review here! Max bounty has ripped off lots of people and gives a hard time.
when you start you cannot get paid through paypal and they support only a few countries. Then you need to make $1000 just to get paid. Then when there is something wrong its very hard to get an explanation like your moneys disappeared for no reason. If 20% of your money is missing there should be reason but so many people lose and dont know why.
do not use this network! there are better CPA networks who are more professional. Maxbounty should spend less time throwing parties with our money and more time taking care of their business
Hands down the best affiliate network I've worked with. My account manager, Beshan Tiwari, is dependable, responsive and he's always ready to quickly answer any questions in an intelligent, understandable way. Max Bounty is a great network with loads of great offers from some big name brands and with managers like Beshan, they make your life as an advertiser a whole lot easier.

Copyright © 2010-2019 Affpaying.com All rights reserved.