MaxBounty
OFFERS

4.91

PAYOUT

4.96

TRACKING

4.94

SUPPORT

4.92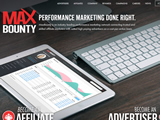 MaxBounty is a world leading performance-based affiliate network that specializes in maximizing the ROI of both affiliates and advertisers. Through unprecedented balance that we've been perfecting since 2004, we ensure both sides of the performance marketing spectrum are treated equally, fully dedicating ourselves to our clients' success and growth. Comprised of thousands of campaigns and tens of thousands of affiliates, MaxBounty has the necessary volume that the modern affiliate marketer desires.

Find out why we're continually voted the #1 network by industry professionals, and signup to become an affiliate or advertiser today.
Affiliate Network Details
Commission Type
CPA, CPL, CPS
Referral Commission
5% for 12 months
Tracking Software
In-house proprietary platform
Tracking Link
http://www.mb102.com/lnk.asp
Rating Distribution
Excellent

235

Very good

6

Average

0

Poor

1

Terrible

1
Offers

Payout

Tracking

Support
maxbounty is much better then peerfly..
Just One Word Its awesome Network
On time weekly payments and great offers! Amazing network to work with!
Very highly recommended!
Casey
hi none of AIM works Can some one please update ? i have applied today because of superb offers on maxbounty just want to contact for approval
My favorite network.
This is my commission for May. ;)
Have started using maxbounty.com lately and im happy with them, there offers converts well, good support from manager.
I also got my first weekly payment today as they have started to pay weekly now. So Things got even better now
Totally agree with the last statement one of if not the best network out there
One of the greatest networks! They have some sick converting offers! My manager is Adam and he is the best! I never had an better affiliate manager! He always guides me and tells me what offers are the best!
I think you should join them because Maxbounty is the BEST!
MaxBounty ALWAYS Pays on time, every time... for 3+ years now! They are a great network with quite a variety of offers and their payouts are also very competitive in comparison with others. Also my manager, Mike, is one of the best affiliate managers in the industry in my opinion, and I know him personally.
If you haven't tried them yet, give them a shot.
I have been working with MaxBounty for over five months now and I have nothing but great things to say about them.
See the payment proof:
MaxBounty is a great network. Their offer selection is great, I have run many offers with them and they all perform very well. Payments are always on time and support is always available. I highly recommend this network to anyone from newbies to seasoned veterans! 5+ Stars!
I have recently joined MaxBounty, but my Manager has been very helpful providing me with high converting offers and guiding me to where I can actually make a profit. You need to check them out. Thanks
Great network highly recommended.
All I can say is MB is great. They have a lot of exclusive offers, and are well known in this industry. The staff are very friendly and extremely helpful. Give MB a try and you won't regret it, ever. :)

Copyright © 2010-2019 Affpaying.com All rights reserved.