Market Health
OFFERS

4

PAYOUT

3.79

TRACKING

3.84

SUPPORT

3.47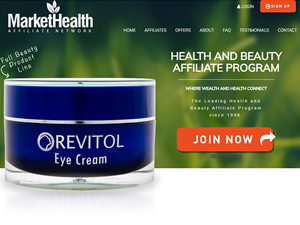 Established in 1998 and formerly known as Joebucks.com. Market Health is now the world's largest integrated online marketing company in the health and beauty industry. The Market Health Affiliate Network allows you to market and promote the world's leading health and beauty offers on the net. The Market Health Network is a global leader in the health and beauty industry offering a wide variety of business opportunities for our affiliates and merchants. Our goal is simple...To help merchants and affiliates work together in growing both of their businesses in the health and beauty industry.
Affiliate Network Details
Rating Distribution
Excellent

5

Very good

8

Average

2

Poor

0

Terrible

4
Offers

Payout

Tracking

Support
Markethealth is one of the oldest affiliate program for health. Any one can easily approved here.
Market Health is absolutely fantastic. Excellent offers, very helpful support team, reliable payments too.
I highly recommend them for health and beauty offers.
Made almost 2k dollars with a product I promoted for them. The first thing they did was sending me a check, even though I've never chose to receive my money via check. To top it off, the check never arrived. Next, I set my payment method to Wire Transfer, same thing, never received my payment. OK, maybe it was an error. Their contact support never replies, the only reply I got was "Hi gaby, assist the client" they didn't even answer me directly, instead they ccd my email and ignored me completely. To top it off, the person who was supposed to reply never did haha this is a big joke. I learned a valuable lesson though; whenever you apply for an affiliate network, before doing anything or promoting any offer, the first thing you should do is contacting your account manager and their support team. If they don't reply within 2-3 business days, think twice about getting involved with them. Good luck to you all!
Solid network with great support!
My payment is on hold, it's my first payment.
I found no reasons, can anyone clarify it?
I get paid on time and every time. For everyone who wants to make money in the health and beauty industry. Market Health is perfect for you. You don't need a website to be approved! (Most of the affiliate programs and network requires you to have a well-established website to get approval.) This is good for those who want to promote market health products without using a website.
You can see payment proof at this blog >> https://markethealthaffiliatereview.blogspot.com
I have been a markethealth affiliate for years, sending clean SEO traffic to various offers of them. I never did huge numbers but it was consistent. About 2 weeks ago, I wasn't able to log into my account anymore - "account blocked". That was surprising considering my history with them and not having changed anything about my promotional methods in years.
I emailed their public email address (info@markethealth.com), the one of my previous affiliate manager (jessika@markethealth.com), used the contact form on their website and called their 800 number listed here and on other sites (its an outdated one going to some kind of customer service call center where nobody knew what markethealth is).
I have been ignored for more than a week now and am unable to reach anyone for clarification. Had I not tried to log in I wouldn't even know my account was closed because there was no notification email or anything! Super frustrated about this.
If anyone has any other contact details, skype, phone, anything, please comment and let me know, thanks.
Market Health is definitely a great affiliate network. I've earned some money thanks to them. It is a good alternative source of health products, other than purchasing through an MLM distributor or from the shelf. Overall, I think every affiliate marketer in the health and wellness niche should start an account with Market Health.
They pay on time but you can't join as a vendor. They own their products.
I work with them for almost one year. they pay every time. their offer is always the most popular one in the niche.i just hope they can provide more offer.
Jerry Huang | Smart Affiliate Success
Jan 17 2018
Market Health is a really great affiliate network for affiliate marketers in the health, beauty and fitness niche. Their payouts are good. Up to 60% commission rate if you perform well. However, you can't join Market Health as a merchant to sell your products as they have confirmed with me that they are a Direct Network and all the affiliate products are owned by themselves.
Hello,
I started with MarketHealth recently and I'm curious where do you guys advertising their products. I know this should not be asked, but little tip would be very appreciated. I used to have a lot clicks with no sales. It's frustrating. I probably advertise on wrong place and would like to learn a bit, if possible.
Thanks.
market health gives me a bitter taste in my mouth. My account got hacked and my info got changed so i cannot do a password reminded. I send emails to support even emailed and skyped my account manager no reply. I been with them for 1 year and make few sales every month
Now i have called the usa office over 30 times with no answer. This network is full of BS. How will my account be hacked and i cannot reach anyone to sort it out. My wowtrk.com account got hacked the same day and it was sorted in 2 days. now its day 5 and they still dont take it serious. I also did not get paid on monday 17th nove 2014 bcos i this this hacker changed my payment detail.
And before you this i am some low life online i do make between $2000 to $5000 a week on maxbounty alone
Can you guys sort this silly mess out and upgrade ur systems so when peoples info are changed they receive an email notification
i am to pissed of to check for spelling mistakes. Very Terrible customer service i managed to speak to kept on asking me for my order number when i said i am an affiliate like 5 times. All they care about is there useless sales not looking after peoples information
They shave leads like crazy. A lot of my marketing friends have used this because of some nice landing pages they have, but ended up realizing that you don't get the commission you actually make. Conversions take a dive after 2 months.
Hi All,
I signed up with them almost a year now. My blogs are starting to gain decent rankings in google; hence traffic = banner clicks = Market Health Prospects.
Thanks to Market Health's Stats Analysis Tools; I can confirm this month only i have sent over 15,000 unique vistors across the 4 offers am promoting, 80% to the offer am credited for sales.
Now these traffic am send are highly targeted and i was very puzzled that i've only made 6 sales.
Now i spoke to the guys at Market Health's and the informed me i have a 98% bounce rate, hence only a tiny percent actually hit the Order page.
This is my experience so far, my plan is to keep an eye on this for a month or so then decide if moving to another network is my best solution.
I welcome any comment of recommendations.
Regards

Copyright © 2010-2021 Affpaying.com All rights reserved.