LosPollos
OFFERS

4.95

PAYOUT

4.91

TRACKING

4.95

SUPPORT

4.89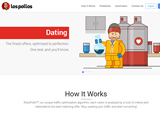 LOSPOLLOS

LosPollos is the premier affiliate program with a focus on SmartLinks, to efficiently monetize your mixed traffic from any GEO or device. Here at LosPollos, more than 1000 carefully selected advertisers, exclusive and in-house offers, and a proprietary algorithm are on the menu, so you can get the most out of your traffic with every single click.

*Monetize traffic from any GEO, niche, or device.
*In-house matching algorithm connects your user with the best matching offer - automatically!
*Weekly payouts - never any holds on your money, never any delays.
*Free your mind and leave the routine to our team - our SmartLink will do everything for you!

Our Special Recipe:

*Smartlinks for different verticals: Mainstream (sweepstakes), Crypto, Cams, Adult Games, Gambling, Dating, Casual Dating, Gay Dating, Push Monetization.
*Payments every week, with no holds. We support payments to WebMoney, PerfectMoney, Capitalist, Paxum, Bitcoin, and Wire.
*An innovative creative team cooking up landing pages for your niche in your user's native language, ensuring the highest conversions possible.
*Support that cares, working around the clock to support your campaign.
*Extra sauce: For partners with high volume and good quality traffic, we'll increase your rates!

Follow the news:

Telegram: https://t.me/lospolloscom
Instagram: https://www.instagram.com/lospollos_team/
Vkontakte: https://vk.com/lospolloscpa
Facebook: https://web.facebook.com/lospolloscom/
Have any questions or suggestions? Write!
For webmasters: support@lospollos.com
For advertisers: partners@lospollos.com

New here? We'll be happy to help you get started. Just get in touch!
Affiliate Network Details
Payment Frequency
Net-7, Weekly
Tracking Software
In-house proprietary platform
Rating Distribution
Excellent

147

Very good

1

Average

1

Poor

0

Terrible

0
Offers

Payout

Tracking

Support
Love this network, I've been working with them since 2017. Every payout on time. Simple, good! Dedicated managers. Simply the best!
lospollos is the best Network Company and Excellent Support and Best Service for me. I like it and I aslo love this Network and Mostly my Affilate Manager " Mohoshen " She is the Best Affilate Manager and Very helpful and Very fast Responding , If I can rate my Manager she is the Best of all 5 Stars for the Network for lospollos and 5 Stars for my Affilate Manager " Mohoshen " ,Im glad Im working at her and be part of the Network.
I am very happy to work at the Lospollos because the Lospollos is a good converting network
And a very good on payment weekly and timely

LosPollos s the best dating affiliate networks in the world
Best smart link offer Best Offers Payout Tracking and Support is Very Good and Friendly.payout only
Good support in an instant via Skype
More than happy with this network
Great support
Great smartlinks
Great payments
lospollos is the best networks
Best smartlink offer, Best Offers, Payout, Tracking and Support is Very Good
Good network, payouts are high as well as conversion rate. Support is excellent. payments are always on time. Highly recommended for email traffic (Dating niche).
Really This network change my life,I have worked with many network before all are stop now, Only Continuing with los pollos, My affiliate manager Anna is very helpful.
I am very happy to work at the Lospollos because the Lospollos is a good network
And a very good payment week

This is a very good network i got payment on time . i am happy to work with lospollos
Never tried networks more better than this one. I am shifting to this one with all my traffic not many peoples knows about this one but that is not a botheration for myslef.
Great netowrk..!
high payouts i'm very shocked when i test this network, its really huge paying top affiliate network, you just have to promote 1 smart link and that's it ..! <3
My payment arrived easily today afternoon also in Bangladesh, this small small things really matters. To myself this is a great offers.
I simply love this network and my AM Eugenia.
Everything is OK
But this Network have huge commissions on offers (i think around 35-40%)
payouts on the same offers are much lower than in other networks (especially without smartlinks)
So, if you have tracker - this one isn't best, even close.
Only adult-dating experience.

Copyright © 2010-2021 Affpaying.com All rights reserved.