LosPollos
OFFERS

4.94

PAYOUT

4.9

TRACKING

4.97

SUPPORT

4.87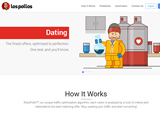 Los Pollos: Dating, Mainstream & Gambling offers packaged in a convenient smartlink. Weekly payouts + Every GEO/Device supported.

With RoboPollo, our unique traffic optimization algorithm, each visitor is analyzed by a host of criteria, and then redirected to the best matching offer. Leave the hard work to us and focus on what you love doing. RoboPollo will manage your traffic and automatically increase conversion rates.

• Mutiple verticals - Dating, Mainstream, Gambling, BizOpp and Male Enhance
• Any device - optimized campaigns for Mobile, Tablet, Desktop and even Smart TV
• 180+ countries - our campaigns are active in 180 countries and counting
• Weekly payouts via wire, PayPal, FirstchoicePay, Paxum, ePayments, WebMoney

Start making money with our global smart link today!
Affiliate Network Details
Payment Frequency
Net-7, Weekly
Tracking Software
In-house proprietary platform
Rating Distribution
Excellent

125

Very good

1

Average

1

Poor

0

Terrible

0
Offers

Payout

Tracking

Support
Lospollos is one of the best CPA smartlink network in the world I will always recommend it everyday to anyone
Skype:cpaaslam1
Very pleased with the results and support LosPollos always delivers! Not only great at traffic but I am very happy that payments are always coming in regularly.
We are so happy we started using LosPollos. They have one of the best optimization systems with the best offers, high pay outs and incredible support team!
I have tried quite a few CPA Networks but truthfully, this is by far the best one, delivering high quality traffic and driving great results. Would not be fair not to mention excellent support service. LosPollos team is always there to help, they are quick and efficient!
lospollos is thea best network and the bes my affiliate :manager Eugenia
then i am very like the network this network super star.........................
If you are looking for a CPA network that will manage your traffic and automatically will increase your conversion rate - LosPollos all the way, no need to look further. I am actually seeing results I was looking for and if I ever need support, they are always happy to assist, very professional and quick
Hello boys,
Lospolls is one of the best CPA Network I've joined. They have good offers, very high payouts and excellent, quick, professional support.
Los Pollos is the best affilait network for beginner.support is very good. i am happy to work with lospollos.
i think Anna is very helpful maneger.
Thank Mr #Mohoshen sir that's because he help me a lot. Really he is a good manager.. I get better result from Lospollos thank you Lospollos.
I work alone but I get the best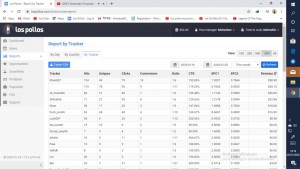 LosPollos is a really good network. I have Dating and Mainstream smartlinks at the moment and their offers are well converted. I get paid every Tuesday without any problem. The support team always helps me if I have any questions.
I am from Bangladesh,Incredible but true, what a conversion rate, Ann Manager is very smart,I am very pleased to have worked with Anna Mam,Thank you.
We tested the smartlink for Dating and got really impressive results.
Good convertion, high-quality traffic. Support team is fast in response. This network is definitely worth working with. Now our company is going to try one more smartlink.
Lospollos very good network in the world, It's give us very good converting. and it's rates very high. Mohoshen sir is very well behaved.This my facebook profile link contact me, any help https://www.facebook.com/lostloveE
LosPollos is Much better than all networks..good support and conversion rate After all I am very happy to work this good network
I absolutely like this network! Good offers, polite support team, great results! We tested mainstream smartlink and weren't disappointed.

Copyright © 2010-2021 Affpaying.com All rights reserved.