LosPollos
OFFERS

4.96

PAYOUT

4.9

TRACKING

4.97

SUPPORT

4.86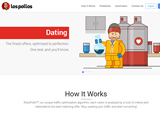 Los Pollos: Dating, Mainstream & Gambling offers packaged in a convenient smartlink. Weekly payouts + Every GEO/Device supported.

With RoboPollo, our unique traffic optimization algorithm, each visitor is analyzed by a host of criteria, and then redirected to the best matching offer. Leave the hard work to us and focus on what you love doing. RoboPollo will manage your traffic and automatically increase conversion rates.

• Mutiple verticals - Dating, Mainstream, Gambling, BizOpp and Male Enhance
• Any device - optimized campaigns for Mobile, Tablet, Desktop and even Smart TV
• 180+ countries - our campaigns are active in 180 countries and counting
• Weekly payouts via wire, PayPal, FirstchoicePay, Paxum, ePayments, WebMoney

Start making money with our global smart link today!
Affiliate Network Details
Payment Frequency
Net-7, Weekly
Tracking Software
In-house proprietary platform
Rating Distribution
Excellent

77

Very good

1

Average

1

Poor

0

Terrible

0
Offers

Payout

Tracking

Support
Never tried networks more better than this one. I am shifting to this one with all my traffic not many peoples knows about this one but that is not a botheration for myslef.
Great netowrk..!
high payouts i'm very shocked when i test this network, its really huge paying top affiliate network, you just have to promote 1 smart link and that's it ..! <3
My payment arrived easily today afternoon also in Bangladesh, this small small things really matters. To myself this is a great offers.
I simply love this network and my AM Eugenia.
Everything is OK
But this Network have huge commissions on offers (i think around 35-40%)
payouts on the same offers are much lower than in other networks (especially without smartlinks)
So, if you have tracker - this one isn't best, even close.
Only adult-dating experience.
We are using this for geo-redirect for our internal traffic. With this cooperation we are capitalizing on extra clicks that weren't earning us anything before. Awesome results.
solid network. testing them now with IG http://prntscr.com/h5rbm2
Los Pollos is one of the best affiliate networks. I recommend this network to everyone.
I can recommend Los Pollos to everybody. My AM is always friendly and answer on all my questions. Payouts are always on time.
I've worked with over a dozen networks and LP is consistently one of the best. My AM is always responsive. On top of that they are a very professional operation overall, and I have never had an issue with delayed payout.
Lospollos made my entrance into affiliate marketing a lot easier, and I appreciate everyone there who has helped me earn a significant amount of money in such a short time.
Great support
Great smartlinks
Great payments
i love you lospollos
I have only great things to say about Gustavo's network. :) I registered a few months ago and I have seen excellent results with their dating and binary smartlinks from the start. Their in house system is actually helpful and very simple to use. Payouts arrive weekly and without any delays. My AM Julia is very friendly and helps me when I need it, which I appreciate because good support is important to me.
Thanks Julia and Los Pollos for doing a great job!
I recently moved from another dating network to Los Pollos to test it out and I'm more than satisfied. EPC turned out to be way higher than my previous network. Conversion is also better. Their support was always available on Skype to help with anything I needed. All in all I recommend this network without any reservations.
Been running traffic with LosPollos for a couple of months now and I always get paid on time

Copyright © 2010-2020 Affpaying.com All rights reserved.