LeadBolt
OFFERS

4.54

PAYOUT

4.6

TRACKING

4.58

SUPPORT

4.57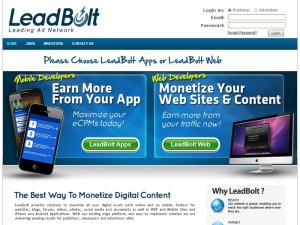 LeadBolt's content unlocking technologies are simple, easy to install and provide publishers with a revolutionary approach to making real money from their website traffic or website content! Once you have signed up you will have access to our publisher portal to instantly set up and run LeadBolt's technologies on your website. It takes just 3 steps with our publisher setup wizard. Tired of the minimal payouts your site is receiving from text ads or banner campaigns when your website has high visitor ratios? You can do better! LeadBolt's content unlocking technologies are transforming the internet for publishers by delivering real payouts for their real and original content. Most importantly, we understand the business of web marketing and our unique user matching technologies and exclusive programs will provide you one of the highest paying pay-per-conversion publisher programs.
Affiliate Network Details
Commission Type
CPA , CPL , Content Gateway / Locking
Referral Commission
10% for life
Tracking Software
In-house proprietary platform
Tracking Link
http://ad.leadbolt.net
Rating Distribution
Excellent

57

Very good

1

Average

1

Poor

1

Terrible

5
Offers

Payout

Tracking

Support
THIS IS A FRAUD COMPANY. THEY ASK FOR PREPAYMENT FROM THE ADVERTISERS TO RUN ON PERFORMANCE BASIS AND THEN DON'T SEND TRAFFIC . I CHECKED WITH MANY ADVERTISERS AND EVERYONE HAS SAME ISSUE. THEY BLOCKED THE ACCOUNT OF ADVERTISERS AFTER TAKING PREPAYMENT AND DONT EVEN ISSUE A REFUND. ACCORDING TO THEM THIS IS THEIR COMPANY POLICY. SERIOUSLY?? TAKING A PREPAYMENT, NOT SENDING THE TRAFFIC AND NOT EVEN GIVING REFUND IS A COMPANY POLICY? THIS COMPANY IS SCAM. BEWARE OF THESE GUYS!
I have horrible experience with Leadbolt. I was using Leadbolt in-app traffic and about 80% of it was fraud. The support is unacceptable, best case scenario is that you will get response by email in 2-3 weeks. When you try to call them it does not work as well, they will ask you to leave the message. At this moment I am trying to get back the rest of my money that I still have on my account with Leadbolt, but at this moment I have no success. I've sent them email and message, but as usual no respose so far.
well they are just good and a bit slow with replying on my email, I hope Mr. David Cornford or the man himself Dale would address this issue.. and btw a lot, i mean a LOT of the reviews in leadbolt is a giveaway fake..
Does any want have news about leadbolt? Is it OK? I do not see comment or proof since April last year...
I love leadbolt they have best support, This is my payments
They approve for 2 hours,
:)
http://bit.ly/xNQubO
LeadBolt gives the Best ecpm and Highest returns as compared to other networks, very handy portal where you have the control and lots of options and the best thing about LeadBolt is their Customer Support and highly skilled and professional account managers. LeadBolt will take the Lead.
Leadbolt has been a thorn in my side since signing on with them. They assigned me an account manager named Florence Loh who is not online most of the time, and only gives scripted responses.
I spotted a security flaw in their Android SDK, and they said they are aware of it, and didn't seem too inclined to changing it. I have all the email correspondence backing this. No ad network should send the Device ID in plain text over the network!! This is a MAJOR security flaw!
Even Amazon's app store is aware of this, and will reject your apps 9 times out of 10 due to this security flaw!!
Also, their tech support sucks! It takes them a very long time give responses, and when they do it is all scripted.
The earnings are highly influential on a few key advertiser campaigns, and there is not a lot of high paying back inventory offered either. So, if one of their major advertisers pauses a campaign or ends one, then guess what? Your eCPM will go down almost to nothing over night!
Another issue that I have with them, is the fact that 50% of the time I can't login to my accounts control panel to check the status of my earnings! When I contacted tech support about it they simply told me they were performing upgrades at the time, and to try it in a few hours. Well that was over two months ago, and I still have these login issues no matter what internet connection I use.
My hate list for Leadbolt goes on, and on. I will be putting together an article about their poor performance, and poor customer relations. If anyone is interested in reading it contact me for the link to it.
I first started using leadbolt a while back. All I can say is that it's a great network.
The only downside was having to wait each time I created a content locker to be approved. But overal I made a nice amount of money for the month I tested it out.
When it came to being paid out I had to wait a while (made a stupid mistake when entering the wire trasfer details) support were straight on it and eventually we worked out and I recied my money!
Great network :)
I always get payment on time.
I love this network, for me is the better.
Guys! Stop Stop Stop Please dont work on this affiliate network. this is a completely fraud network the payment time he is close my account and not send my payment
Guys, isn't it OBVIOUS that the payment proof (at least 3 of them anyway) was submitted by the same person? and it is too obvious how the positive comments in the ratings section was written by the same person anyway (most of it)... this makes me very weary. reason is, sounds like a legit network from the "other" comments, but doing something like this really makes me question some things - and it really hurts the credibility of the company.
The leadbolt staff are very competent and are experts at what they do. They are also very professional in handling their clients.
A friend of mine recommend leadbolt to me. She told me that they are one of the best network globally and after working with them for quite some time now, I can honestly say that I made the right choice. :)
I would like to commend the leadbolt team for the amazing work they've done with the network. I've been with them for a long time and until now, I'm still amazed with the improvements. The offers by the way are amazing!!! Good job you guys.
Great Network! kudos to the whole team for doing such a wonderful job.

Copyright © 2010-2022 Affpaying.com All rights reserved.