GoOffers
OFFERS

4.02

PAYOUT

3.73

TRACKING

3.92

SUPPORT

3.82
GoOffers is a leading CPA (Cost Per action) affiliate network that specializes in running various different offers, including mobile, finance, health, free trials, email submits, etc... At GoOffers, there are many things that differentiates us from the rest. For one, we don't only claim that we have the best converting offers, at the highest payouts, we prove it.

Unlike other networks, most of our offers are direct from the advertiser. What does that mean to you? Well, there is no middleman chipping away at your payouts, which means, more money in your pocket. GoOffers is not claiming to be the best affiliate network out there, we will leave that decision up to you.
Affiliate Network Details
Rating Distribution
Excellent

53

Very good

8

Average

4

Poor

8

Terrible

18
Offers

Payout

Tracking

Support
That Made My Mind To Write a Review Again, Whatever Good I Say Its Not Enough.
gooffers is a Best CPA Network.
Offers, Payout, Tracking, Support is Very Good and Friendly.
Payments Made on Time. Sign Up Today and Make Money $$.
Join with My Link and Get Super Fast http://bit.ly/2ESwOYs Approved by my link
Great network to work with. I've been with them for 3 months and I just got my second paiment. They paid me on time everytime. No issues or problems at all, i already switch all my traffic to gooffers
this is a pretty good network to work with, I'm working with them for 2 months and I have received payment once. at first, i was afraid of the bad reviews and complain about the network that they are a scam. but I later found out that the people with bad reviews and complain are actually fraudulent trying to make the network look bad. you can work with GoOffers without any hesitation. join here http://bit.ly/2sUdBeP for fastest approval.
Dear Danny,
I have been trying to reach you since 10 days.There is a pending payment with invoice number Invoice #5659 and my Affiliate ID: 23883. I would be pleased if you can pay as we are dependent on this payments for our daily needs..Please help.
Great affiliate network. They have lot's of good offers and good payouts not. I have received a my first payment...I will take screenshot proof of paypal billing.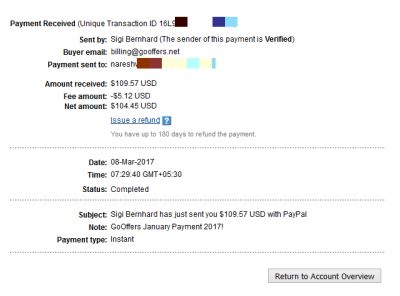 Good network. Lots of good offers. Payouts are great on some offers, while other offers have payouts are okay. Payment done on time, and support has been responsive. Not the best network out there, but def. in my top 3. I would recommend any publisher to try them out. They haven't disappointed me yet, and I've been running their offers for about 3 months now, and counting.
Thanks for reaching out. I took a look for you, and I do see an invoice for the amount of $*** that is still open in our system. The reason why this payment has not yet been sent out is because you have not yet reached our $250 minimum payment threshold. As soon as you hit $250, finance will issue out your payment based on our net 30 payment terms.
Fantastic network, and great people to work with. Andrew is a really good affiliate manager. He's always on call, even past working hours. Great offer selection, good payouts, and on time payments (most of the time). Only reason I did not give them 5 stars is because they were late on payment by about 5 days last payment cycle. Other than that, this is one of my top network partners.
Gooffers is the biggest SCAM that I've ever experienced.
I have spent a lot of money for good content and quality traffic, I've made 427 sales in 4 months earning $5,081.30.
However instead of sending me my hard earned money, Dolly Ali simply stopped responding my emails.
Look at my screenshot and don't ever trust Gooffers, they are scammers and will never pay you!
Dear dolly
My Affiliate ID: 19210,I sent email to you,but why did't you write back? ,and you told me that you would pay it on December 31 last month,i'm sorry
I have not received.please check it.
Honesty is the best policy
I have tried several times to contact danny but he did not answer. I have not received a payment of 6 months Danny if you are a good network, then please reply me. I will take screenshots proof of billing.
really great aff network. i am running 3 direct offers with them and it's making me a lot of $$ because they offers are good and they have incredible payouts. the latest they have been in paying me was only like 3 days which is not bad, i will continue to work with them for sure.
Hah it seems like you either love or hate this network... weird how it can go from one extreme to the next. In my own personal experience with Gooffers, I've never had a single issue in the 2 years I've been signed up with them. Actually the owner Danny is the most chill and honest guy I know, and I have a feeling they are on the rise... gonna be one of the biggest networks out there. They have ALOT of good offers and payouts are not bad. They can do a bit better when it comes to payment terms but hey at least I get my money.
Great network, Thanks Gooffers for being the best.
Freakin' awesome network, i don't know wat these guys are talking about, i signed up to gooffers almost 7 months ago and i've ran so much traffic with them and got paid for mostly everything around the same time every month. yeah there were the occasional rejected leads but didn't amount to much compared to what i was making, and payments were sometimes a few days late but that's no big deal to me. here's some advice guys: make sure your traffic is LEGIT and you can't go wrong with Gooffers. they are also sending me a bonus for some numbers i hit in March... awesome!!

Copyright © 2010-2021 Affpaying.com All rights reserved.