EvoLeads
OFFERS

4.92

PAYOUT

4.84

TRACKING

4.81

SUPPORT

4.79
EvoLeads is a Montreal-based online marketing technology firm, specializing in providing cutting-edge products and services for the affiliate marketing sector. Our key products include a cost-per-action (CPA) affiliate network, and a performance marketing tracking solution. We constantly seek to provide our clients with the most innovative products in the market. Our experienced team of affiliate managers strive to help our publishers to maximum their revenues, and we make sure that we pay publishers on time! Currently hosting 500+ offers across verticals, we are adding new high-payout offers everyday! EvoLeads is a subsidiary of EvoPlus, an online advertising firm since 2005. With our parent company's experience and resources, EvoLeads is witnessing rapid growth by providing our clients with reliable and high-quality services.
Affiliate Network Details
Tracking Software
In-house proprietary platform
Rating Distribution
Excellent

72

Very good

0

Average

0

Poor

0

Terrible

3
Offers

Payout

Tracking

Support
Very good network, great support, many offers with good payouts and most importantly, they will pay you on time!
Evoleads is the best.
cool cool great network( thank you my AM SAM )
Received another payment. Very fast, excellent support. Great offers. One of the excellent affiliate marketing network - EvoLeads!
Here is my referral link : http://tinyurl.com/pqkupv8
What can I say? Evoleads is a great CPA network - love my affiliate manager Mathilde - very kind and sweet human being, always in contact and helps to get the right offers that I am interested in, open for cooperation and helpful to bring new offers that I took interest in other cpa networks, sometimes with even better rates! My first payment was paid on time! All the people that I coach regardless CPA get this recommendation as its one of the best CPA networks out there! Thank you and hope this great cooperation will last forever ;)
06.01.2016 ( AM David ) :) :) cool
Just excellent network. Great offers, great tracking system, highest payout and etc. all positives! No doubt about support, excellent team.
Excellent Network, always pays on time.
Thank you Ryan (my AM).
thank AM David (May 05/2016 )
Evoleads is an excellent network, good support, good on time payment
Thanks you Kate
My first payment. I got the money right on time. Thank you my AM Ryan !
Evoleads are the best affiliate network I work with,Also Sam are the best AM in my affiliate life.
Fast response,flash payment,best offer payout ,thanks Sam!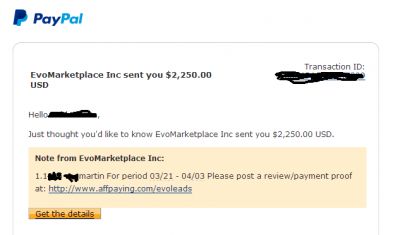 University networks, payment in April. Thank AM David
Great network, i have got the November payment today ,thanks so much for my AM (David)
Evoleads is a Great network, Sam is my affiliate manager.thanks so much for my AM.

Copyright © 2010-2019 Affpaying.com All rights reserved.