CWinter Media
OFFERS

4.27

PAYOUT

4.27

TRACKING

4.27

SUPPORT

4.2
CWinter Media is a fresh, independently owned performance driven online media company. Established in 2009 by Chris Winter, it's one of the most rapid growing networks in the blooming field of mobile and online marketing. We focuses in the mobile entertainment industry. Cwinter media is unique in it's type of business. AS being the first that makes it's campaigns under request of its affiliates. This way Cwinter Media created an added value that no other network can provide. CWinter Media works solely with the most prominent advertisers in the field and targets its offers more effectively than any other affiliate network, making us a leader in providing both the highest eCPM for Publishers and highest eCPA for Advertisers. We offer Publishers and Advertisers the best value for their money simultaneously ensuring the best eCPA's for those Advertisers. If you're an Advertiser who has bottom line results that must be achieved though Direct Response, then we are the Ad Network you are looking to work with. And if you're a publisher who needs to fill their inventory, then we have a plenty of established buyers who will pay top dollar for your inventory. Here at CWinter Media, we believe that our integrity and business go hand in hand, as a trust between affiliates and their network in priceless. Delivering this bond is crucial to us and you, our affiliate, so you can be sure you are on top of your game constantly. We know that our performance depends on you making money. We are a young group of savvy internet pros which know to direct you whether you are just beginning or in the industry yourself. Work with us and you wont be sorry.
Affiliate Network Details
Commission Type
CPA , CPL , CPS
Rating Distribution
Excellent

12

Very good

0

Average

1

Poor

0

Terrible

2
Offers

Payout

Tracking

Support
There are no invoices generated for last 6 months! No payment! No support!
Please keep promise and my payment on time!
Hi Chris Winter
I sent email to [email protected] and [email protected]
But do not have any email from your network.
My Affiliate ID is 1260
You do not create my invoice so my money($262.40)do not come until now.
Can you check my account and pay to me.
I will post my payment when I recieve from your network
Thanks
Alert! This is a cheating network!!!!
I have not received Money for August yet. I sent email to [email protected], I have not get a response now.
hey guys. this is really great network. good offers. pay on time. and my AM Sam is very helpful and responds quickly. first proof of payment : )
Good network . Sam is very great support. Payment always ontime . 5 star from me
Very nice network to work with. Sam is very kind, smart, and helpful.
Here is my payment in May.
CwinterMedia is a great network with great payout. My manager, Sam, is very supportive and helpful. I definitely will drive more traffic to this network.
My first payment from CWinter Media.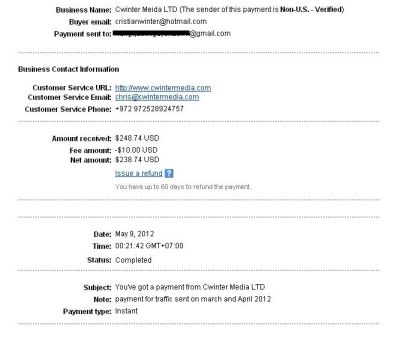 Cwinter media is a really good network. Great place to be as an affiliate, lots of good converting offers, AM is nice and responds quickly.
Fast payment. This is commission in April of my.
An excellent network. If anyone does not know about them, join right now I believe that you will never disappointed of it.
This is proof of my payment.
I've tried CWinter Media and it's quite satisfactory. Got paid twice already so far. I'm trying to get past on their weekly payment threshold of $1,000.
Payment proof
Always a very reliable and efficient network to work with.
I have running this network, it is very good!
I make over $50 daily, they payment good with net30

Copyright © 2010-2020 Affpaying.com All rights reserved.