CPAWay Inc is a performance marketing affiliate network, built on a rock solid foundation of integrity and honesty. If you are looking for campaigns to promote on your website, help fill existing ad inventory, or need help driving traffic to one of your websites, CPAway is for you! CPAWay delivers the highest converting campaigns with the industries best payouts. CPAway has over 300 exclusive offers where we are the agency of record with the advertisers. Regardless if you are new to affiliate marketing or a veteran, you will receive the same high quality treatment from us. We are here for you to succeed. After all, we only make money if you're making money.
Affiliate Network Details
Commission Type
CPA, CPL, CPS, CPI
Minimum Payment
$50 – $100
Referral Commission
2% for life
Tracking Link
http://cw.nu/click?
Affiliate Managers
James Gabbard

Michael Blinco

Wesley Bibro

Australia Office

UK Office

Canada Office

Sam Valiquette

Kelly OBrien
Rating Distribution
Excellent

44

Very good

2

Average

5

Poor

0

Terrible

1
Offers

Payout

Tracking

Support
Great network to work with .. I recently started with CPA and got my first payment without any problems. very good communication & support..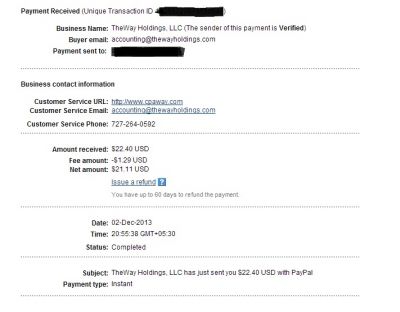 NICE NETWORK
CPAWay the best network I've had the pleasure to be a publisher for. Always reliable on payments - never an issue. CPAWay is an extremely professional network that actually operates out of a brick and mortar office location. Customer service is excellent (they actually answer the telephone and emails)
CPAWay has paid me many many times over the years. I've attached a screenshot of my two most recent PayPal payments from them.
I highly recommend CPAWay !
Still happily working with CPAWay after many years. I have to say that CPAWay is definitely my favorite CPA network among the dozen or so others I also work with.
Their integrity is impeccable and they often go above and beyond to please. Payments are like clockwork and financials seem solid.
CPAWay sports a huge selection of both incent and non-incent campaigns that are popular and well converting. Staff is friendly / professional / courteous / knowledgeable.
Here goes my story with this network:
I have been a three year affiliate with this company. I have been mainly running one offer. Since about March of this year (2013) I have been having tracking issues with this offer.
My AM would manually have to import a lot of my leads, as some were not reporting in the system. There was a problem from offer's owners. However, my EPCs (after importing) stayed pretty consistent, around 20+ cents EPC, so I thought there would be no problem.
On June 1, none of my leads were being reported, but I had faith that my AM would import them in a timely manner. Well, the month dragged on with no leads being imported.
Then at the end of the month, I was told that I only had 100 leads or so instead of my usual 1000+ leads. Nothing had changed with my traffic source.
I knew this couldn't be right, so I told my AM. Apparently he went back and forth with the company that he got the offer from, but they couldn't find my leads.
Meanwhile, I had spent around 1100 in advertising on this offer. The payout on this offer made it worthwhile, but at 100 leads (instead of my usual 1000+) I lost a significant amount of money due to their tracking.
CPAWAY will not make this right for me, and sided with the offer's company.
I cannot recommend this company.
Hey
i got my first payment in cpaway on time and before its an excellent network. My account manager Phil Caramanica always support me. Thanks
hi,
my self karimulla.i got my first payment in cpaway ontime and before payment date.its an excellent network.my account manager Phil Caramanica always withme.thanks to Phil Caramanica and cpaway.thank u
Excellent network with plenty of high paying & high converting campaigns! CPAWay has always had solid corporate backed financials assuring quick (often early) payments.
CPAway is a pretty solid network. They always pay me on time and the support is great. A++++ :)
CPAWay is just fantastic. I have been working with them for a few months and have never had any issues. Kelly is very responsive, nice and always eager to help.
As far as payments, I have never received a late payment and if anything, I get my earnings earlier than I should've.
They have good payouts and great offers. Very pleased.
CPAWay is a great network and I am having great success with the small campaigns I am running. Though one thing that has me a little worried is the tracking. I was getting very conversions on two of the offers they had and then just stopped converting all together. Now I'm running a really small campaign on one of their first page submits which is converting great.
All in all this network I can see being my primary network as they have great offers, great rates, and awesome support.
One thing I would like to see is the top converters of the day or week.
"Me Once Again"
I've been with CPAWAY since March 2012 and this is one of the best network in my history
Kelly O'Brien is an amazing affiliate manager, always guiding my right way. Offers are really great. If you are newbie you must go through CPAWAY, Best Network and Appreciated..
A+++++ Network..
"Received Second Payment from CPAWAY"
I have worked with CPAWAY for over 2 months now, and have found them to be very reliable and helpful. They have a great number of offers and offer good payouts. The account manager is always available on AIM or Skype for support. I ALWAYS get paid right on time.
Sign up right now and you'll soon know what I mean when I tell my friends that CPAWA is "The Best AFFILIATE NETWORK Ever."
Highly Recommended!
I just join CPA Way few days ago and already got approved, every time when i promote a offer after choose the offer and i copy the unique tracking link and after shorter the unique tracking link then i paste it in my solo ads.
i can see people start to click but in my account always show Zero.
need advice from you guys.

Copyright © 2010-2021 Affpaying.com All rights reserved.