CPAlead
OFFERS

4.89

PAYOUT

4.88

TRACKING

4.87

SUPPORT

4.86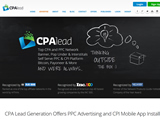 CPAlead is the world's LARGEST Incentive CPA Network and inventors of the Content Gateway technology in the CPA space. We have the most traffic means we have the most leverage to get you the best offers at the best payouts. Often imitated, never duplicated.

People all over the world choose CPAlead. Our trusted CPA network offers the largest selection of incentive based surveys to leverage your content and make money on the Web.
Affiliate Network Details
Commission Type
CPA, CPL, Content Locking
Tracking Software
In-house proprietary platform
Tracking Link
http://valueaffiliate.net/content_locker.php
Affiliate Managers
Justin Lamb

Milind Gupta

Troy Krzyston

Payment Support
Rating Distribution
Excellent

138

Very good

11

Average

0

Poor

0

Terrible

1
Offers

Payout

Tracking

Support
I have been working with CPALead from the last 3 years.I am shifting from Adnooka to here and believe me, i am surprised to see that cpalead is now performing very better than it was 7 years ago.
New team is devoted and always ready to help.I know i am not earning much here because i don't do hard work.
Here is my referral link.
http://goo.gl/HWsspX
If you want fast approval, apply through my referral link and then email me your's application number.I will try to speak with my manager for acceptance of account ASAP.
CPAlead rocks,and it's been making me money since the 1st day i signed up.
For you that want to start here is my reff link http://goo.gl/cI16b7 ,and after you join,leave your e mail and ill hook you up with a guide that helped me(it costs, but ill give it you for free ;)
This is one of the best networks. They pay ontime and the support is first class. I strongly encourage anyone looking for weekly payments to partner with this network!

Cpalead is the best for france offers. It has a great platform to work with and they offer a lot of different solutions for you to choose from. The application process was quick and simple. Earned 83$ in 3 days :) Happy with this network
Join here for easy approval- http://goo.gl/i2ppCb
great network paid me my money
Best network making $500-$850 a week with frence niche sign up under me and i will couch you to get between $500 a week sign up here http://goo.gl/l9fWaV and ad me on skype cpakings !
Cpalead is the best cpa network for me!!!
I make $500-$600 a week Download my PDF and i will show you my method i use to make $500-$600 Weekly!!! No BS!
Join cpalead through my link http://bit.ly/1vSDAiK
and I'll provide you guide ( ebook) which helps to increase your earnings drastically. I'm selling this ebook for $19 but I'll give you free of cost if you join through my link . Just add me on my email [email protected]
to get ebook.
Currently I'm earning more than $3000 per month from cpalead alone . In total I'm earning 12000 - 13000 on avarage from other cpa sites too. This guides cover all cpa network and will drastically increase your earnings if followed correctly
So I decided I would share this simple method with you guys. CPALead.com is actually my favorite network to work with right now as an affiliate and I highly recommend them. I make 300-500$ per day with them.I have private method to boost our income quickly.
Join here for easy approval- http://goo.gl/4yseZn and contact me on skype for the method. My skype id is :kevin243
Please check my Income Proof:
Best company
You do not need to call or site
Click Here to Join :http://goo.gl/0TjCdn
Great offers
Always pay always give nice support thanks.
Cpalead is the best cpa network for my!!!
I make 300-400$ per day with them,sign up with my link and contact my on skype and i will show you my private methods to make 300$/day!!! No BS!
Sign up here: goo.gl/ner8eL and contasct my on skype: cpaleadman
Proof:
Great network! Payments are always on time and I never had any issues..
Sign up through this link http://goo.gl/xfnfgs add me on skype (john.deaux.
I will show you some of my secret tactics to maximise your income and earn over $3500 a month!
CPALead is the best content locking Affiliate network i have ever been with, Offers are great, and the new engine they implemented made me get a 30% higher conversion rate, always pays on time, the affiliate managers are so friendly, and it has the best payment features such as "Insta pay" which allows you to request a insta payment with no fee at all!!
also a net 7 payment where you can enroll and get paid weekly!!
Great offers. Work hard and be honest and you can easily earn a good income here- or mostly any cpa network for that matter.
Lots of great offers here. Love their scratch card and lottery tickets. Join here for easy approval- http://goo.gl/CQOnGV

Copyright © 2010-2020 Affpaying.com All rights reserved.