CPAlead
OFFERS

4.89

PAYOUT

4.88

TRACKING

4.87

SUPPORT

4.86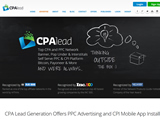 CPAlead is the world's LARGEST Incentive CPA Network and inventors of the Content Gateway technology in the CPA space. We have the most traffic means we have the most leverage to get you the best offers at the best payouts. Often imitated, never duplicated.

People all over the world choose CPAlead. Our trusted CPA network offers the largest selection of incentive based surveys to leverage your content and make money on the Web.
Affiliate Network Details
Commission Type
CPA, CPL, Content Locking
Tracking Software
In-house proprietary platform
Tracking Link
http://valueaffiliate.net/content_locker.php
Affiliate Managers
Justin Lamb

Milind Gupta

Troy Krzyston

Payment Support
Rating Distribution
Excellent

138

Very good

11

Average

0

Poor

0

Terrible

1
Offers

Payout

Tracking

Support
How do you think CPALead is compared to AdscendMedia? Which one is better in your opinion? Thanks!
CAP Lead is the best CPA network I ever experienced. Cool menu and great innovation.
CpaLead is by far the best gateway in the industry! They have great incentive offers and and their payouts are some of the highest. All payments have always been paid on time and my AM is one of the best out there.
I'm using Cpalead.com for about 1 year now, I have to say this network is awesome. They are very helpful and will always guide you to make your earnings go higher. Cpalead.com is the best gateway affiliate network. I love this network and would recommend it to anyone.
The best network! CPA Lead is the real deal!
Making money with CpaLead.com network is actually more simple then you think. I have been an affiliate with them for over 11 months, and their level of support is great. My affiliate manager is Jeremy Hayden and he's always eager and willing to help. PayPal payments are awesome! You really won't be disappointed when you sign up with them!
CPAlead network is ran by professionals. It has a fast powerful interface, tons of easy-converting offers, pays on time and can pay by PayPal. This is by far my favorite network!!! Definitely check CPAlead out!!!
One of the best cpa networks I have used. They pay ontime and the affiliate manages are very helpful. I always get my paypal payouts on time. I highly recommended CPA Lead.
CPALead is legit. I have been an affiliate of them for over a year now and I have always been paid. They are one of the CPA networks that I use daily, their incentivised campaigns convert the best for me. I highly recommend them for beginners or advanced affiliates.
Hello,
i have veen working with cpa lead since 25 days i am very much happy with thier service support and on time payments This is really genuine one to choose ! and make some good money with pure leads !
CPA Lead is one of my favorites network. I have made quite a bit of money with them. They don't require a phone verification and have quite a lot of good offers. CPA Lead is the real deal!
CPA Lead is a reputable network with tons of incentivizable offers and they pay on time. My affiliate manager Jeremy has been awesome to work with on AIM. Awesome network!
CPALead.com is a great incentive CPA network. I've been with them since December,09 and have so far had good success. They always pay me on time, I get paid from them like clockwork every month ... I've found that my affiliate manager, Jeremy, is HOT, very helpful and has been quick to respond when I have a problem. They're solid and long term reliable. So, what you're waiting for? Join CPALead and start making tons of cash today!
CPALead is a good network. Their content unlocker is top notch though. Been paid on time, i recommend them to friends all of mine.
I joined cpaleads as a publisher and I am very pleased. I can earn up to 500$ a month. They have a lot of good offers. I recommend this to anyone who would like to earn extra money. I always receive my payment in time.

Copyright © 2010-2020 Affpaying.com All rights reserved.