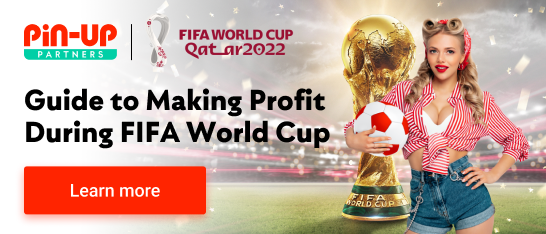 The most watched sporting event is here — the FIFA Championship in Qatar. it's time for us to share what's what and how to make the most out of the World Cup with PIN-UP Partners.
Sportsbooks are already getting a record influx in the number of bettors and players, so for affiliates, the World Cup season is a greatly profitable time of year.
A noteworthy list
What can be said for certain is that the countries participating in the Cup attract a lot more bettors during the games, as it's not just about trying one's own luck, but of patriotism, as everyone wants their country to win, if not all the games, at least every second.
To ensure the best performance affiliates should consider a few things when running their campaigns:
1) What are the available bonuses in a given sportsbook? The bonuses may range from something very general to an exclusive with a million-large prize pool.
2) Does the betting company have a local license in the given geo (that may greatly widen advertising options and increase conversion rate)?
3) Use dedicated creatives and landers for the given match.
4) Use popular and renowned players for higher CTR.
5) Use interactive elements if possible, and let the user guess the score or see the UI of the betting site.
6) Check out if the product has a call center in the locale.
PIN-UP Partners has a team of professional affiliate managers that can help with setting up and running betting campaigns, while PIN-UP Bet has dedicated call centers in all available countries. On top of that PIN-UP is running a World Cup Promotion with a prize pool of one million dollars, so there is a bonus in addition to the offers to lure a player in ;)
Specific tools for the specific task
In a nutshell: running betting campaigns during the World Cup month is a chance to double, or even triple your monthly revenue, so given that you already have the expertise and resources to work with the advertising networks, what else does one need to make sure that traffic converts?
Apps. As they are one of the most important elements of the funnel. They should be optimized, well-designed, and enable you to send push notifications.
Knowledge of what and when to run, or the tool that will match the day of the match to the prelender.
Dedicated landers and creatives for every game.
Multi-language landers, so your traffic always reaches the conversion.
Using the offer that is known in the GEO and is proven to work.
PIN-UP Partners is ready to provide affiliates running traffic with dedicated apps, designed especially for the World Cup as well as special tools such as the "Top match" rotator tool, so you can use a single link to run traffic during the hottest games. Also, affiliates can use a variety of pre-made dedicated landers for their funnels and multi-geo landers, so no traffic goes to waste.
Where football is more than just a sport
If we are talking about more certain things to go with — everyone running WW campaigns and familiar with Portuguese should absolutely run ads in Brazil, for a variety of reasons:
1) This country is among the favorites for the Cup.
2) Brazilians are notoriously passionate about football.
3) The betting market in Brazil is on the rise and people like to have a choice of bookies.
But Brasil isn't the only destination for the advertisement of betting:
Mexico is also a contender for the World Cup, and last but not least — Canada, home to some of the most avid gamblers in the world with a deep sense of national pride, is participating in the World Cup, so there will be people ready and willing to bet on their national team.
For the countries not present in the cup, there is still much to explore, as in some countries betting can be a way to make an extra buck and some would gladly bet on the team that is sure to win. The CIS countries generate a lot of players for the sportsbooks, especially during grand events such as the World Cup.
No matter the GEOe or the approach you use, you'd need a reliable partner with a product known in the locale that is proven and tested.
PIN-UP Partners – iGaming Affiliate Program: PIN-UP Bet and PIN-UP Casino! Since 2016 our affiliates received millions of dollars in payouts, with the selection of the biggest pre-match and live events on the market — PIN-UP Partners offers great terms for affiliates and even better for the players.
Licensed sport and iGaming offers for CL, CO, UA, UZ, BR, AZ, KZ, PE, IN, MX, CAN
Reg2Dep CR 1/3-6
Licensed offers in the CIS
Trending LPs
During the FIFA Cup PIN-UP Partners is offering increased CPA Rates for new players:
GEO
| | |
| --- | --- |
| GEO | CPA PAYOUT |
| TR | 60 USD |
| BR | 30 USD |
| UZ | 25 USD |
| AZ | 60 USD |
| KZ | 30 USD |
| KZ license | 50 USD |
| IN | 35 USD |
| PE | 35 USD |
| CL | 30 USD |
While the RevShare is 40% and RevShare+ up to 50%!
Sign up with PIN-UP Partners and don't let your chance to make a huge profit slip away!