AdWork Media
OFFERS

4.95

PAYOUT

4.98

TRACKING

4.97

SUPPORT

4.97
AdWork Media is an innovative CPA affiliate network featuring many publisher tools including a Content Locker and the first ever Product Locker! Our 200+ incent/non-incent offer base is comprised of top converting campaigns in a variety of niches. AdWork Media's platform and Gateway Lockers are built on a 100% custom in-house platform that allows us to continuously improve the publisher experience. Custom Publisher Platform Publishers can manage their performance with access to multiple reports types and features like manual pixel placement, postback tracking, campaign/reporting API, automatic geo-redirection, and optimized banner rotators. Monthly Performance Bonuses We believe in rewarding hard work, which is why publishers are eligible for up to 7 bonuses per month that can be activated at any time. Receive up to 20% of commission bonuses.
Gateway Content/Product Lockers AdWork Media's Gateway Lockers are unlike any others in the industry. Control over 40 customizable options including advanced theme options or use our preset configurations and themes to create stylish lockers in seconds. AdWork Media Content/Product Lockers consistently covert with above average EPCs and help our publishers earn more from their web traffic. Signup at AdWork Media and use the Promo Code: AffPayingRocks after your account has been approved for a 1 hour - 15% bonus period. Refer your friends for 3% lifetime commissions.
Affiliate Network Details
Commission Type
CPA, CPL, CPS, Content Gateway, Product Locking
Referral Commission
3% Lifetime Earnings
Tracking Software
In-house proprietary platform and Custom content locking
Tracking Link
http://www.adworkmedia.com/go.php
Affiliate Managers
Dennis Weiss

Dave Mackler
Rating Distribution
Excellent

676

Very good

16

Average

0

Poor

0

Terrible

1
Offers

Payout

Tracking

Support
The best Network
Latest payment from adwork with payment proof. If you are new to cpa i recommend adworkmedia to start with. There email submit offers will work best for you.
This months payment proof via bitcoins.
Hi I've just started working here in the best CPA network . Thanks for my manager Dennis. Payout is on time.>>> http://bit.ly/2udHOuv
Go And Sign-up Account it is really good
Adworkmedia is the best so far so good and they have great offers. I got paid via bitcoins today.
If you are looking for a good CPA network to work with, then I will highly recommend Adworkmedia. The approval process is quite straight forward, plus the response time is very short.
If you are new to CPA marketing, you will obviously be impressed with a wide array of highly paying and highly converting converting offer in different niches. If you ever need assistance with promotion or other related technical stuffs,your affiliate manager will readily provide guidance, since their success is somewhat dependent on yours.
I got my first payment from Adorkmedia very nice CPA network very helpful support
join us here now:- http://bit.ly/2C3sgIV
Great network and very kindly support team, also there 500$ Monthly Prize is amazing.
Member since 2012, never has any issue with them.
For fast approval, just use my link:
https://goo.gl/v6kCQ1
*NOTE: Its great network if you have quality traffic, they have Zero tolerance against fraud.
Definitely and by far the best affiliate network I have ever worked with. I worked with several big networks through time but these guys really take the first prize. They're offers are really great, conversion is going like crazy. They support several payments method and they don't give you some BS. If you have earned it they will pay it. Right on time. They even send you a message to check if you have entered good data. The support is great. All you need is ask. Dennis is always there for you for anything you need.
If you want in please use my link to register:
http://bit.ly/2gZd7kp
The CPA network is awesome. I signed up about a few months ago and I already helped a few friends to also start earning very good amount. $1000 per month is pretty easy to earn as long as you know what to do. If you decide to work with me, I would be happy to assist you.
If you want to join under my refferal link :
http://goo.gl/gB8AYL
Adworkmedia manager is so nice. I am very glad to have to work with her. The payment is nice and on time. anyway looking forward to continued cooperation and big money Sign-up: http://bit.ly/2udHOuv
I think I would be going with Adworkmedia, good support, numerous offers.
I have been with them 3years now and they are Awesome !
I Just Love AdworkMedia. I earned about $1900 in one day from Adworkmedia this month.I had been in this field from last 8 years and i had never seen such Company yet. The best of All. Don't waste your time on other networks.
Feeling great to work with this amazing network.I love this CPA Network!
If you want to join under my refferal link : http://goo.gl/Kh2HWf
Hello Guys :
First of all i want to thank Dennis Weiss and David Mackler for being the best Performance managers in CPA world.
i JUST Love AdworkMedia. I earned about $2200 in one day from Adworkmedia this month.I had been in this field from last 8 years and i had never seen such Company yet. The best of All. Don't waste your time on other networks.
If you really want to earn some real $$$$.Join AdworkMedia. Highly Recommended. You can also win prizes like $500 in the end of each month by earning Raffle Tickets.join now
http://bit.ly/2gZavSJ
Adworkmedia is simply the best. They pay on time and have the best converting offers. This is my 10th month with them and my manager Dennis is just the best to work with.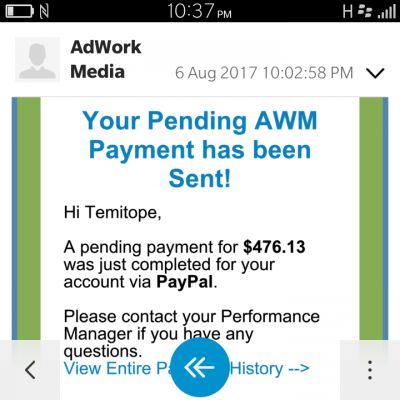 Copyright © 2010-2019 Affpaying.com All rights reserved.