AdWork Media
OFFERS

4.95

PAYOUT

4.98

TRACKING

4.97

SUPPORT

4.96
AdWork Media is an innovative CPA affiliate network featuring many publisher tools including a Content Locker and the first ever Product Locker! Our 200+ incent/non-incent offer base is comprised of top converting campaigns in a variety of niches. AdWork Media's platform and Gateway Lockers are built on a 100% custom in-house platform that allows us to continuously improve the publisher experience.

Custom Publisher Platform

Publishers can manage their performance with access to multiple reports types and features like manual pixel placement, postback tracking, campaign/reporting API, automatic geo-redirection, and optimized banner rotators.

Monthly Performance Bonuses

We believe in rewarding hard work, which is why publishers are eligible for up to 7 bonuses per month that can be activated at any time. Receive up to 20% of commission bonuses.


Gateway Content/Product Lockers

AdWork Media's Gateway Lockers are unlike any others in the industry. Control over 40 customizable options including advanced theme options or use our preset configurations and themes to create stylish lockers in seconds. AdWork Media Content/Product Lockers consistently covert with above average EPCs and help our publishers earn more from their web traffic.

Signup at AdWork Media and use the Promo Code: AffPayingRocks after your account has been approved for a 1 hour - 15% bonus period. Refer your friends for 3% lifetime commissions.
[More]
Affiliate Network Details
Commission Type
CPA, CPL, CPS, Content Gateway, Product Locking
Referral Commission
3% Lifetime Earnings
Tracking Software
In-house proprietary platform and Custom content locking
Tracking Link
http://www.adworkmedia.com/go.php
Affiliate Managers
Dennis Weiss

Dave Mackler
Rating Distribution
Excellent

682

Very good

16

Average

1

Poor

0

Terrible

1
Offers

Payout

Tracking

Support
AWM is as good as it gets in the industry! I mostly make my money with easy email submits but they also have a nice selection of offers for trials and mobile installs. I'm paid on time and even early if I ask for it. My manager Dennis is always online too.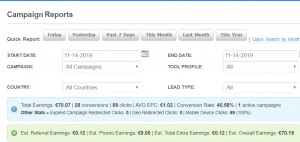 AWM is legit! I couldn't find the offer I needed on other networks. They got me more cap room from the advertiser and faster payouts. My EPCs are high on most campaigns and there's a pretty good selection. Trying to increase my earnings each month now and it's been going up slowly each week.
great network, I really love working with them, and they have awesome support.
Really great support, have worked with AWM for over 5 years. Fast payments, top offers, they always take care of me. If I want an offer they don't have, I just let them know and they always get it with a great payout. Thanks Dennis and team!
Simply the best network to earn with hands down! Offers convert better than any other network I've used and payment is always on time or early!
Great potential, Worst support ever..
Adworkmedia is simply the best. They pay on time and have the best converting offers. This is my 1 year with them and my manager Dennis is just the best to work with.
It is a good network for CPA Marketing.....
AdworkMedia is my favorite incentive network. They're just easy to work with. Tickets are always responded to and the staff is technically literate.
I've used a few incentive networks over the years, but Adwork has been the best. In terms of support other networks can't compare. Others will ignore tickets or reply to emails without comprehending what was written.
Copy paste responses and irrelevant links to nonsensical documentation are all too common with some other incentive networks. Adwork doesn't inundate your inbox annoying monthly/weekly/daily mailers either.
Overall they are straight-shooters who will tell you honestly what is possible. Contrast that to other networks that leave you hanging or make false promises.
Their API always contains valid data. There are some networks which serve badly formed XML or JSON in their feeds. This is important if you want to promote ads your way.
As it concerns payments, I've never had an issue with Adwork. Completely solid.
In closing I'll just say that Adwork never forgets that publishers are humans behind the keyboard. I'd recommend working with them to anyone.
Thanks!
For the past 3 months, I've been facing a delay of several days in the payment of my payout with no excuses, nothing.
My earning for the past month was, after an explicit revokal of a few leads which I can understand, $497.
For unknown reasons and opposed to what the stats are telling me, the generated payment is an amount of only $250, basically 50% of the real amount.
I made one ticket 1 week ago, no answer since then. I feel like I'm being ignored.
I sincerely hope my negative review here will make a rep from AWM wake up and clarify things with me.
Publisher ID: 27644
Check screenshots for reference.
Thanks!
One of the Best CPA+ Affiliate Marketplace.. Easy to Earn...Anyone can Work From Home earn More Money in short time..+ Best CPA Rate.
Just Sign Up Here:
Adworkmedia Link:
https://bit.ly/2ZTwEXq
good networek cpa legit 100%
One of the best networks in the world
Adworkmedia is the best cpa network in the world
I am very happy with this site it is one of the best CPA sites

Copyright © 2010-2019 Affpaying.com All rights reserved.