AdsMain
OFFERS

4.95

PAYOUT

4.99

TRACKING

4.96

SUPPORT

4.99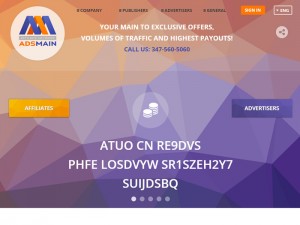 AdsMain Network provides affiliates with full-service management platform dedicated to optimizing revenue generation for both its Advertisers and Publishers!

Our goal is to address your growing marketing needs yielding the best value return on investment possible. All internet advertising is conducted exclusively on a pay for performance basis eliminating any sort of risk or ad waste.

Our CPA platform offers a complete solution for publishers to generate huge revenue from their websites by providing premium CPA offers on the web while assisting them in tracking their performance with fast online reporting.
[More]
Affiliate Network Details
Commission Type
CPA , CPL , CPS
Tracking Link
http://tracking.adsmain.com/aff_c?
Affiliate Managers
George Evigan

Vlad Troy

Daria Barda

Daria Kobzeva

Nastya Minkovskaya

Aleksa Prokofieva

Nikita Pivtorak
Rating Distribution
Excellent

163

Very good

3

Average

0

Poor

0

Terrible

0
Offers

Payout

Tracking

Support
Multa!!!
These guys cope with their job very well. It is nice to communicate and to earn money with Adsmain team.
Please add more weekly payment offers for latin countries.
-Francisco
Here is my proofs of AdsMain validity and my thank you to them.
Want to say few words about adsmain too. I have been working with them since 2012, had different situations with different offers and different managers. Yes, sometimes you need to wait few days for support reply, list of offers is not too big but what holds me with them is their honesty and accuracy. I had never had any payment problems and delays, leads scrubs or other cheating, you can see all over the affiliate marketing space.
My personal thanks to Andrew Rush and my new manager Vlad Troy ;)
-Feder
AdsMain network is the best CPA network I have ever used. Fantastic offers, staff are always up for support, on time payments. I strongly recommend them...
Happy earnings!!!
Got to tell that these guy work fair and pay on time.
I wish to have more offers in EU and I will make even more money.
Thank you adsmain.
FD
Hello everyone,
I'm glad to announce that we added another payment method - WebMoney.
It is popular in eastern Europe and part of Asia.
You will see many new updates soon.
Kind regards,
Vlad
AdsMain.com
Nice campaigns! Great people to work with, nice design site and payment always on time.
Rate it 5/5+++
I like this network very much. Never had any problem!!! I am with AdsMain from the last 2 years and i am happy that i have found this affiliate network.
High payouts, good support and they always pay before time.
I'll recommend to join AdsMain network!
Started month ago and already got my first net15 payout. Pretty fast. Friendly stuff, nice prices. Keep the level up!
Hi guys
I've been using AdsMain now for over 1 year, I have got to know Vlad and Andrew pretty well. Now I can honestly say that AdsMain is one of the best CPA networks around period.
All I wish them is to have more offers!
Support is good, my AM Vlad is almost 24/7 online in skype...huh)
Use my link to register, this might help you get approved faster(if you are real marketer:) - http://bit.ly/1tEnJ8i
Got July-14 Payment.
Good Network, The Support is good. Special Thanks To Vlad Troy
Thanks
Honest network. I really like it.
Thanks Andrew,Today I received my payment!Thanks.So happy to work with you!
My first payment,better network, great support.
Thank you AdsMain !!
One of my favorite networks. Excellent support! Fast payouts! So many offers to choose from
I have had the pleasure of working with AdsMain for the last 3 months. Vlad is an excellent manager: prompt, knowledgeable and generous.
Highly, highly recommend working with them to any affiliate who wants efficient and professional feedback.

Copyright © 2010-2019 Affpaying.com All rights reserved.